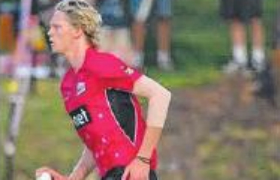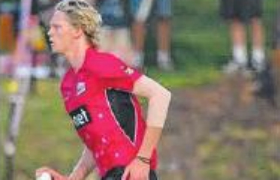 LIFE hasn't been easy for Mickey Edwards the past couple of months.
After he was diagnosed with a stress fracture in his lower back, it was only natural a few negative thoughts began to creep into the headspace of the 20-year-old Manly fast bowler.
Thankfully Edwards has plenty of positive people in his life, and his road to recovery soon became his chief focus.
The Allambie Heights resident is now buzzing after recently signing a two-year deal with the Sydney Sixers ahead of the T20 Big Bash League starting next month.
"I got a phone call from (Sixers general manager) Dominic Remond,'' Edwards said.
"I assumed it was about an Academy contract, I was fortunate to be involved in that setup last year, so when he told me it was a (senior) T20 gig, I was stunned.
"I am a relaxed sort of bloke, I won't let it engulf me, it is all about learning on the run."
And Edwards will be rubbing shoulders with some pretty elite company.
Australian spearhead Mitchell Starc, Doug Bollinger and Wakehurst Redbacks junior Jackson Bird will be three of Edwards' teammates in magenta.
"Last year I was helped a lot by Doug,'' Edwards said.
"We focused on working specifically with a slower ball bouncer so that was really good.
"It will be great to have Jackson Bird around. We get on quite well (being Manly boys) so I'll pick his brain a bit about how he bowls and his time in international cricket."
Manly will have a healthy representation in the thrilla-minute competition, with orthodox spinner Steve O'Keefe also a key player for the Sixers.
Ahillen Beadle will turn out for the Sydney Thunder.
{loadposition cricket}