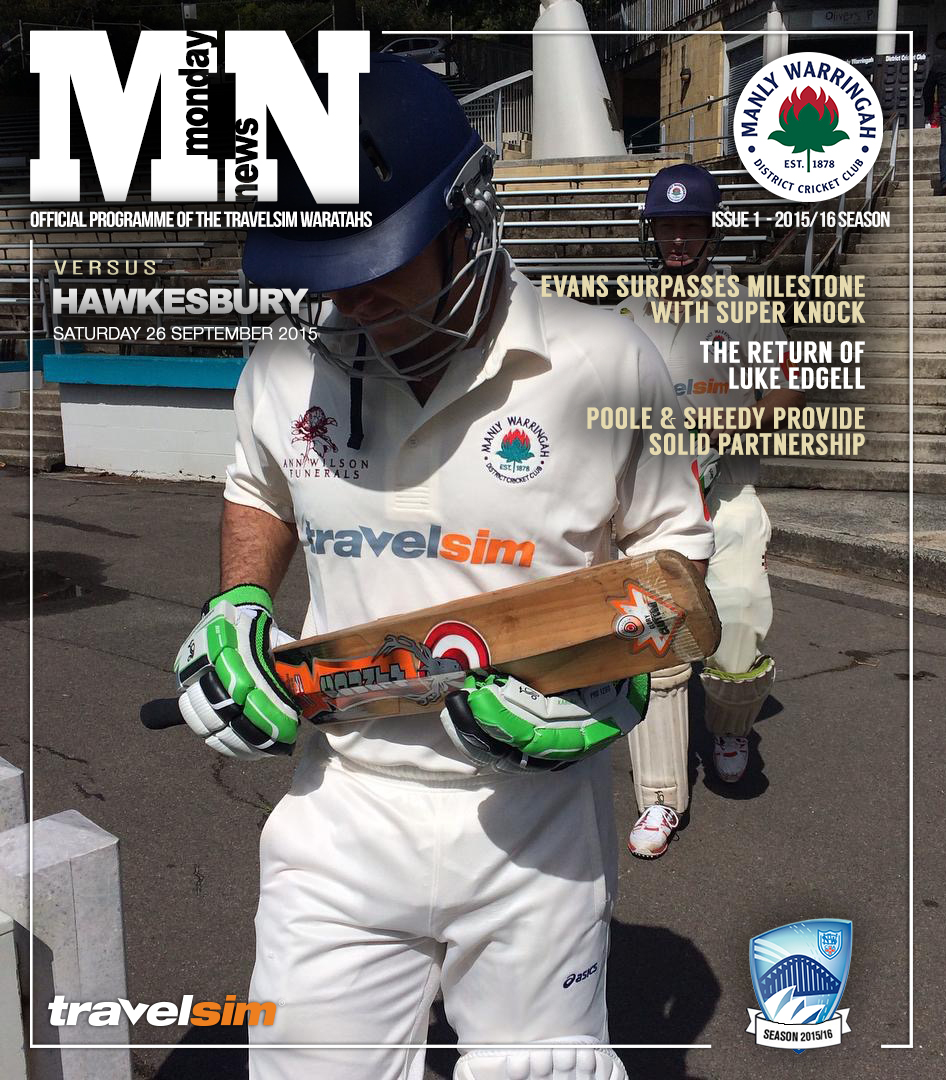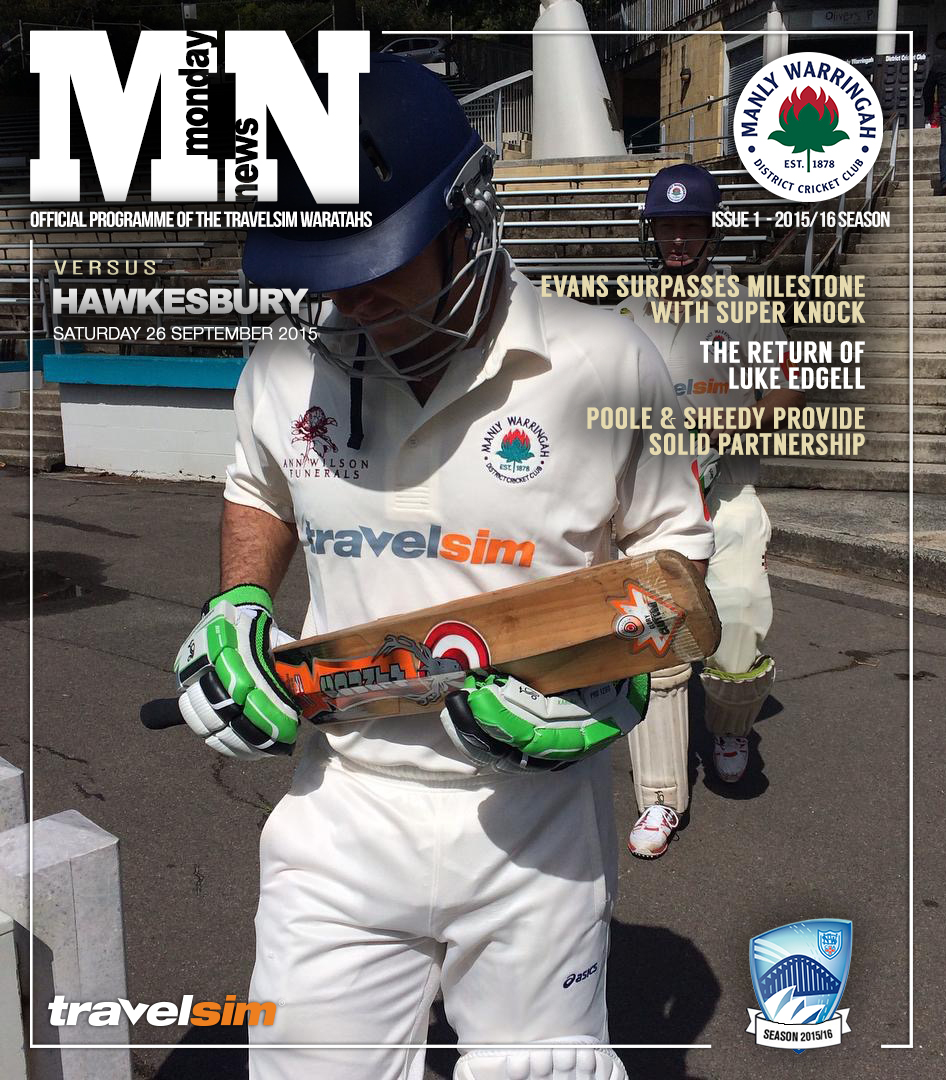 Round 1 saw the TravelSim Waratahs take on Hawkesbury on what was a soggy-Sydney-Saturday. After a strong preseason from all involved in the club, it was time for the talking to end and for plans to be put into action. In a weekend of mixed results, 1st and 2nd grade unfortunately went down while 3rd, 4th and 5th grade all had victories to begin their campaigns.
1's were unable to chase 241 out at Bensons Lane after sharing the wickets with the ball. While their were starts with the bat for both Crosthwaites, Ritchie and debutant Ryan Farrell, no one could go on and lead the side to victory. A return to Manly Oval next week for a match against the ever-strong Syndey University will be a great way for Crosthwaite's men to bounce-back to form. 2nd grade also had a day to forget with a disappointing display at home. Sent on a green-top the Tahs could only manage 68, before putting the Hawks under pressure to have the runs chased down for the loss of 6 wickets.
3rd grade snuck home at Richmond after captain Warren Evans passed 5000 runs for the club with a match-winning 68*. Aided by James Boyer (39) Manly compiled 191 before a complete display with the ball and in the field allowed the 'main grades' title defence to get off to a winning start. 4's had a comprehensive win at Graham's chasing 142 for the loss of just 1 wicket. Luke Edgell, making a celebrity appearance, smashed 88* and combined with club captain Billy D'Arcy (51) to a comfortable win. Finally 5th grade won a strange match at Mike Pawley Oval which was reduced to 25 overs. Batting first, Hawkesbury patiently compiled 3/81 (yes you read that right!) before Toby Poole (43*) and Tom Sheedy (27*) cruised home to secure 6 points.
So a mixed opening day of the season leaves the TravelSim Waratahs with plenty to work on midweek before a crucial round against Sydney University. More patience and determination at the crease will be the main focus, however with the batting talent around the club at the moment you can gurantee that the Tahs will be back to their winning ways next week! Until then, up the Tahs!
4 Pines Player of the Week – Luke Edgell
After answering the call from the selectors, Luke Edgell decided to fill in for Max Burgess's side against the Hawks at Graham's Reserve. Having been a main-stay of the clubs 1st grade side over recent seasons, it was no surprise to see Luke go about his business with class on Saturday, hitting the ball to all parts in compiling 88*. 'Bomber' as he's known throughout the club, lived up to his name, finding the boundary with ease and leading 4's to a comfortable victory to start the year.
It's great to have Luke around the club once again after initially planning on not playing this year. His laid back attitude and outstanding physique are an example for all of the youngsters coming through the club, and his experience in the higher grades will also be just as invaluable.

Congratulations Bomber and we hope to have you for a few more weeks!
1st Grade – Manly 192 (A. Crosthwaite 33, N. McLachlan 32, R. Farrell 29) def. by Hawkesbury 241 (N. McLachlan 3/40, M. Visser 2/39, J. Ritchie 2/46, M. White 2/65)
1's had a delayed start due to the original deck being too wet for play and a different pitch on the square needing to be prepared. Luckily no overs were lost and Manly won the toss and decided to bowl. Nickos and Whitey opened up, Nick bowled without any luck and Whitey got his first wicket for the club to have the Hawks 1-18. Viss joined the attack and had a double break in his first over leaving them at 3-40. From there we as a team went through the motions, not bowling in partnerships and making mistakes in the field, this allowed the hawks to push their score from what should have been 200 to 241. Cubby (2-46) was very handy in the middle overs and Nicko did a great job cleaning up the tail with some quality death bowling.
We started well with the bat, the opening pair reaching 41 before James Crosthwaite was caught on the fence hooking. Cub was then unlucky to edge one down leg to the keeper to have us 2-54. Unfortunately there was steady wickets from this point on leaving us 6-102. Rawlings and faz put on 40 together but just as they had looked set to lift the run rate they both fell quickly. Nickos provided some great lower order hitting (32 off 20) but we were all out for 192 in the 48th over.
We would all agree that we let one slip there but we will bounce back strong this week at home against the students.
Viss
2nd Grade – Manly 68 def. by Hawkesbury 6/70 (B. Falconer 2/11, J. Munting 2/18)
Second Grade Turned up to a very damp and soggy Manly Oval with a lot of new faces in the side. Due to the conditions of the ground the match was delayed by 30 minutes. Rowan lost the toss and Hawkesbury sent us in on a challenging wicket.
It wasn't the best start for the Tahs Loosing the skipper third ball of the innings LBW. Tommy Kaye arrived at the crease looking to to play his shots and get on top of the hawks bowlers, but unfortunately it didn't go to plan falling to a good catch in gully for 5, we then lost Gums and Javed shortly after leaving us struggling at 4/16. Sam Webber looked busy at the crease picking up singles and leaving the ball well, with Gainsy (8) up the other end these to started to look like they were going to build a nice partnership. But with the score at 27 Sam Webber was caught behind for 10 with Gainsy following him a couple overs later leaving the Tahs 6/33. Jimmy Munting and Jakey Carden put on a 21 run partnership before Munters attempted pull shot went straight up in the air and was caught for 9, Jake edge one behind with the score on 66 for 12, LG remained 2* whilst a disappointing display when we were dismissed for a low 68.
We knew we were right in the game the way the pitch was playing and the quality of the bowling attack we had. Munter and Falcs got us off to a fantastic start having the Hawks panicking at 3/13 before a fantastic bit of fielding produced a great Run Out from Luke Grant at cover left them at 4/17. LG then came into the attack and picked up the fifth wicket knocking over middle stump when the score was on 27. We were right in the game at 5/27 but some good attacking batting from Hawkesbury started to take the game away from us. Munter picked up a late wicket to give us a slight glimmer of hope but was all to little to late. Hawkesbury passing the score 6 down in the 23rd over.
Ping

"Click on the link above for the Waratah TV match highlights"
"Hamman and Gummer strolling onto a picturesque Manly Oval"

"Gainsford goes hard against the Hawks"

"Munting appeals for another wicket"

"Falcs goes up in Munting-esque fashion"

"Hamman showing off his impeccable catching technique"
3rd Grade – Manly 191 (W. Evans 68*, J. Boyer 39, J. Graham 33) def. Hawkesbury 175 (M. Alexander 3/32, M. Morris 3/37, S. Hole 2/23)
Reduced to 49 overs per side due to a wet wicket, Hawks sent us in. Cole (8) got us off to a flyer before snicking one, followed straight away by Hole to make 2/8 in the 1st over. Welcome to the crease James Croumbie (9). He and Jo Graham (33) batted well and wrestled back the momentum before James was a tad unlucky to get stumped down the leg side. A close call. Jo was looking good, especially through the offside with some well timed square drives. He fell to a good ball from their useful opening bowler to make it 4/55.
Ash (5) edged to 2nd slip and Zac (5) looked comfortable playing nice and straight before the offie got one through the gap to make it 6/70. Matt Alexander (9) looked aggressive before an arm ball got through him to make it 7/77 off 18 overs. The pitch was turning sharply.
Evans (68no) and Boyer (39) went about resurrecting matters sensibly. Evans teed off with a well struck 6 over mid off to get off the mark. We've seen that before and more often than not come to nothing. This time though he waited for the ball in his areas and timed the ball well, giving just one chance in the last over. 5 sixes later he felt like that 8/191 was about par. Along with Boyer they put on 88 for the 8th wicket. They have batted well together in the past these two and these were valuable runs. Butch played some lovely shots and showed great patience to their nagging medium pacer, ensuring we batted well into the 40 over mark. Unfortunately he ran himself out, a great piece of fielding it has to be said, and that probably cost us a few later over runs. Matt Morris (6no) held the tail together while an an invaluable 36 runs were scored. A good effort to bat out the day after being 7 down after 18 overs.
Wigney (1/31) got a valuable early wicket care of a fantastic diving catch at 2nd slip by Sam Hole. Otherwise Wiggers tried a bit too hard and went for a few too many. Evans (0/13) saw the writing on the wall and got on Sam Hole to have a trundle into the breeze in the 7th over. Circumstances dictated that Sam bowl so early, probably not in our match plan but to slow the pace down against guys going hard at it might work in our favour. Sam bowled with great control to bowl 10 straight and finish with 2/22, capturing two crucial wickets to get us back on track after the early flurry from the hard hitting top order. Along with Matt Alexander (3/32) we reduced the Hawks from 1/48 to 5/57. A good partnership then developed before a hamstrung Matt Morris (3/37) broke it. Matt pulled his hammy early on in the field and the poor bloke could hardly walk. Bowled with great control and assured me he was up for it. He brought along some good chat during the day and once fit again he will be a big bonus to have back in the club. Consistent wickets but also runs were trickling over and the game threatened to get very close before Matt Alexander came back with 15 to win to trap the last man out in front. Matt A bowled with aggression on a slow pitch and he loves to ensure the batsmen don't get too comfortable.
All up a scrappy 6 points. Some improvement will be necessary but great to get away with a tight win against a good team who had quite a few players in last year's 3rd grade final team as opposed to us with just the one backing up.
Well done 3rds.
Wazza
4th Grade – Manly 1/148 (L. Edgell 88*, B. D'Arcy 51) def. Hawkesbury 6/142 (D. McKenna 4/24, B. Kittlety 2/32)
4th grade hosted Hawkesbury at Grahams Reserve for the first round of the season. With plenty of rain in the days leading up to the match and also some slight drizzle around the in the morning the start was delayed a few hours and the game was reduced to 35 overs a side.
Max Burgess won the toss and sent Hawkesbury into bat, Bishop-Perrett and Kittlety started well but unfortunately didn't take any wickets with the new ball, but before the Hawkesbury openers could start building a good total Manly debutant Dan McKenna was brought into the attack and got a wicket with his very first ball in grade cricket, he bowled a great spell and finished with 4 poles. Will Outred and Max Burgess also had a bowl without any luck before Ben Kittlety took 2 wickets in his second spell as Hawkesbury attempted to up the run rate. After an entertaining last over by Ed Burgess Hawkesbury finished with a total of 6/147.
Billy D'Arcy and Luke Edgell opened the batting and formed the match winning partnership for the Tahs. After belting the bowling to all parts of the ground, Billy finished with a well made 51 while Edgell brought the boys home with a great knock of 88* in 21st over meaning that we secured a bonus point win. Overall it was a great start to the season for 4th grade.
Joel Wood
"Click on the link above for the Waratah TV match highlights"
5th Grade – Manly 2/83 (T. Poole 43*, J. Sheedy 27*) def. Hawkesbury 3/82
As the Manly boys rocked up to Mike Pawley with three keen people on debut (Will Akhurst, Tom Sheedy and Jonah Anderson), we soon realized that a solid few hours of vigorous super soaking would be necessary to play the minimum of 25 overs. After first clearing most of the water off the cover, we took the cover off and noticed a number of soft moist spots on the pitch which we found out later would lead to much inconsistency on the deck. Special mention to the skipper Watto who was a non-stop soaker machine.
However, many hours later, the umpires decided that a 25 over game each side would be suitable in these conditions.
A good toss to loose, Watto and the boys were sent into bowl on a deck that would provide reward for full bowling. Alex Bain and Jacob graham opened up and, keeping the run rate to a minimum, put a lot of pressure onto the batsmen. After a brilliant run out by Isaiah Vumbaca at gully, the manly boys began to build more and more pressure onto Hawkesbury. But it was the spinners that caused the most grief to the Hawksbury batsmen. Jonah Anderson on Debut (1/13) and Isaiah Vumbaca (1/16) bowled consistently full and lead to a small yet difficult total to chase of 82.
Tom Sheedy and Jacob Graham opened up and found early on that runs weren't easy to come by on the Mike Pawley mine field, after Tom was hit first ball. Soon after, 2 quick wickets fell and we were under some pressure. After a massive six from tom (47*) over midwicket and many classy cover drives from Toby (43*), their fantastic partnership lead the manly boys to a comfortable victory.
Jacob O'Sullivan
"Vumbaca turning them square over the weekend"
"Anderson looking mysteriously into the sunset"
"Sheedy finds the boundary just before paying his $2 fine for his new helmet"
"Poole on the way to 43*"
"6 points secured and a job well done"