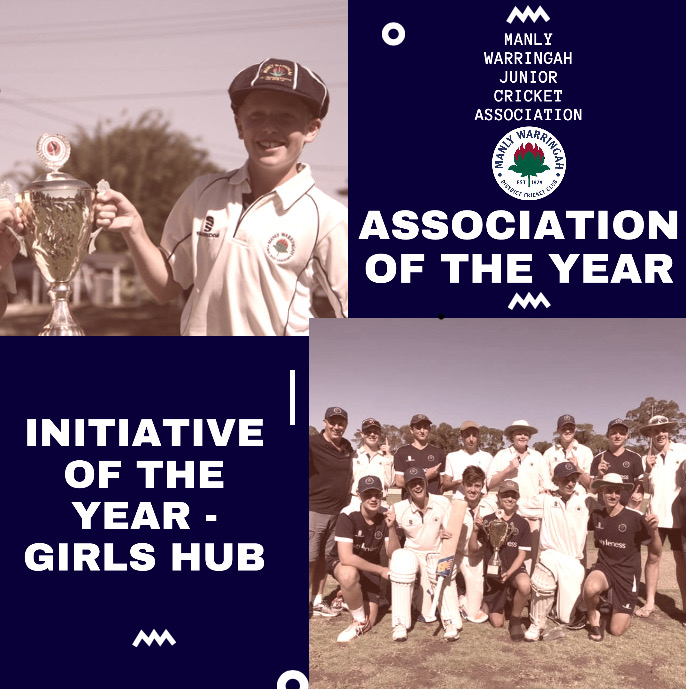 The Manly Warringah Junior Cricket Association has been nominated by Cricket NSW for the Association of the year, as well as Initiative
of the Year at the upcoming 'A Sport for All' Awards.

Held in Melbourne on the 23rd May, the 'Sport for All' Awards recognise the great work all community leaders and volunteers do to grow the spirit of cricket.

The MWJCA nomination for Association of the year was due to a variety of reasons, including its extensive player growth, the strength of the local pathway program, and most notably, its commitment to the growth of women's cricket.

Women's cricket on the northern beaches has exploded in the past couple of years, largely thanks to the MWJCA, and its dedication to growing the women's game, and it is a large part of its nomination.

Furthermore, due to their commitment to female cricket, the MWJCA has also been nominated for Initiative of the Year, for the Girls Hub program.

The Girls Hub program aims at increasing the participation of girls in cricket, with the ultimate vision of fielding teams in all Age Groups within NSW representative and Premier Cricket.

MWJCA are firmly on the way to this goal, with now 200 girls participating in local cricket on the northern beaches across 16 teams, compared to 1 team 4 seasons ago. They have also established representative teams in the u/13's and u/15's.

MWJCA have also been a large part of the contribution to MWDCC's under 15's girls side, as well as the u/18 Brewer Shield and Third Grade Women's side in the Premier Cricket Competition.

The two nominations are a true testament to all the hard work from everyone behind the scenes at MWJCA, and demonstrates the commitment that the MWJCA has to cricket on the Northern Beaches.

Congratulations to everyone involved on the nominations, and we wish the MWJCA the best of luck at the 'A Sport for All' Awards in May.