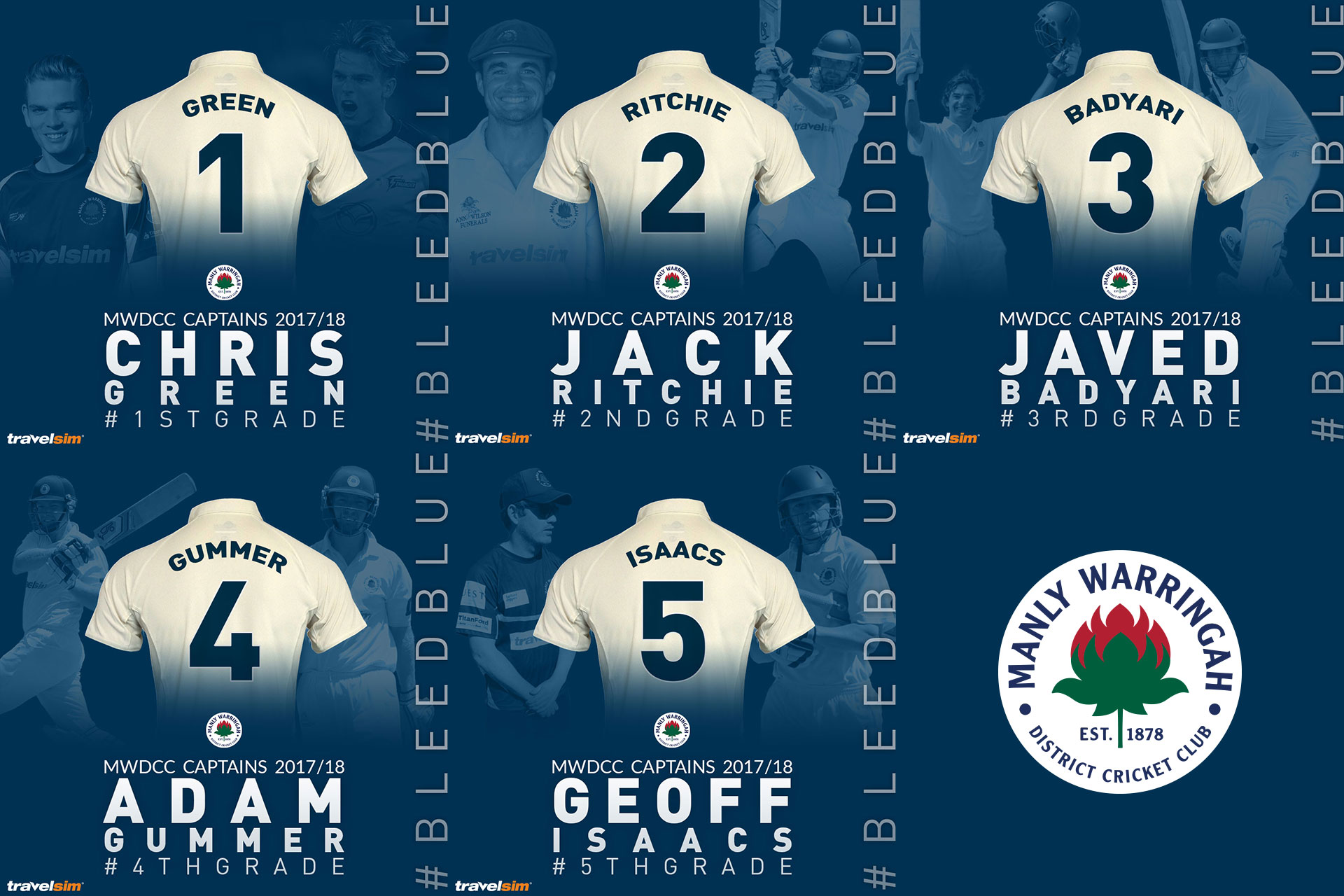 The TravelSIM Manly Warringah Waratahs are pleased to confirm the skipper for the upcoming 2017/18 season.
There is no doubt that a winning culture comes from great leaders, and we are confident that our leadership group for 2017/18 can create that winning feeling and propel the Waratahs to Club Championship and Premiership sucess.
As has been previously confirmed, Chris Green has joined the Waratahs as 1st grade skipper and has been very involved already in the pre-season. He is fitting in well and is going to make a huge difference to the side.
Click here to read about Chris Green's recruitment and captaincy announcement.
Jack Ritchie took 2nd Grade to the finals last year and is suiting back up once again for 2017/18. There is no doubt that "Cubby" learnt alot last season in his first year of captaincy, and will be better for the experience in his second year. Indeed, there is no doubt that he was getting his team firing. He has a fair season with the bat last year, but it's fair to say that he is pumped to churn out even more runs this coming season.
Our 3rd Grade side takes a sharpe turn from the old to the young with Warren Evans stepping back from captaincy (although he will still be playing). We are pleased to confirm that Javed Badyari is returning to the club and is excited to take on the 3rd Grade captaincy role.
Javed has taken a bit of a cricket hiatus over the last few season, focusing on his chairtable causes and his study, but is chomping at the bit to get back on the field. Javed is a quality cricketer with 1st grade experience, and whether it be his top order batting, his fielding or his bowling, he is always in the game and will be lkeading by example.
Max Burgess has shown himself to be a wonderful leader, as all that have played under him over the last few years can attest to, however due to a few personal circumstance she has decided to step down from the 4th grade captaincy this season.
As such, we are pleased to confirm that Adam Gummer will take on the 4th grade captaincy in maxy's absence. Adam has been a greast sounding board for Maxy in 4th grade over the last few years and has long been earmarked as a captain in waiting.
Finally, Simon Waddington has decided to retire after 3 years at the helm of 5th grade, and he will be replaced by another returning player.
Geoff Isaacs has been absent from the Tahs for a couple of years but still has his best cricket and leadership years in front of him. Another players with 1st grade experience, the man commonly known as "Shaggers" is very keen to show the boys how it's done in 5's and lead the team to a successful season.
We are also pleased to announce that Sam Gainsford has been ben appointed as Poidevin-Gray skipper for his second season. It is a position that Sam absolutley relished last season and is keen to leadthe side close to a premiership. Indeed, our PGs side this season is looking very strong and Sam will no doubt lead with aplomb.
Our Brewer Shield and Green Shield skippers will be announcd shortly.
So there they are, our leaders for the 2017/18 season. With preseason just starting, it's time for the kits to be dusted off and for the club to get back into the swing of things. It's sure to be another successful season!
Bleed Blue