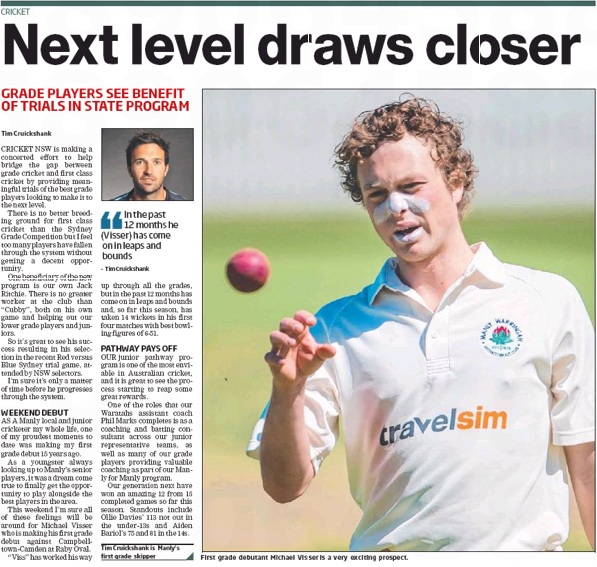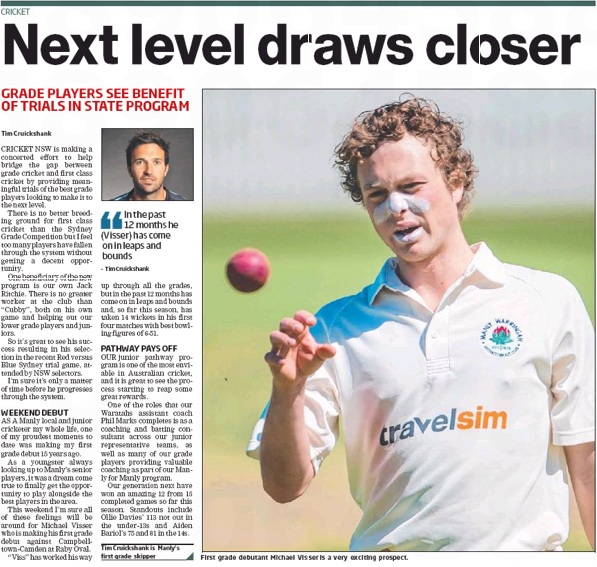 CRICKET NSW is making a concerted effort to help bridge the gap between grade cricket and first class cricket by providing meaningful trials of the best grade players looking to make it to the next level.
There is no better breeding ground for first class cricket than the Sydney Grade Competition but I feel too many players have fallen through the system without getting a decent opportunity.
One beneficiary of thenew program is our own Jack Ritchie. There is no greater worker at the club than "Cubby", both on his own game and helping out our lower grade players and juniors.
So it's great to see his success resulting in his selection in the recent Red versus Blue Sydney trial game, attended by NSW selectors.
I'm sure it's only a matter of time before he progresses through the system.
WEEKEND DEBUT
AS A Manly local and junior cricketer my whole life, one of my proudest moments to date was making my first grade debut 15 years ago.
As a youngster always looking up to Manly's senior players, it was a dream come true to finally get the opportunity to play alongside the best players in the area.
This weekend I'm sure all of these feelings will be around for Michael Visser whois making his first grade debut against Campbelltown-Camden at Raby Oval.
"Viss" has worked hisway up through all the grades, but in the past 12 months has come on in leaps and bounds and, so far this season, has taken 14 wickets in his first four matches with best bowling figures of 6-51.
PATHWAY PAYS OFF
OUR junior pathway program is one of the most enviable in Australian cricket, and it is great to see the process starting to reap some great rewards.
One of the roles that our Waratahs assistant coach Phil Marks completes is as a coaching and batting consultant across our junior representative teams, as well as many of our grade players providing valuable coaching as part of our Manly for Manly program.
Our generation next have won an amazing 12 from 15 completed games so far this season. Standouts include Ollie Davies' 113 not out in the under-13s and Aiden Bariol's 75 and 81 in the 14s.
{loadposition cricket}