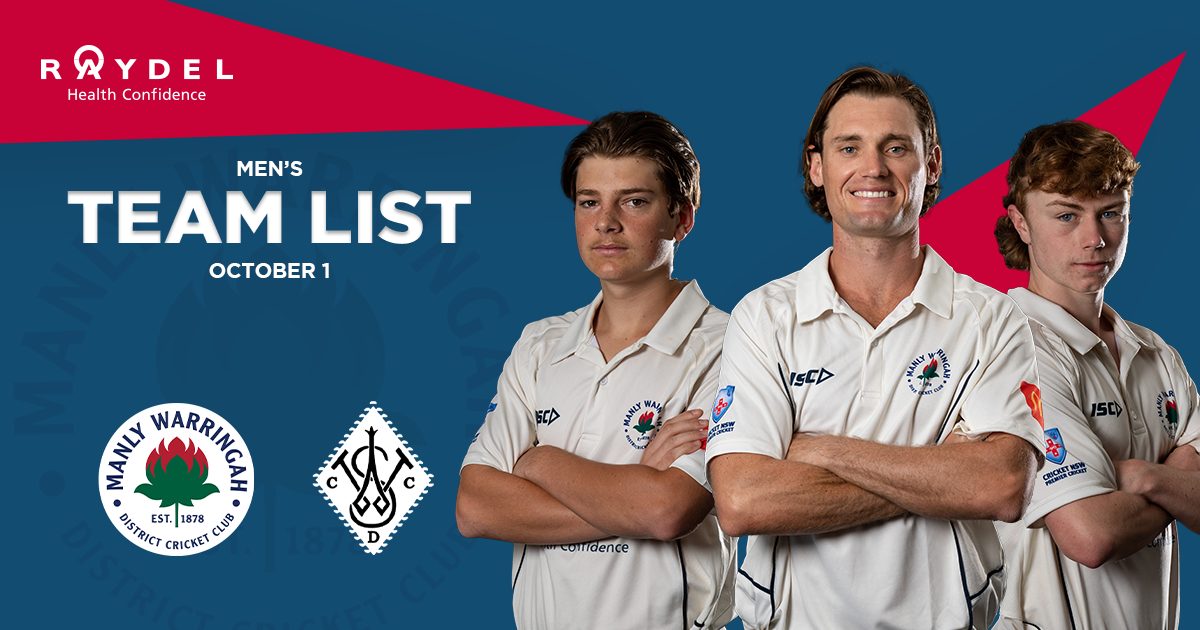 The Raydel Manly Warringah Waratahs suit up for Round 2 of the NSW Premier Cricket season against Western Suburbs. This round marks the first 2 day fixture of the season, and for the past 2 seasons for grades 2-5.Everyone will be itching out of their skins to finally return to the format, and some strong sides have been named with multiple returning players.
Last round was hindered by rain, with 1's and 5's getting no play in. 3rd and 4th grade both enjoyed comfortable victories, while 2's unfortunately suffered defeat in a DLS affected match at Chatswood.
1st grade welcome back big NSW quick Mickey Edwards, as they hope to get some play under way for the first time this season. 2's keeper Matt Brewster returns from his stint in the UK, returning to his usual role at the top of the order and behind the stumps, while Cam Merchant also returns. 3's welcome powerhouse Bryn Mendel, along with reigning players player Ellis Raymond and Sam Webber behind the pegs.
4th grade skipper Rochford is unavailable, which therefore gives a chance to Dom Wheeler to take over the reigns, as well as the inclusion of Ollie Melville. It will be a special day for 5th grade as the club could see 4 debutants come into the ranks with Reuben Kapoor, Lukas Overhoff, Julian Osbourne, and Flynn Pavely all set to debut.
Good luck to all teams, Go Manly
Men's First Grade – Two Day Match
Round 2 vs Western Suburbs @ Pratten Park
9am start
1. Ahillen Beadle
2. Joel Foster
3. Jay Lenton (c)(+)
4. Ryan Farrell
5. Joel Davies
6. Ben Bryant
7. Elliot Herd
8. Ryan Hadley
9. Josh Seward
10. Jake Carden
11. Mickey Edwards
Men's Second Grade – Two Day Match
Round 2 vs Western Suburbs @ Manly Oval
9am start
1. Matt Brewster (+)
2. Lachlan Coyte
3. Jacob O'Sullivan
4. Isaiah Vumbaca (c)
5. Jordan Daly
6. Cameron Merchant
7. Zach Trewartha
8. Roop Dhillon
9. Tom Kaye
10. Michael Counsell
11. Josh Wigney
Men's Third Grade – Two Day Match
Round 2 vs Western Suburbs @ Blick Oval
11:15am start
1. Sam Hole (c)
2. Neal Prowse
3. Lachlan Charles
4. Andrew Boulton
5. Bryn Mendel
6. Ellis Raymond
7. Sam Webber (+)
8. Evan Dunnachie
9. Lachlan Trewartha
10. Matthew Sunshine
11. Andrew Hicks
Men's Fourth Grade – Two Day Match
Round 2 vs Western Suburbs @ Graham Reserve
11:15am start
1. Dom Wheeler (c)
2. Oscar Lucius (+)
3. Reiley Dunlop
4. Jake Hutchings
5. Josh Cooper
6. Ollie Melville
7. Chris Halloran
8. Fraser Noacke
9. George Cumming
10. Hayden Williams
11. James Waddington
Men's Fifth Grade – Two Day Match
Round 2 vs Western Suburbs @ Punchbowl Oval
11:15am start
1. Keelan Mendel
2. Jack Donnan
3. Ethan Buchanan
4. Reuben Kapoor (+)
5. Lukas Overhoff
6. Julian Osbourne
7. Matt Evans
8. Simon Waddington (c)
9. Will Matheson
10. Josh Lawson
11. Flynn Pavely
Unavailable –
– Preston Lee
– Jack Melchiore
– Andrew Rochford (Week 1)
– Adam Parkinson
– Lachie Kerr
– Andrew Jamieson
– Liam Dinan
– Ned Hole
– Logan Weston (week 2)
– Jack Edwards
– Greg West
– Ryan Bishop-Perrett
– Jack Hobson
– Toby Laughton
– Hayden Calvert
– Ned Hole
– Raja Ganeshraj
– Lachlan Barnsley
– Steve O'Keefe