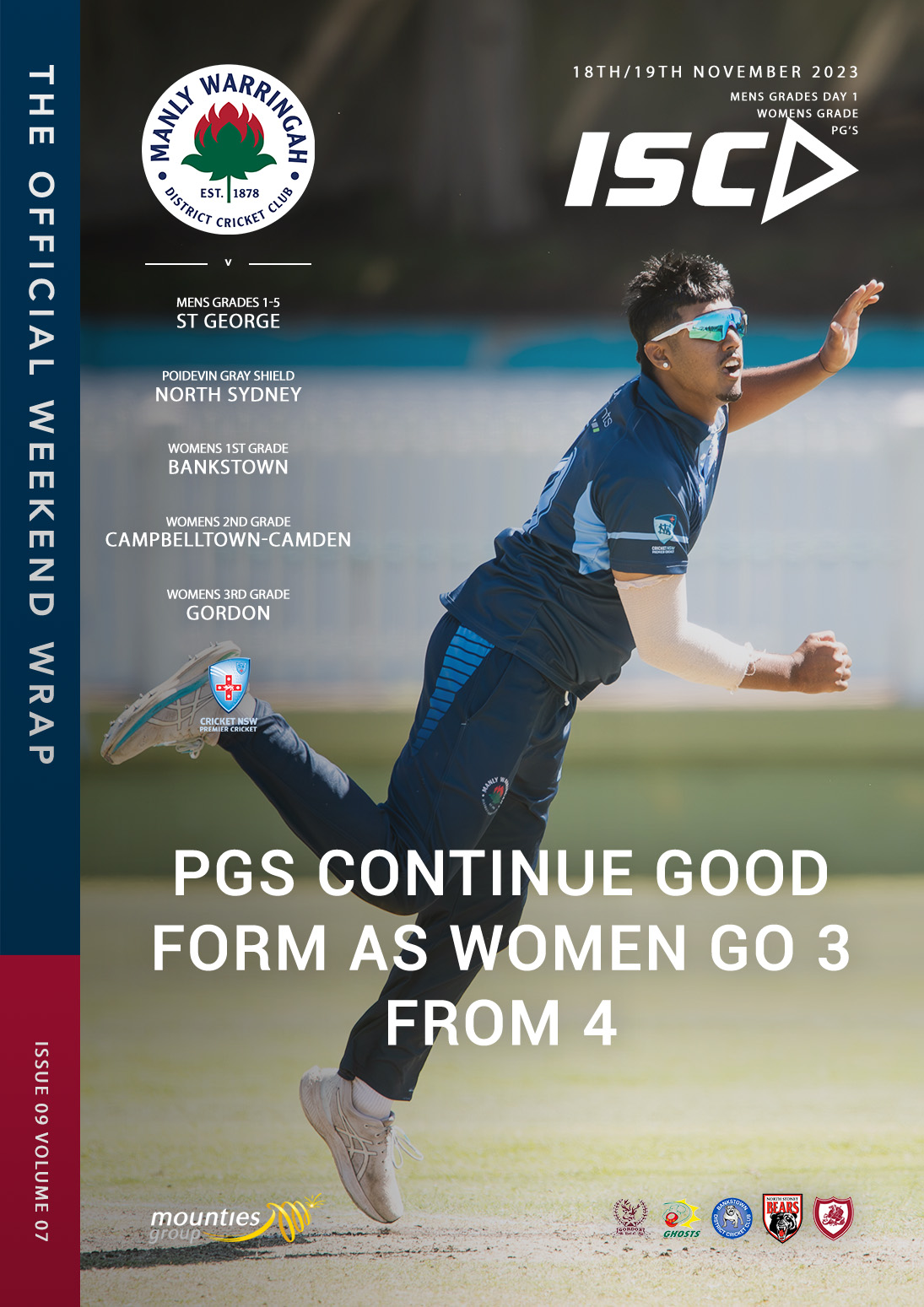 An up and down weekend just gone for the Tahs, with the Women going 3 from 4 on the back of some excellent team performances, while the Men had an overall frustrating Day 1 against St George across the grades. Meanwhile, PGs made it 3 wins on the trot with a gutsy victory on Sunday.
W3s extended their strong form of late with a resounding win over Gordon on Saturday at Fortress Balgowlah. In the field first after losing the toss, skipper Sallie Molyneux (2/3) picked up two early wickets in an economical spell alongside Olivia Champion (2/10). Spin continued to play a big role, as Jasmin Wilson (2/7) combined with Sienna James to have Gordon right on the back foot, well supported by a wicket to Cam Pryor and tight bowling from all bowlers, Gordon all out for 60. The run chase started perfectly with Sienna (30*) and Sophie Beukers (30) forming a positive partnership with attacking stroke-play, before Grace Pike (16*) hit a few late boundaries as the Tahs concluded their 20 overs on 2/93 to secure a great win.
Brewers were on the bus down south to face the Southern Swans in the picturesque Port Kembla. Losing the toss, the Tahs were fielding first, two run outs along with wickets to Kaya Punter and Lily Crabbe seeing the opposition 4/29 early on. From there, some excellent partnership bowling brought about regular wickets amongst Punter (3/3), Charlotte Croll (2/6), Sophie Lowry (2/15) and Crabbe (1/11) as the Swans were bowled out for 106. A shaky start to the run chase ensued, however a steadying partnership between Emily Horstead (32) and Punter (20) settled the nerves, before more quick wickets had the game in the balance. But ultimately, an unbeaten 25 run partnership from Charlotte Allen (19*) and Annabel Kyme (4*) saw the Tahs victorious by 3 wickets.
Grahams Reserve held host to one of the more remarkable games on Sunday, as W2s recorded a ten-wicket victory inside the first three overs of the second innings of a one-day match. Skipper Renee Hough won the toss and chose to bowl, Molly Kidd and Erica Sharma bowling economically with the new ball, but without luck early as Campbelltown moved to 0/15. What followed was quite remarkable, Hannah Moss (2/7) and Lara Hughes (4/3) tearing apart the Campbelltown batting order with some phenomenal bowling, supported by three run outs as the visitors went from 0/15 to all out 21. Yep, you read that correctly. Elizabeth Cambridge (15*) and Gabby Dunnage (5*) made light work of the chase, passing the total after 2.3 overs. Remarkable.
W1s made the trip out to Bankstown Memorial Oval for their first one-day fixture of the season. After losing the toss and being asked to field first, the Tahs made a positive start with Mia Phelps (2/41) striking twice early, supported by tight bowling from Lara Graham (1/40) to have Bankstown 2/24, before the home side rebuilt. Skipper Lauren Kua broke the partnership to make it 3/72, but unfortunately, things went downhill from there, as Bankstown capitalised on a few missed opportunities to build a formidable total of 5/281. Early wickets in the run chase didn't help the cause, and despite the best efforts of Eliza Henry (46) and Alana Horsfall (29), it ultimately proved too big a task, the Tahs bowled out for 171 in reply.
Hurstville Oval welcomed M1s for Day 1 of their clash with current Belvidere Cup ladder leaders, St George, who won the toss and elected to bowl. The loss of early wickets meant the pressure was on, Joel Foster standing tall at one end and fighting hard to keep the Tahs in the game with a classy innings of 68. Ned Hole (23) and Bertie Foreman (37) also provided some resistance to the Saints' charge, and despite some late boundaries from Josh Seward (15), the Tahs were bowled out for 185 in the 74th over. No luck with the ball from the 20 overs left in the day, as St George navigated their way to 0/76 at stumps, the Tahs with a mountain to climb next weekend.
M2s were back at home, skipper Andrew Jamieson winning the toss and electing to bowl at Manly Oval. Lachie Coyte (25) and Ben Bryant (41) consolidated after the loss of an early wicket, however, when their partnership was broken, a quick succession of wickets halted any momentum. Contributions from Brynn Mendel (22) and Roop Dhillon (17) steadied the ship, but it was a crucial innings late from Matt Sunshine (42*) that was pivotal in leading the Tahs to a competitive total of 202. The skipper made the perfect start to the bowling innings with an LBW first ball, before two further wickets late in the day to that man Jamieson meant St George finished the day 3/47, the game well and truly in the balance.
Sam Webber took the reins of M3s as they ventured out to Harold Fraser Reserve, the Tahs asked to field first after losing the toss on one of the flatter-looking wickets of the season. Josh Lawson (3/34) continued his superb form with a big wicket early, before Lachie Trewartha (2/54) broke a big partnership for the second wicket. St George fought back with a counter-attacking partnership, heading into the tea break 2/145 and in a strong position. Post tea, the Tahs fought back superbly, James Waddington dismissing the set batter for 94, before wickets were shared between Josh Coyte (2/41), Lawson, Trewartha and Fraser Noack, as all the bowlers toiled away, St George ending the day 9/234 from 80 overs.
Grahams Reserve hosted M4s, with the Tahs sent into bat first on a green but firm wicket. Our made a solid start to be 0/22, but unfortunately, the innings fell apart from there as the St George captain tore the Tahs' batting order to shreds, taking 8/16 in a classy spell of bowling to see us disappointingly bowled out for 87. Jack Melchiore playing a lone hand of 50 in a gritty display. Our bowling and fielding needed to be spot on, and the bowling group stepped up, two early breakthroughs to Will Mathieson (2/10) supported by Will Skinner (1/14) and two wickets late in the day to George Cumming (2/1), but still lots of work to do, St George 5/70 at stumps.
M5s travelled to Olds Park, with the Tahs fielding first after losing the toss on what looked to be a batter friendly wicket. Jordan Brewster started proceedings brilliantly with a big wicket, bowled, before Chris Halloran struck just after drinks to have the game in the balance. This was a trend that continued throughout the day, the Tahs' bowlers persisting economically yet without much luck, but consistently breaking partnerships just as they were becoming dangerous. Raja Ganeshraj with 2/13 from 16 overs in his return for the Tahs, supported by further wickets to Ollie Melville and Julian Osbourne, as St George finished 7/168 from 84 overs at stumps. Game on next week.
PGs returned home to Manly Oval to face rivals North Sydney on Sunday, sent into bat first on a green wicket. Bertie Foreman (41) and Roop Dhillon (20) began positively, the former attacking the power play while the latter played the anchor role in a strong 62 run partnership. The loss of some regular wickets through the middle overs halted momentum, Andrew Boulton (24) and Josh Cooper (28) doing their best to keep the innings on track, but it was late hitting from Evan Dunnachie (34*) that pushed the Tahs to a competitive 202. Skipper Josh Seward struck in the first over, followed soon after by one to Dunnachie, but Norths rebuilt and were looking dangerous until Roop Dhillon entered the attack, taking 5/49 from 10 overs to turn the game on its head. Crucial breakthroughs to Kai Croft and Josh Lawson (2/25) proved pivotal, while a ripping diving catch on the boundary from sub fielder Keelan Mendel was a game changer, as the Tahs ultimately were victorious by 41 runs to make it 3 wins on the trot for the PGs boys.
Next weekend sees the Men continue their battle with St George, while PGs have the weekend off. Meanwhile, W1s return home to face Gordon at Manly Oval, W2s travel to Killara Oval to take on Gordon, and W3s have a T20 at home against reigning premiers St George-Sutherland. Brewers are Grahams in a clash with Penrith.
Until then, up the Tahs.