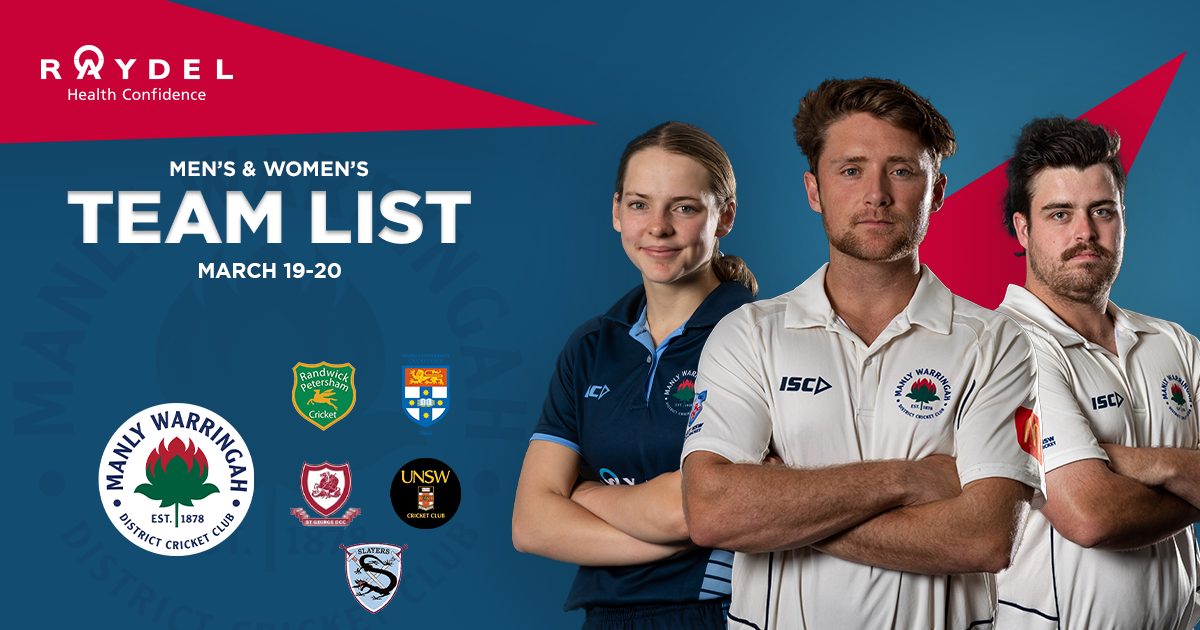 The Raydel Manly Warringah Waratahs have named sides for the first week of finals for the 2021/22 season. We see 4 out of the 5 Men's sides feature in the qualifying finals, while Women's 3rd grade and Brewers line up for semi finals. Men's 1's play Randy Petes at Coogee, while 2's host Sydney Uni at Manly. 4's venture out to Hurstville to take on the dragons, while 5th grade heads to David Phillips to face UNSW. Brewers play local rivals Gordon away, while Brewers face St-George Sutherland away.
Last weekend saw 3/4 Men's sides getting win's, with 5th grade called off and 4's going down narrowly. A huge 159 from Jay Lenton put 1's in control, while 2's and 3's were dominant to take away wins. Women's 1st grade narrowly missed out on a top 4 spot after they demolished the slayers, while all other grades did not get play in.
Men's 1st grade welcome back Mickey Edwards to replace the injured Greg West, while Jack Edwards also returns to the top order. 2nd grade make two changes with Jacob O'Sullivan returning from 1's, along with Josh Wigney. 4th grade keep an unchanged side, while 5's bring in Andrew Boulton to strengthen the top order. Not many changes have been made to the women's squads, with Ash Karcher the only change in 3rd grade, and Darcey Whiteley returning for Brewers.
Men's First Grade – Two Day Match
Qualifying Final vs Randwick Petersham @ Coogee Oval
10am start
1. Ben Bryant
2. Ahillen Beadle
3. Jay Lenton (c) (+)
4. Jack Edwards
5. Ryan Farrell
6. Joel Davies
7. Elliot Herd
8. Ryan Hadley
9. Jake Carden
10. Mickey Edwards
11. Steve O'Keefe
Men's Second Grade – One Day Match
Qualifying Final vs Sydney University @ Manly Oval
10am start
1. Matt Brewster (+)
2. Ned Hole
3. Jacob O'Sullivan
4. Logan Weston
5. Sam Gainsford
6. Isaiah Vumbaca
7. Cameron Merchant
8. Tom Kaye
9. Josh Seward
10. Josh Wigney
11. Andrew Jamieson (c)
12. Roop Dhillon
Men's Fourth Grade – One Day Match
Qualifying Final vs St George @ Hurstville Oval
10am start
1. Justin Cox
2. Oscar Lucius (+)
3. Bryn Mendel
4. Josh Cooper
5. Lachlan Charles
6. Dom Wheeler
7. Andrew Rochford (c)
8. Jack Hobson
9. Lachie Kerr
10. Adam Parkinson
11. Liam Dinan
12. Evan Dunnachie
Men's Fifth Grade – One Day Match
Qualifying Final vs UNSW @ David Phillips South
10am start
1. Reiley Dunlop
2. Hayden Calvert
3. Jack Melchiore
4. Jake Hutchings
5. Jake Osborne
6. Andrew Boulton
7. Ollie Melville
8. James Waddington
9. Josh Lawson
10. Raja Ganeshraj
11. George Cummings
12. Simon Waddington
Women's Third Grade – One Day Match
Semi Final vs Gordon @ Forsyth Park (Top Ground)
12:30pm start
1. Emma Lyon
2. Renee Hough (c)
3. Helen Hull
4. Sophie Beukers
5. Emily Hatfield
6. Mason White
7. Annabelle Gilbert
8. Sallie Molyneux
9. Cam Pryor
10. Mia Nel
11. Didi Prins
12. Sarah Gordon
13. Ash Karcher
Brewer Shield – One Day Match
Semi Final vs St George-Sutherland @ Olds Park (Oval 1)
10am start
1. Brooke Frew
2. Emily Horstead
3. Eliza Henry
4. Darcey Whiteley
5. Ellie James
6. Mia Nel (c)
7. Jessica Manning
8. Maya Nicey
9. Caitlin Du Preez
10. Charlotte Ambler
11. Shae Hiskett-Jones (+)
12. Cam Pryor