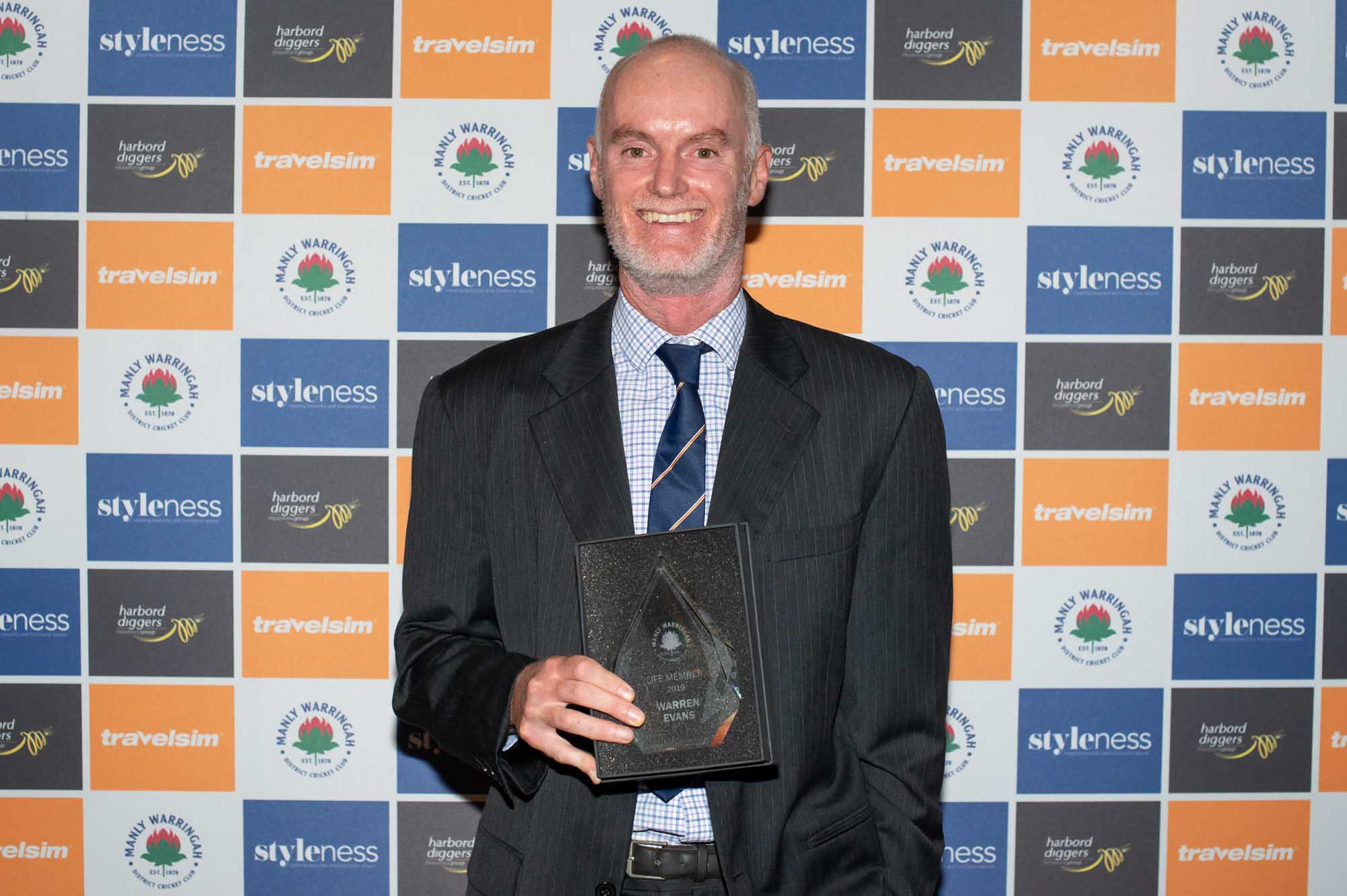 The Manly Warringah Cricket Club has said goodbye to the 2018/19 season after another great presentation night.
Returning to the Novotel Manly Pacific, more than 200 guests consisting of players past and present, wives, girlfriends and family members gathered to celebrate another fantastic year.
The night was as always started off by Club President Andrew Fraser, before a season in review thanks to Ian Bird photography.
From there the awards started, with batting and bowling awards given to the standout performers for each side, including for the first time three women's sides, as well as club wide performance awards. For the full list of winners, see below.
Another important award that was awarded for on field performance, was the Langdon Gould Memorial Scholarship, which was awarded to Joel Davies. This award honours the memory of club great Langdon Gould, who sadly passed away in March 2019.
The scholarship provides the best performing Green Shield player with subsidised playing fees so they can continue their cricketing journey. Congratulations Joel on being a well-deserved winner.
As well as the above awards, the night was also honouring the great Warren Evans, as he became only the 50th life member of Manly Warringah District Cricket Club.
Wazza was given a standing ovation as he accepted his life membership, and delivered a fantastic speech, that was unassuming, passionate, knowledgeable, and deeply respectful of the club's history, which Woz is a big part of.
Congratulations Wazza on being awarded your life membership, and for joining a very elite crew of Manly cricketers.
A big theme of the night was the great success of these women's sides, which is a testament to all the hard work that was put into establishing these sides.
It was therefore only fitting that the key driver behind these sides, Ross Denny, was awarded the most prestigious award, the Keith's Mark Trophy for Club Man of the Year.
Ross has been tireless in his efforts in establishing the women's program at Manly Cricket, and has thoroughly deserves this award. Congratulations Ross and good luck in continuing to make Manly Women's Cricket the best in Sydney.
Congratulations to all award winners on the night, listed below, and we look forward to another big season in 2019/20.
To see all the photos from the night, click here.
Individual Awards
| | |
| --- | --- |
| Keith Marks Clubman of the Year | Ross Denny |
| Players' Player | Max Webber |
| Female Cricketer of the Year | Mia Waddington |
| President's Award | Gordon Currie |
| George Lowe Medal | Jordan Daly & Mickey Edwards |
| Senior Player of the Year | Andrew Jamieson |
| Bob Lind Junior Player of the Year(U/21) | Joel Davies |
| Gary Flowers Most Improved Male | Ned Hole |
| Most Improved Female | Nat Guyot |
| Langdon Gould Scholarship Award | Joel Davies |
Team Awards
1st Grade
Batting Avg – Jay Lenton 300 runs @ 60.0
Bowling Avg – Michael Visser 26 wickets @ 26.1
2nd Grade
Batting Avg – Max Webber 427 runs @ 35.6
Bowling Avg – Andrew Jamieson 19 wickets @ 18.8
3rd Grade
Batting Avg – Matt Brewster 390 runs @ 39.0
Bowling Avg – Nick McLachlan 35 wickets @ 13.74
3rd Grade Female
Batting Avg – Kristie Crawford 346 runs @ 31.45
Bowling Avg – Kristie Crawford 17 wkts @ 11.0
4th Grade
Batting Avg – Adam Gummer 466 runs @ 31.07
Bowling Avg – Josh Wigney 27 wickets @ 13.93
5th Grade
Batting Avg – Lachlan Charles 372 runs @ 37.2
Bowling Avg – Jack Hobson 22 wickets @ 11.6
U15 Girls
Batting Avg: Ellie James @ 89 runs @ 44.5
Bowling Avg: Emily Horsted @ 5 wickets @ 8.6
Green Shield
Batting Avg: Joel Davies 501 Runs @ 62.6
Bowling Avg: Lachy Trewartha 12 Wickets @ 15.50
Brewer Shield
Batting Avg – Robyn Medley 264 runs @ 33.0
Bowling Avg – Jessica Mulcahy 16 wkts @ 5.19
Poidevin Gray
Batting Avg – Joel Foster 172 runs @ 24.57
Bowling Avg – Joe Graham 9 Wickets @ 15.0