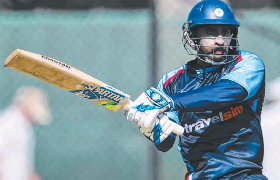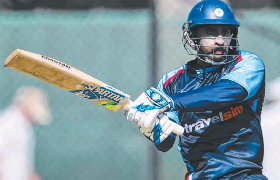 THE festive season has well and truly passed as our grades take on Blacktown today in what could be a very interesting match-up.
Blacktown are the traditional easybeats of the competition, but are having a much better season across all five grades, with their first grade side on level points with ourselves.
As such we won't be taking them lightly in our match today at Joe McAleer Oval at Glendenning.
One thing that also hasn't been light over the last week is the rain. The groundsman at both clubs have done a great job and we are a strong chance of playing in all games, but you still never know what conditions we are going to get.
One person I am looking forward to seeing with both bat and ball today is Waratahs and Sydney Thunder all-rounder Ahillen Beadle.
"AB" is part of the Thunders squad but hasn't had the chance to show what he can do on the field just yet after the Thunder's impressone ive start to the BBL season.
He is pumped to get back on the field and will be a key man as we push for a spot in the one-day quarter-finals.
BIG BASH SUCCESS
SPEAKING of the Big Bash, how good has it been to watch, both on TV and live at the game, over the Christmas break.
It has been an absolute revelation over the last few years and it seems to get bigger and bigger every year.
Seeing some of the players up close as an assistant coach of the Thunder has been an eye opening experience, especially world class players such as Mike Hussey and Jacques Kallis.
One thing that has been getting a fair bit of coverage is how the administration in Australia is going to keep Test cricket as our number format. To me there is room for both formats if our administrators get it right.
STILL IN THE HUNT
AT the half way mark of the season, all grades are still in the hunt for the semi-finals, but now is the time to make our move to assure each team place at the business end of the season.
After a slow start, our first XI is sitting in equal seventh place but is a good chance to move into the top six with a win today. Rowan Hamman's second grade side have struggled slightly after making the grand final last season, losing games they were expected to win, and sit in 14th position. Thirds also struggled for consistency but still sit in equal sixth.
Fours have been flying high and sit pretty in third, while our young fifth grade side have had a great start to the season under the tutelage of Simon Waddington, also finding themselves in third spot.
{loadposition cricket}