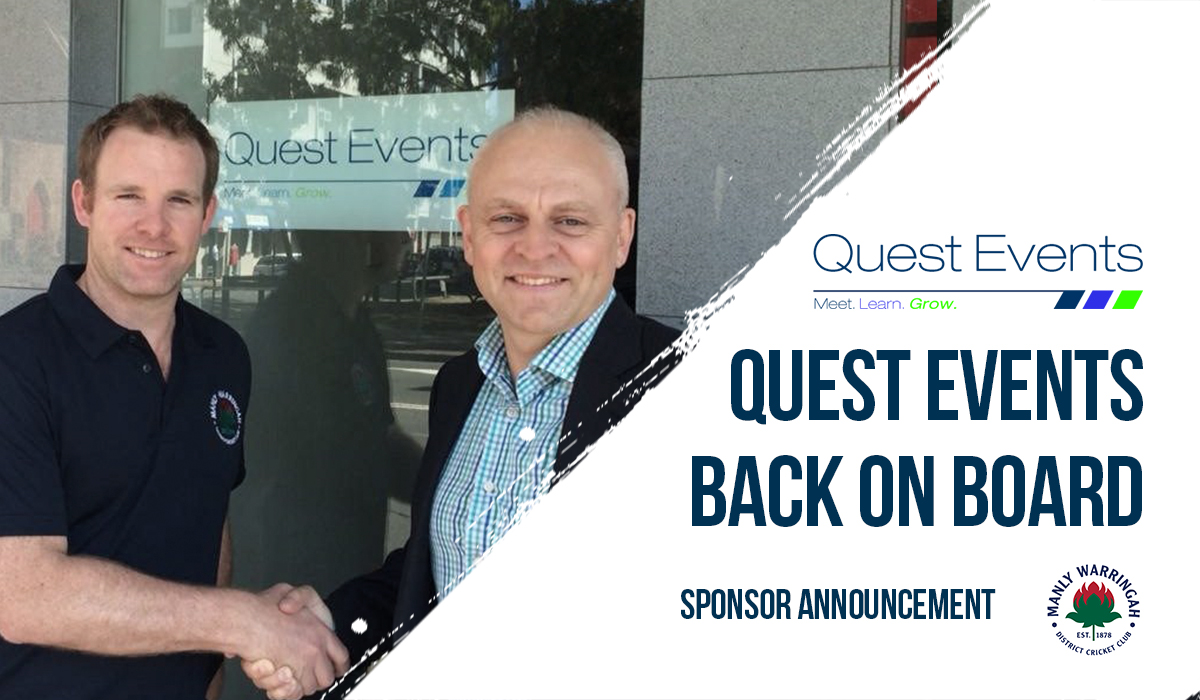 Our corporate family continues to mature with the re-signing of Quest Events as a corporate partner of the Manly Warringah Waratahs for the 2017/18 season.
Quest Events is a fast-growing business information and networking event provider – producing timely and relevant conferences, exhibitions and training seminars for industry and government participants alike.
Through high-level networking and knowledge provision, their unique events are designed to inform and inspire – helping you grow your business and progress your career.
The in-depth research that goes into the production of every Quest event means you can be assured of the highest level of quality and can expect value that is second to none.
Quest Events was set-up in 2012 by ex-Waratah Jamie Turmanis. With extensive background in all elements of an events business, and experience both in Australia and overseas, Jamie saw a gap in the market and hasn't looked back. Quest Events continues to grow and improve and is looking to take its clients on the journey with them.
Jamie played 7 seasons for the Waratahs from 1993-94 onwards and is especially excited about the future of his club.
"Being a Northern Beaches local born and bred, as well as a passionate ex-player, no matter where I have been over the last few years I have always supported the club and have looked on with great interest" said Jamie.
"My years as a player at the club were some of the best years of my life and some of the guys are still close friends of mine. Last year was not the success we all expected based on the previous season, but I really want to get more involved with the club and increasing our investment was the perfect way to do that.
"I'm looking forward to hanging out at Manly Oval a little more this season to watch the boys".
Online Retail Logistics 2017
10 – 12 October 2017 | Sydney | Australia
Optimising the supply chain to meet and exceed changing consumer expectations at least cost
Click here to view event on-line
CityIgnite Summit 2017
16 – 17 October 2017 | Sydney Town Hall | Australia
Unlocking city potential through collaboration & innovation
Click here to view event on-line
Blockchain in Healthcare Summit 2017
24 – 26 October 2017 | Melbourne | Australia
Revolutionising the way in which you manage identity, payments, supply chain and data
Click here to view event on-line
NEM Future Forum 2017
30 Oct – 1 Nov 2017 | Grace Hotel Sydney | Australia
Using innovation, technology and policy to future proof the NEM
Click here to view event on-line
Iot for Utilities Summit 2017
30 – 31 October 2017 | Grace Hotel Sydney | Australia
Strategy, technology and innovation for the future utility
Click here to view event on-line
Supply Chain Management 2017
15 – 17 November 2017 | Sydney | Australia
Maximising organisational performance through agile, secure and responsible supply chain and logistics operations
Click here to view event on-line
Smart Buildings Summit 2017
28 – 29 November 2017 | Sydney | Australia
Leveraging IoT to create high performance intelligent buildings
Click here to view event on-line
GovProcure 2017
5-7 December 2017 | SMC Conference and Function Centre Sydney | Australia
Building more effective, economical, ethical and innovative procurement teams
Click here to view event on-line
Please visit Quest Events at www.questevents.com.au and help yourself to Meet. Learn. Grow. It's what they are all about.