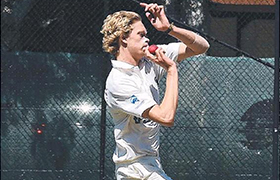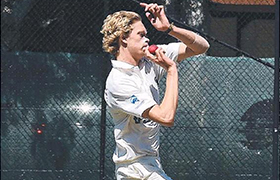 GREAT SPELL BY EDWARDS PUTS MANLY IN TOP SPOT FOR DAY TWO
MANLY'S Mickey Edwards vindicated his selection in the Sydney Sixes Academy with an impressive display in Saturday's match with Eastern Suburbs at Manly Oval
The Waratahs did an excellent job dismissing Easts for 258 on a flat pitch with a fast outfield.
Edwards, who finished with the figures of 3-51, and Ahillen Beadle with 4-57 the chief destroyers.
"Mickey bowled beautifully," Manly skipper Tim Cruickshank said.
"I thought his spell in the middle session got us back into the game.
"The going was pretty tough and he bowled with good pace, and knocked over a couple of their good players who we are probably yet to go and get big scores."
Cruickshank was delighted with the way his whole team was able to restrict the Eastern Suburbs total on day one.
"They could have got 300-330 the deck was that good," Cruickshank said.
"But our lines and lengths with the ball and intensity in the field were all great."
Manly finished the day 0-4 after Aiden Baker and makeshift opener Nic Bills saw out the two overs at the end of the day.
"We are confident of chasing them down if we bat to our potential," Cruickshank said.
{loadposition cricket}