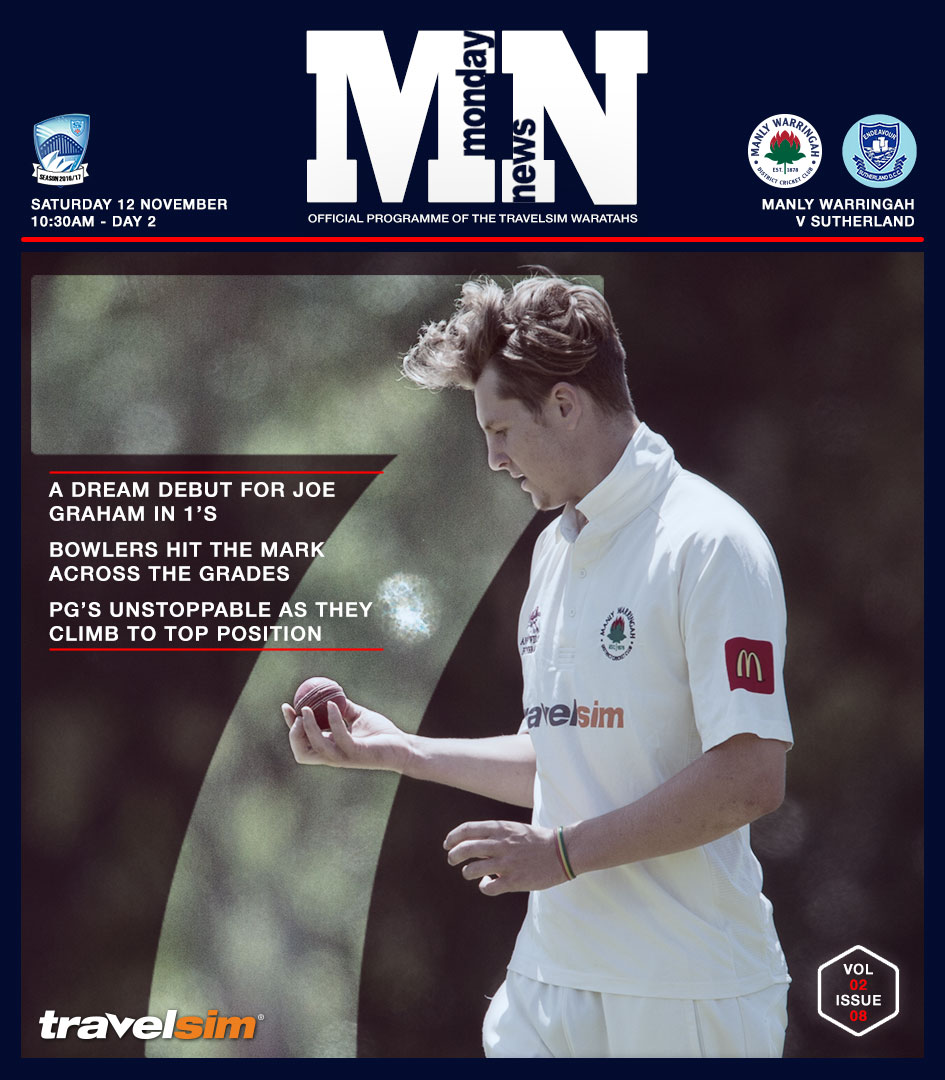 A terrific round for the Tahs saw wins from the top 4 grades as well as PG's, and a tough loss for our 5th grade side. All our bowlers toiled hard this week as we all went about defending solid totals. The stand out of the weekend was big Joey Graham claiming 7 wickets in his first grade debut. All bowlers chipped in as 2nd grade made easy work of defending 389, Carden picking up 3, and Wigney and Edwars picking up 2 a piece. 3rd grade dismissed Sutherland for 206, with RBP the chief destroyer with 3. 4th grade batted on for one ball as Dmac brought up his maiden ton, what a player. Falcs and Samoz were the leaders with the ball picking up 4 and 3 wickets respectively. 5th grade toiled hard in the field all day and unfortunately went down as Sutherland chased our total of 291, Archer picked up 3 scalps. Our PG's boys continue their great start to the season with a terrific win over Hawkesbury. The Hawks set us 181 and we chased it down for the loss of 4 wickets, Gainsford was the pick of the bowlers with 3 wickets. All batsmen chipped in with the bat, Davies top scored with 51*, Gainsford close behind with a great knock of 44 as both these boys put on 87 for the 4th wicket. A great week for the lads, we go up against North Sydney next week in the grades and Sydney for PG's at Drummoyne.
Up the Tahs!
4 Pines Player of the Week – Joe Graham

How good is he!

On his first grade debut, Joey picked up 7 of the best as he bowled First Grade to victory on Saturday. As mentioned on social media over the weekend, it is the best figures on debut for a Manly first grader in NSW Premier Cricket. Joey has worked really hard on his bowling and is reaping the rewards, and he doesn't seem to be slowing down any time soon. Joey now has a mortgage on the top bunk over Jacob in the Graham household.

Well done mate! Love your work.


1st Grade – Manly 5/398 def Sutherland 10/385 (J. Graham 7/148)
Making the third journey in as many weeks to the delightful Glenn McGrath Oval, the Manly boys were full of confidence to defend a strong total of 398.
Expecting another delicious batting wicket the Tahs bowlers knew they were in for a hard day in the dirt, with the expectation to win the fixture in the last half an hour.
A solid first session both with the bat from Sutherland and strong fight from our men with the ball ended with the 6″3 Joseph Graham bowling a textbook off spinning delivery to break the opening partnership on the stroke of lunch and take his first, first grade pole.
Coming into the second session knowing patience with the ball and support from the fielders was crucial to set up a victory the Tahs delivered. Joseph picking up another three critical wickets to have the home team four down at tea.
The stage was set for a cracking last session with both sides in position to take the 6 points. The strong words of have you seen the size of my fingers marks at tea were drilled hard into the Tahs "whoever cracks first loses the game". Knowing this the boys fought hard although going wicket less for close to 45 mins into the last session.
It wasn't until a wide turning delivery from JS Graham was knicked by the in batsman Brown when things started to turn. Joey had 5fa on debut.
A brilliant piece of fielding from the fast skipper brought about a run out and the sharks were 6 down needing 50 for victory. On comes the ticker of Taylor Beatty who wrapped Khan on the pads for 0, 7 down. Out came the 90+ first class veteran Shantry from England, he had no answer for the first game Graham out LBW for 0, 8 down 50 still required.
A mini revival from Fallins and the experienced Rixon brought the sharks to within 15 until the workhouse Visser (struggling with gastro all week) claimed the pole of Fallins caught on the fence.
After bowling 34 overs in a day it seemed it had finally got to Graham noticeably struggling from exhaustion and cramps, a few stern words from the senior players and Graham was on to bowl his 35th, two balls later it was all over a feather behind and Graham had his 7th.
All the hype will be around Joey and his 7/148 on debut the greatest debut for the club in the modern era and in the top 5 of grade cricket of all time and deservedly so, however the support from Beatty, Visser, White, Beadle, Farrell and the professional standard displayed in the field played a massive part in the win, not to mention the outstanding efforts with the bat the week before.
A fantastic victory for the Tahs and a great day to witness history.
Jay Lenton

2nd Grade – Manly 6/389 def Sutherland 10/147 (J. Carden 3/16) & 2/108
The mighty 2nd grade rocked up to the majestic Graham's reserve greeted with the baking sun after a little morning shower and on the hunt for another 6 points. After a disappointing result for the bottom 5 in touch footy, the warm up really set the tone for the day and showed the opposition that we were ready to get in the grind to get the result.
Wigs (Josh Wigney) and Ping (Jake Carden) opened up and bowled an impressive opening spell, keeping the ball up and making great use of the early juice in the deck, leaving Sutherland reeling at 3/16 after Jack Edwards strangled their number 3 down the leg side. Their big bearded batsmen arrived to the wicket and immediately Dyl came on to try and get under his skin. The good little battle was in effect with him getting some big shots away until he made the mistake of going back at Graham's and was skittled for 27. Meanwhile, their young right hander was playing well and they made it to lunch at 4/100.
First ball after lunch, Ping removed Waugh for 40, castled with an absolute peach (it looked good from fine leg) and the Manly boys were on the hunt to wrap up the tail and send Sutherland back in for a second time. This was done very well as Ping (3/16), Wigney (2/20) and Nathan Bracken (Gainsford (1/14)) bowled them out for 147, with Jack Edwards also grabbing 2/20 and Marshall 1/42. Mention to Tommy Kaye who also bowled well with no luck.
With some time to play before tea, we though we'd have a crack of making some early inroads for a potential outright victory and this was started off perfectly with Wigney getting through the defence of their opener first ball to leave them 1/0 off 0.1.
That's where the celebrations came to an end with their number 3 coming out and playing positively, whacking 50 against a tiring bowling attack. Sutherland ended up at 2/100, 12 overs after tea, but nevertheless a great result for the Manly boys and a great way to build momentum leading into the Christmas period.
An excellent performance with the bat last week which was backed up by a great performance in the field.
Dylan Marshall
3rd Grade – Manly 7/319 def Sutherland 10/206 (R. Bishop-Perrett 3/41)
Tonkin was even better to bat on than day one with the weeks' moisture evening out the pitch and letting the ball come on truly. It would be interesting to see how Sutherland went about the game and from the onset our tight lines kept their run rate in check. The run chase never got interesting, the wicket chase threatened to though.
Wilson (2/15 from 11) got the new ball to go away a bit from the lefty and when he shouldered arms to one that may have straightened a tad he had his off stump and a bit of middle knocked back. 1/18. A long partnership then occurred, all bowlers keeping it tight and Sutherland not accelerating at all. In fact the run rate touched 3rpo very briefly during this partnership but soon fell back to well under 3. Zac (1/16 from 6) bowled well and he got the opener off balance and Bariol had the bails off very quickly to make it 2/86. Aidan's keeping was on par with his batting from last week.
Izzy (1/70 from 12) was expensive but got the 3rd wicket care of a smack to Wilson at mid off. 3/90. Just before tea RBP (3/41 from 17 overs of good pace) trapped their only threatening bat in front. At tea Sutherland were well behind at 4/115 from 42 overs. RBP kept his hostile spell up after tea and cleaned bowled a couple of blokes, add a snick to Wilson and we were well placed at 7/138 with 90 mins to go. We were flying though the overs with the likes of Evans (0/6 from 6), Davies (0/11 from 8) getting through the overs quickly. The 8th wicket proved difficult with the #3 having no intention to win the game batting for 65 overs for 69 runs. Ned Hole (1/24 from 10) bowled very well, full, straight and onto the bat maybe a bit quicker than they expected and he got a critical wicket caught behind to make it 8/196. The 9th wicket was stubborn as well taking it to the 78th over before Ash Verdi (2/19 from 10) ripped one past him for a caught behind/stumping. Ash's bowling was high quality leggies and with the pressure he put on in the short cover region he had a good day. Ash finished them up in the 80th over with 30 mins spare. Thanks mate, just saved the club $90 for a new ball.
A very good effort all round this game. Not easy to prize out 10 wickets on a flat track with batsmen intent on occupying the crease. To score 206 in 80 overs was a bit painful but we kept on hanging in with good accurate bowling and were rewarded with the right result.
Wazza
4th Grade – Manly 7/296 (D. McKenna 100*) def Sutherland 10/156 (B. Falconer 4/43)
4th Grade turned up to Mike Pawley Oval on Saturday with Dan McKenna on 99 not out and our score at 7 for 295. Daniel returned to the crease and stole a quick single into the covers from the first ball of the day to bring up his maiden hundred for Manly. Congratulations Dan! Captain Max Burgess immediately declared and sent the Sutherland boys in to bat.
Sutherland started steadily, taking the score to 36 before the fall of the first wicket. The young Sutherland side struggled to score with consistently straight bowling and well set fields. After the first drinks break, wickets began to fall more regularly. Ben Falconer bowled particularly well in his second spell, using good change ups to bamboozle the batsmen and snare 4 wickets from his 15 overs. Sam Alexander also bowled with control, taking a deserved 3 wickets from 20 overs. The remaining 3 wickets were shared between Dan McKenna, Jacob Graham and Will Akhurst, who took his debut wicket in 4th grade.
Sutherland were bowled out in the 63rd over for 156 handing Manly their third win for the season. This leaves 4th grade in 5th position on the ladder, taking on 10th placed North Sydney next week at Mike Pawley Oval.
Up the Tahs!
5th Grade – Manly 6/291 def by Sutherland 4/295 (G. Archer 3/66)
Fifth grade rocked up to Tonkin Park searching to reach the 300 mark in 8 overs, however due to some smart bowling by Sutherland we managed to reach 291 with help from Hayden (49*) and support from debutant Jake Osborne, ready to have 70 overs to knock over the Sutherland line up.
Knowing that the 4th day deck was as lifeless as grahams on a good day, full and straight was the go. Openers Glynn (3/66) and Michael (0/49) were unlucky not to grab an early wicket due to some smart batting from the Sutho batsmen. Glynn was the pick of the bowlers throughout the day and should be congratulated for steaming in for 19 overs during a day of hard toiling. Hayden (1/54) was also unlucky not to snag a couple of wickets with his tight lines and Ben Watts on debut (0/25) was extremely impressive with the ball troubling batsmen from both ends. At the end of the day we were out batted by Sutherland's opening batsmen who ended up on 197* out of the 290. All of the bowlers today were challenged and got a taste of the first grade standard in the fifth grade competition. The mighty fifth grade side will be back next week looking to come back as good as ever.
Jacob O'Sullivan

Poidevin Gray – Manly 4/182 (O. Davies 51*, S. Gainsford 44) def Hawkesbury 10/181 (S. Gainsford 3/24)
The boys were up and bouncing around on Sunday morning as we took on Hawkesbury at Graham's. They won the toss and we were sent in to the field.
We started off well with Ben Falconer (2-23) dismissing two of their batsmen within two overs. The batsmen had a slight fight back but the Tahs took three quick wickets around the first drinks. Jack (1-16) took the wicket of the opener who was looking good. Then the first over after drinks Sam (3-24) took two wickets in the over to have Hawkesbury struggling at 5-68. The Tahs had the wind behind them and were hoping for a run chase around 100-120. A few of their batsmen stuck around and eventually Hawkesbury were all out for 181. Credit to the bowlers who bowled well to the plans and the fielding was very good.
With 181 being slightly under par, it was now the batsmen's turn to back up our bowlers on a slow, deteriorating Graham's pitch. Aiden Bariol (22) and Will Wolter(31) got us rolling. Aiden was unfortunately trapped in front. Jack Edwards (13) came in and looked good and added a few more to the total with Will doing his job at the other end. Jack and Will were then both dismissed within 10 runs of each other and the Tahs were 3-67. Enter skipper Sam (44) and young gun Ollie (51*). These two really showed their talent and batted superbly. It took them a few overs to get in but from that they set the bench mark for this run chase. The two looked to finish off the innings as they put on a partnership of 87, but there was a slight mix up running between the wickets and Sam was walking back to the change rooms. The score was now 4-154. Zach (13*) came in with Manly needing 28 runs off about 15 overs to win. Ollie and Zach batted through and past the score with 7 overs remaining. It was a very good batting display from the boys.
This win takes the lads to 3 from 3 wins which puts us in a fantastic position as we take on Sydney next week at Drummoyne Oval.
Zach Trewartha

Hardboard Diggers Team of the Round
This week was a hard one with so many great efforts with the bat in week 1 and the ball in week 2. 5 hundreds and 5 spots in the top 6 going to Bariol, Rawlings, D'Arcy, Weston and McKenna, while Wolter just scrapes in with 95. Both Crosthwaite brothers were extremely unlucky to miss out on the team. Jacob Graham comes in at 7 after his match winning innings on day 1 in 4th grade, as well as providing that 4th seamer with the ball. Falconer produced some cracking changes of pace in 4th grade and he takes the new ball along with the fiery Ryan Bishop-Perrett who is starting to bowl with real venom. Jake Carden was his consistent self and is our first change bowler. Then of course there is Joey.
Depth in the batting and bowling, a team to rival any across the 20 clubs based on the weekends results.