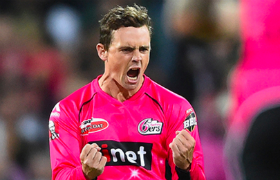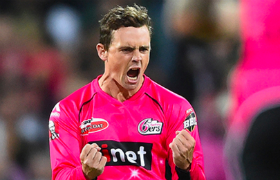 Sydney Sixers bowlers Jackson Bird and Stephen O'Keefe have put rival BBL batsman on red alert with the pair showing their quality in the Sixers disappointing loss on Sunday.
Defending a respectable 139 against the Melbourne Stars at the SCG, Bird (1-13 off 3 overs) and O'Keefe (1-24 off four overs) joined together to give their side a shot at victory.
O'Keefe gave his side the perfect start through cleaning up opener Marcus Stoinis for a duck on the third ball of the game. Bird then backing-up this effort with a rare maiden and three overs of clinical seam bowling.
And their efforts didn't go unnoticed by their teammates.
Sixers' batsman Jordan Silk was full of praise for the pair labelling them 'two big players for us going forward'.
"He bowled brilliantly and that's what we've come to expect form Jackson. We've seen it before in the green shirt but it was nice to see it in the pink tonight," Silk told sydneysixers.com.au
"That's just Jackson bird in a nutshell, hitting that nice length and very hard to score off so that's a great return to form for him and I'm sure he'll be thrilled with that.
"Hopefully he can kick on from here and along with 'Soky' (O'Keefe), those two were brilliant tonight."
While unlucky on the international front, Bird and O'Keefe have highlighted themselves as danger men for the 2015/16 BBL season with the two even pairing up for Bird's first wicket.
Their performances can be considered especially remarkable with the loss of captain Moises Henriques to a calf injury mid-game having a huge effect on the team and their performance.
Silk pointed to the qualities that Bird and O'Keefe put on display as something that the whole squad can look to build upon and implement into every match.
"I think we've gone through a few games there where our batting's been really good or our bowling's been really good or it just hasn't clicked quite together as one so there's certain aspects of batting and certain aspects of bowling that we need to improve on," he said.
"We were probably 20 to 30 runs short there, it's obviously tough when you lose your captain during our run setting… I thought we started well with the ball but that partnership between Maxwell and Handscomb really got them home in the end.
"But with the squad we've got we're more than capable, we've shown in the past, that we're able to get into that top four spot come January."
{loadposition cricket}