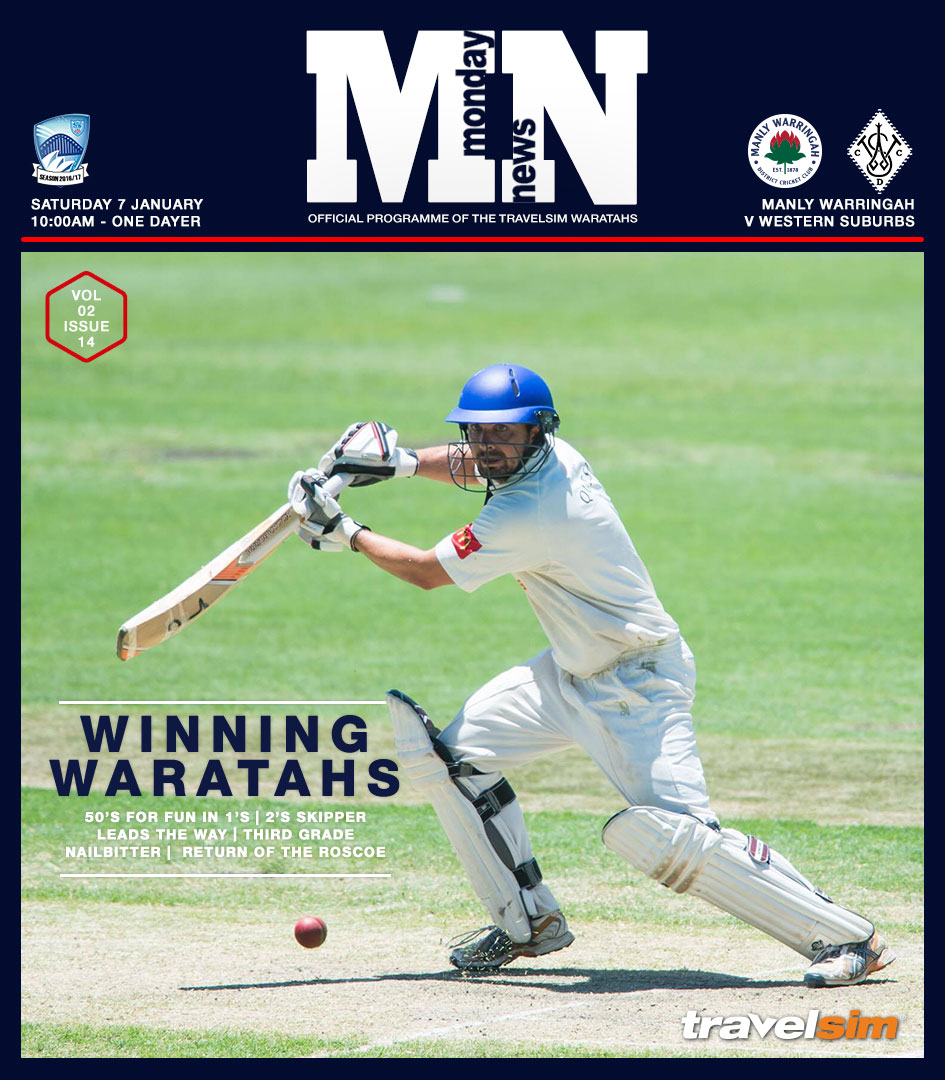 The TravelSim Waratah's had a near perfect return to 2017 with all grades winning except 5's. First Grade bounced back from a disappointing December with a comprehensive win over Wests. Both Crosthwaite brothers led from the front notching up half centuries with solid later innings support from Merchant and Beadle. Matt Alexander and Ahillen led the way with the ball picking up 3 and 4 wickets respectively. Second Grade continued their winning form with a near bonus point victory down at Manly Oval. Cubby's men won the toss on a beautiful batting wicket which saw Rawlings and Ritchie post well-compiled half centuries. After posting 229, Wests were bundled out for 138 with Sammy Gainsford taking his maiden Grade cricket 5 wicket haul. Awesome stuff Sammy. Third Grade had a nail-biting win over Wests out at Blick oval. In a rain reduced match, both teams were given 44 overs to bat. Wests posted 8/123 off their 44 in tricky batting conditions, and our boys snuck over the line 8 down with 4 overs to spare. Fourth Grade had a close win as well with Rosco Trewartha (70) and Glynn Archer (5/44) the stars of the day. Fifth Grade unfortunately were the only team to miss out on points over the weekend as they were sent in on a very difficult batting wicket and bowled out for only 100. Will Outred the only man to show resistance with 30. Wests passed us 5 down.
Due to a dominant weekend, and Green Shield/Poidevan Gray success, the club sits in a great position to make a run towards the club championship. Another strong weekend from the Tah's will see us potentially close in to 4th place and even closer to the leaders Northern Districts.
Club Championship – 6th

1st grade – 13th
2nd grade – 5th
3rd Grade – 5th
4th Grade – 8th
5th grade – 8th
Poidevan Gray – 1st
Green Shield – 5th
4 Pines Player of the Week – Sam Gainsford

This week's 4 Pines Player of the Week goes to PG's skipper, and Second Grade all-rounder Sam Gainsford. Despite a niggling arm injury that has given him problems all season, Sam battled through a wonderful spell on Saturday with match winning figures of 5-23 off 8 overs. Sam bowled with great control and flight and was the pick of the bowlers for the weekend. Saturday's big bag of wickets wasn't enough for Sammy as he collected 4 in PG's bonus point victory on Sunday over North Sydney. Saturday was Sammy's first 5 wicket haul in Grade cricket and we are all positive there will be more to come.

Well Done Gainsy!

1st Grade – Manly-Warringah 7/226 (A. Crosthwaite 70, J. Crosthwaite 50, C. Merchant 37*, A. Beadle 35) def Western Suburbs 177 (A. Beadle 4/19, M. Alexander 3/28)
Coming back from the break following 3 defeats in a row we knew it was crucial we came back from wests with 6 points if we were any hope of making the semis. We won the toss and batted on a slightly sticky wicket with the thought it would be low and slow later on and hard for them to score.
Farrell fell early, which brought in the skipper who combined with his brother for an awesome partnership which really set up our innings. James was batting well, and after reaching his 50 he tried one too many over long off and got caught. AB and Adam put on another 100 or so which was probably a match winning partnership. Adam finishing on 70 and AB 35. Nappa then finished off the innings as he always does with a run a ball 37 as we reached 226 from the 50. Given how slow the outfield was we thought that score was around a 260-270 score and we were very happy with it.
We started the second 50 really well with Mattoes and Viss picking up an early one each to have them 2-5. Viss was the pick of the bowlers all day, he bowled 10 straight and was very unlucky to have only grabbed the 1 wicket, finishing with 1-26 off his 10. Wests had a couple partnerships throughout the innings but we were always on top and we always felt like they would have to do something very special to get the win. All the bowlers were awesome, Mattoes again showed how good he is, the young seamers Jack and Jake were awesome and AB cleaned up the tail and came home with 4-19 off 4.4 overs.
It was a great win, which will hopefully kick start our season again and give us some momentum leading into the back end.
Ryan Farrell
2nd Grade – Manly-Warringah 229 (J. Rawlings 70, J. Ritchie 67, A. Bariol 34) def. Western Suburbs 138 (S. Gainsford 5/23)
Rocking up to flat Manly Oval wicket Jack Ritchie won a good toss seeing us bat first. Billy D (4) and Jarrod Rawlings (70) looked positive until Bill got a good one. Ralphy played extremely well from the first ball rotating the strike and punishing the bad ball. Sam Gainsford and Tom Kaye got starts and were unlucky to not go on. In came Skipper cubby who joined Jarrod putting on a superb partnership of close to 100 to set up a big finish. Unfortunately Ralph went bringing Bariol in putting on close to 50 with Jack. Unfortunately the case of going a bit big too early took over with Ritchie going for a well made 67 and Bariol for 34. The next few batsmen couldn't quite get going reaching 229 off 47.
Confident we could defend this total on an ageing wicket with disciplined bowling Matty White and Andrew Jamieson bowling extremely well with Jamo swinging one through the gate for the first. The next came through Dylan Marshall with his 200th wicket. Hats off to the great man! The squeeze began as Sammy G came on with Wiggers and TK bowling tight areas at the other end. Gains bowled with great variation to rip through Wests middle order claiming a well-deserved 5fa taking the last one to bowl them out for 138. 1 run off the bonus point.
Aiden Bariol

3rd Grade – Manly-Warringah 8/126 (J. Boyer 40) def Western Suburbs 8/123 (Z. Trewartha 3/27, S. Alexander 2/20)
Blick was very wet at one end and another delayed start meant a 44 over game. We won the toss and sent them in and the pitch played as expected, divots coming out from one end and slow all over with some that popped. It wasn't going to be much better to bat on late in the day with the size of the divots coming put. The outfield was outrageously slow.
Bishop Perret (0/19 from 7) was tidy with just about every over a leak of runs from the last ball. Other than that he bowled well again. Falconer (0/6 from 2) struggled with his follow through with just about every ball the umpire getting into his ear about it, along with 2 official warnings. Tough one –if the pitch was hard and dry no issues but as it was so soft it was getting torn up – had to take him off despite bowling OK.
Crombie (1/16 from 5) got the LBW and bowled full and straight. Dropping short saw the ball sail over mid wicket for the only 6 of the game (they hit 5 fours, we hit 3) and that was a shame.
Evans (1/25 from 9) was tidy but went for 10 in the last over which was a bit deflating. Bowled his usual stuff otherwise and a bit unlucky not to get their main run scorer with a dropped catch at short cover.
Hole (0/9 from 3) started with two maidens but lost his way a bit in his 3rd over. He threw the stumps down from 40 m to get a run out as well. Trewartha (3/33 from 9) and Alexander (2/20 from 9) bowled excellent spells, Sam getting huge turn and bounce and at times unplayable. Zac bowled with good pace at times and had them in all sort at various times but would let them off the hook every so often. Good signs though from the all rounder.
All up we thought 8/123 was a bit below par so we were confident with the chase.
Their capt and opening bowler proved a massive handful, hammering away into the pitch . He got Wolter (1) in the slips. When Gummer (4) played across one and was bowled were were 2/20 and in a spot of bother.
Boyer (40) played very sensibly in the tough conditions. Letting a lot of balls go and having a good crack at them when he played a shot were great tactics and he threatened to bring it home for us. This 40 would have been close to 70 at Grahams with most of the runs hit across the slow outfield as Butch played a determined, chanceless, match winning innings.
Crombie (5) looked solid until the inevitable tickle and the less said about Zac (1) and Ash's (3) LBWs the better, both unlucky. When Boyer snicked off at 6/92 we needed something from the capt. He delivered a single then was fired. The umpiring was threatening to take this game away from us. 7/101. Alexander (2) snicked to make it 8/108.
Needing 16 to win RBP (12no) and Hole (24no) looked as good as anyone for the game and delivered a great win. Ned is really coming into it now, after going close last game with an excellent 35 before being run out it was great to see him set about the task so maturely. RBP probably hit the two best fours of the day, clipping full pitched deliveries off his pads hard into the square leg fence.
Well done fellas on what one may suggest was an ugly win. Pretty sure we can still play a lot better and we are placed in 5th spot at the moment.
Warren Evans
4th Grade – Manly-Warringah 198 (R. Trewartha 70) def Western Suburbs 8/193 (G. Archer 5/44)
It was the first game after a well needed brake from last year's dominance in the final few games to put us in a good position for the second half of the season. We lost the toss and were sent in on a wicket that we knew would have a bit of movement early but would flatten out over the day.
Max Burgess and Nick Cohen were to open the batting, the opening bowlers kept their line tight not giving them a chance the free the hands. There weren't many scoring options for the first couple of overs which started to put a bit of press on us leading to the fall of Maxs wicket. This brought Ross Trewarther to the wicket to steady our innings. He was the real stand out of the day with no one else able to convert their starts for a big score. With the help of some last minute hitting from Alex Bain at the end to give us a good chance of winning.
The final innings was really back and forth, with no team looking to win the game. The all bowlers were on their game bowling very well in the second half of the innings, ultimately giving us the best chance of winning. Max getting through his full ten quickly and then Brad Alex and Glyn backing him up at the other end. The real stand out for the day was Glyn who got a match winning 5fa to give us the best chance of winning. The game did come down to the last over with Wests needing 12 from it. Will was able to keep them from scoring bring the Manly boys home for the first game of the new year
Will Akhurst
5th Grade – Manly Warringah 100 (W. Outred 30) def Western Suburbs 5/101
The Fifth Grade squad arrived bright and early at pleasant Punchbowl Oval to find no pitch marked and a frantic groundsman desperately at work. After much talk, play finally began at 12.30; unsurprisingly we were put into bat as the two young debutants Harper and White were unveiled. Matt and Will opened and soon realised they had to attack anything in their half as they quickly added 30, before Wests adjusted their tactics and wickets fell rapidly on a seaming and spinning wicket. Matt White showed some quality late on and Michael Counsell smashed a first ball six, but there were few other highlights as we were rolled for 100 exactly. The wicket had dried out significantly by the time Wests began batting and our bowlers were never able to build enough pressure even though wickets fell regularly, including two run outs – one thanks to Waddo's quick reflexes at silly point. In the end our score was passed 5 down on a day when everything depended on the toss.
Ben Watts