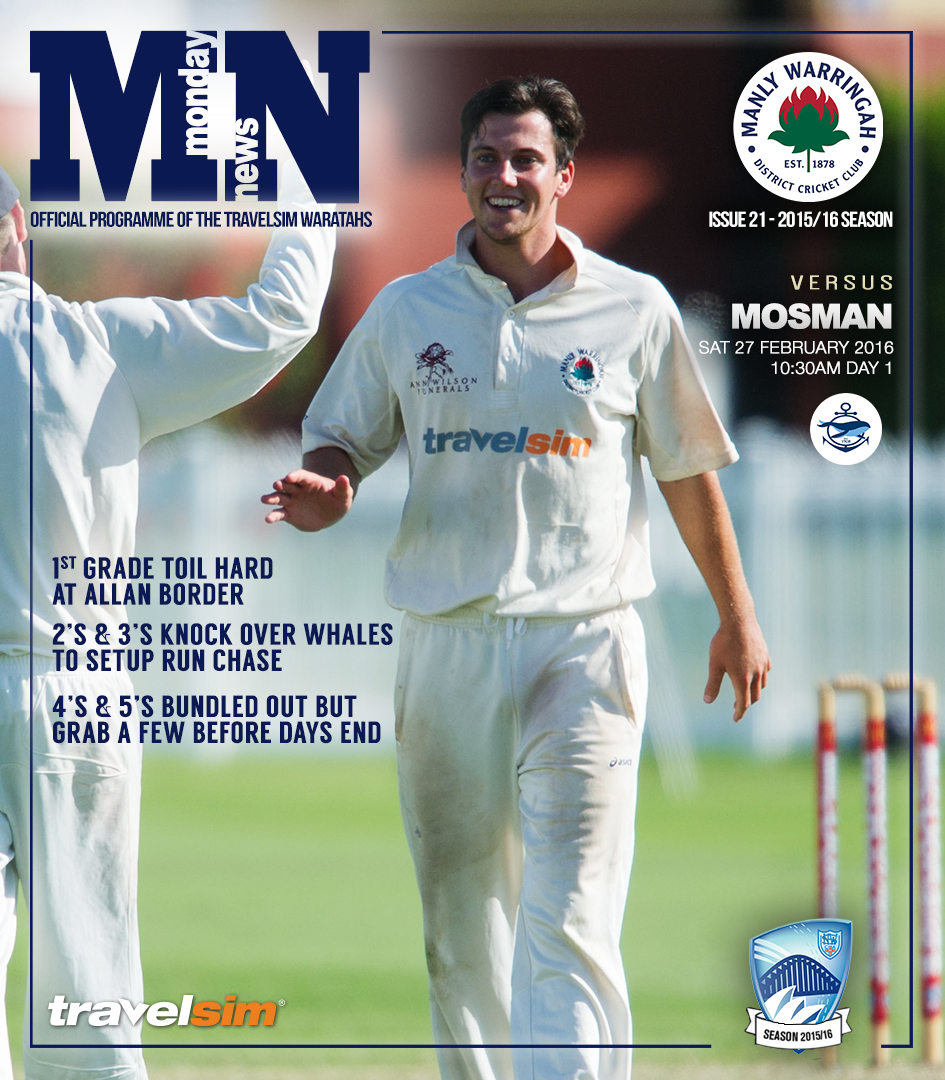 The Travelsim Waratahs had a solid day at the office on Saturday against rival club Mosman. Our 1st Grade side toiled hard all day on a typically flat Allan Border Oval wicket to have the Whales out for a respectable 305. Matty White enjoyed his return to the top grade, leading the Tah's with his 3/53 off 14 overs. Nick Mclachlan and Matt Alexander also chipped in with 2 wickets each. The Tah's were left with 12 overs to see out the day and have gotten off to a fantastic start with the score at 1/41 over night, and in form batsmen Jarrod Rawlings and James Crosthwaite at the crease. 2nd Grade toiled hard all day as well on a reasonably flat Grahams wicket. The boys got off to a great start with all bowlers bowling well, especially Jake Carden and Taylor Beatty. Having the Whales on the ropes at 5/80, it was looking like the Tah's were going to roll through them, but former Waratah Nic Bills had other ideas. Nic posted a well made 92 but the Tah's had chances and unfortunately didn't make the most of them. The Whales ended up being dismissed for 274 and the Manly boys are 0/23 at stumps.

3rd Grade bowled Mosman out for 184 on a seaming Rawson Park wicket, with most bowlers contributing with multiple wickets. The Tah's got off to a horror start with young guns Bariol and Edwards both dismissed without troubling the scorers. Daly and Hole helped seek out the nasty period before stumps, with the score at 2/20 over night. 4th Grade posted 153 thanks to a crucial lower order partnership between Max Burgess (43) and Daniel Mckenna (40), and enjoyed a short little stint with the ball having Mosman 4/38 over night. Some early poles next week should see Maxy's side in good stead for another good win.

5th Grade unfortunately had another below-par batting performance with the Tah's being bundled out for 120. Ben Kittlety provided some late order heroics posting a well made 47 runs. The Tah's have the home side 2/17 over night and have plenty of work to do next week to get over the line. Bes of Luck boys!

Go Manly!
4 Pines Player of the Week – Daniel McKenna

This week's 4pines player of the week goes to Daniel Mckenna, for his exceptional all-round performance on Saturday. With the 4th grade side in trouble, D Mac (40) teamed up with 4th Grade skipper Max Burgess (43), in a vital partnership that pushed the Tah's to respectable and match winning total of 153. Mosman had a nasty 14 overs to bat before stumps, and Daniel continued his stellar day with fantastic figures of 2/5. This is Daniel's first season with the Tah's after many successful year's with Warringah Shires and it is good to see him having a successful first year with the boys in blue.
Great Work D Mac !
1st Grade: Mosman 305 (M. White 3/53, M. Alexander 2/43, N. Mclachlan 2/91) vs Manly 1/4
The 1's boys arrived at Allan Border Oval knowing the importance of the round 14 clash against cross-bridge rivals the Whales.

After an energetic warm up the tahs fill in skip went 0-2 with tosses and was asked to field.

An early breakthrough from returning fast bowler and new Dad Matty White and a brilliant run out from Ryan Dazzle Farrell had the hosts 2fa not many early on! Some adventurous batting and a little bit of way ward bowling brought about a partnership, only to be broken on the cusp of lunch by big Matty Toes Alexander. 3fa 90 at Lunch.

After a juicy inspired speech the lads toiled hard all through the middle session despite the AB deck flattening out nicely, mixed with a short boundary and quick outfield a par score of what we thought 350 was looking ominous from the whales.

This wasn't to be the case as some tight bowling and excellent fielding saw the tahs restrict and bowl out Mosman for 305 with 12 overs remaining in the day.

White 3fa on return to first grade plus a run out. McLachlan, Alexander 2 each. Visser 1/30 off 15.

A tricky little 12 over period was dealt with brilliantly by recent centurions Rawlings and J Xwait, knocking off 41 of the Mosmans total. Unfortunately losing the wicket of Ritchie just before stumps! A chase of 260 required for victory next week.

Jay Lenton
2nd Grade: Mosman 274 (A. Baker 3/35, T Beatty 3/54, J. Carden 2/25, L, Diserens 2/64) vs Manly 0/23
Second grade turned up to the newly refurbished Graham's reserve, complete with new picket fence. Mosman won the toss and elected to bat on a wicket that had a good covering of grass and moisture.

Jake Carden and Taylor Beatty opened up with beautiful spells of fast bowling, keeping it very tight. Carden took an early wicket to start proceedings with the opener caught by Sammy Gainsford in the Gully. After drinks, the combinations of Diserens, Carden, Beatty and baker, brought around another 4 wickets before lunch and we had Mosman at 5 for 76.

After another wicket just after lunch, the middle session saw stubborn resistance from two Mosman players, one of which being ex manly fast bowler Nic Bills. With the help of Bills, the score was taken to 190 at tea.

The final session saw some pinch hitting to get Mosman to 6 for 260. However some great bowling from Beatty and Carden once again saw Mosman lose their last 4 wickets for 13 runs, bowling out Mosman for 273.

Manly were then sent in to bat for 8 overs. Tom Kaye and Rowan Hamman played smart cricket with positive intentions to see the day out at 0/23. A big day ahead next Saturday as the Tahs look to go back to back and climb the ladder.

Mickey Edwards
Click on the images below for a larger view
"Aiden Baker sending one down at Grahams Reserve"
"Luke Diserens beating the bat once again for second grade"
"Sam Gainsford with an ever extravagant appeal"
"Taylor Beatty enjoying some well earned success with the ball"

3rd Grade: Mosman 184 (J. Graham 3/19, W. Evans 2/24, J. Edwards 2/24, J. Wigney 2/34) vs Manly 2/20
Rawson Oval produced a hard, grassy wicket that, along with the humid conditions gave us a slight inclination to bowl if we won the toss. After winning the toss Falcs (0/31) and Wigney (2/34 off 17) opened up but not nearly enough balls were played at with little to no pressure being built up early. It's frustrating watching a new, swinging ball take shape away 3 foot outside off stump or 2 foot down leg. Both opening bats must have enjoyed our first few overs. Things changed a bit when Jack Edawards came on (2/24 off 150 and he was over his reps team mate, regular plays and misses, edges and the game started to take shape when Wiggers lifted his game as well, getting the edge to Daly at 2nd slip to make it 1/27.
Jack was very unlucky not to get a wicket or two in his first spell. Evans (2/24) came on for Wiggers and got an early one welll caught by Hole at 3rd slip to make it 2/45. Ash Virdi (1/29) then had his first trundle of his whippy inswingers for a year or two and got the edge to Hole again to make it 3/45. Evans then got a standard edge to Bariol to make it 4/53. Mosman, to their credit batted well through till tea. A few bowlers were used, Dylan unable to extract any turn from the rock hard, grassy surface but there was the suggestion that the bounce from a spinner could be awkward. At tea, Mosman were 4/98.
Edwards and Wiggers started up after tea and both bowled very well. Wiggers evolving into a very good 2nd spell bowler, with some accurate, short stuff that made things uncomfortable for the batsmen. Edwards finally got the edge to Bariol to make it 5/100 and then soon got another one care of a leading edge well caught by Joey at Mid off to make it 6/113. Wiggers got an edge for 7/113. Mosman's tail, looking fragile at first, but then settled as the bowlers tired a bit and batted freely, with some luck putting on another 71 runs. Joe got the last 3 wickets to get the figures of 3/19 from 4.
We had 12 overs to contend with. Bariol (0) got a snick first ball and Jack (0) was caught in front 3rd over to make the score 2/1. With 9 overs to go the game was there to lose but Hole (3) and Daly (17) settled things nicely and got us through. Mosman clearly have an aggressive attack that will be out for early wickets next week. If we can get through the first hour then i have no doubt a further 164 runs is easily achieved. If we can't get them we simply have no excuses.
WE
4th Grade: Manly 153 (M. Burgess 43, D. McKenna 40) vs Mosman 4/38 (D. McKenna 2/5)
The day started off with Max 'Brandy' Burgess winning the toss for the second time in a row.

We chose to bat first but unfortunately lost the hero from last week Adam Gummer in the first over to an unfortunate decision. We lost another 3 without troubling the scorers a whole lot and found ourselves in a bit of trouble at 4-30 when Crombie and Burgess found themselves at the crease.

The 2 looked to consolidate a bit and rotated the strike a lot which was handy. Crombie (23) departed soon after tea while Brandy looked in great touch but needed someone to stick with him. Daniel McKenna came to the crease and showed his class and power as he and Brandy put on a crucial partnership late on in the innings.

Dmac was then dismissed for 40 and the rest of the tail didn't stick around as we lost our last 3 wickets for 0. Brandy was the last wicket to fall as he was bowled around his legs for a great knock of 43 as we finished our innings on 153 from 63 overs.

The outfield was easily the slowest we had encountered all year so our score was close to 180.

We then got to have a crack at them for 14 overs and had an awesome start with Dmac picking up 2 in the first over. Ryan Bishop Perret also picked up a caught-behind to have them 3 fa not much. Crombie picked up a cheeky one late in the piece.

Mosman finished the day at 4-38 after 14 overs. Great finish to the day for the lads with a big effort needed again next week.

Jimmie Crombie
Click on the images below for a larger view
| | |
| --- | --- |
| | |
| "Captain Max Burgess leading the charge with the bat in 4th Grade on Day 1" | "Will Wolter compiling a hard fought 10 in 4's" |

5th Grade: Manly 120 (B. Kittlety 47, I. Vumbaca 27) vs Mosman 2/17
Manly won the toss and batted. The ball was swinging and seaming around considerably for the first 30 overs, making batting difficult.

We struggled to cope with the conditions, with Jonah Anderson and Jack Pickering snicking off early. Matt Cole was caught behind down the leg side, and Tom Sheedy battled hard before he was given out lbw just after the first drinks break.

Score was 4/40, and we needed a partnership desperately. However, Ned Hole and skipper Waddington were also adjudged lbw, and Alex Bain was run out to a direct hit leave Manly at 7/50.

Enter – Isaiah Vumbucca and Ben Kittlety. Isaiah batted with composure and maturity to score a tough 37 runs, and Kittles made it look easy, going close to scoring a half century, with 47 runs. BK smashed a few straight drives for four that any batsman would be proud of. Isiah took a lot of risk out of his game when the team was in trouble, being selective with his shots and playing straight. It was good to watch both of the boys stand up when we needed a tough effort.

Sammy Alexander and Sam Kelly also batted well with Kittles to put on decent partnerships for the 9th and 10th wickets to scramble Manly to 120 runs on a tough pitch. The tail saved us from posting an embarrassing score, and kept us in the game.

Manly bowled 10 overs at the end of the day, to have Mosman 2/17. Both wickets were taken by the standout player of the day Ben Kittlety. A couple of crucial wickets next week could see a close result, as the 5's battle to make the top 6.

Tom Sheedy
Waratah TV
Click on the images below to view the videos
| | |
| --- | --- |
| | |
| "Aiden Baker doing the damage for 2nd Grade against the Whales down at Grahams Reserve." | "Luke Diserens picking up some vital wickets at Grahams Reserve." |