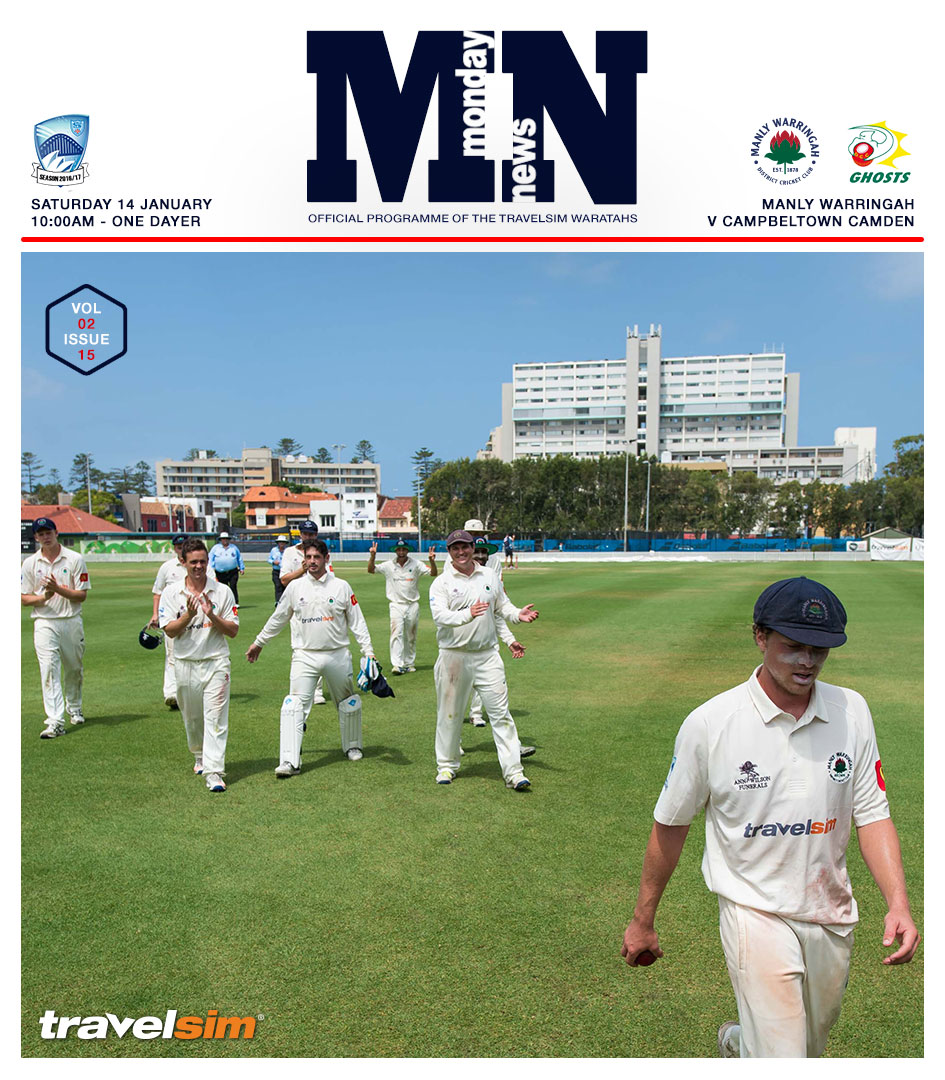 Round 10 saw the TravelSim Waratahs up against the Ghosts from Campbelltown. Great wins were achieved in 1st, 2nd and 4th grade while 3rd and 5th grade both got done. First grade got their first outright win of the season as they demolished Campbelltown, the stand out performer was Steve O'Keefe with a 13 wicket haul, picking up 9/54 in the 1st innings and 4/42 in the second innings as the Tahs dismantled Campbelltown for 139 and 138, Michael Visser picked up 5/33 in the 2nd innings. Adam Crosthwaite (79) and Ahillen Beadle (46*) guided the boys to 1st innings points and Jarrod Rawlings (32), Cameron Merchant (46*) and Ryan Farrell (37*) helped the good guys clinch maximum points.
2nd grade had a great win posting 3/255 from their allotted overs. Logan Weston the star with 99*, Tom Kaye also batted well and made a well compiled 76. Josh Wigney, Dylan Marshall and Sam Gainsford all picked up 3 wickets a piece and they bowled Campbelltown out for 231. 3rd grade posted 7/199, with Arshdeep Virdi the star with a great 62*, there was also a few contributions from Jimmy Crombie (39) and Will Wolter (32), but Campbelltown passed us with the loss of only 4 wickets.
4th grade cleaned up Campbelltown largely thanks to Brad Wilson who picked up 5/11 from 9.5 overs, they then made light work of the chase as they picked up a bonus point, James Boyer was the rock with 42*. 5th grade were bowled out for 207, with a few starts from Will Outred (38) and Lachie Kerr (37), Campbelltown snuck to victory 9 down on the second last ball, J Anderson picked up 3 wickets and J O'Sullivan picked up 2.
A fairly successful weekend from the Tahs as we look to make our way up the Club Championship ladder.
The TravelSim Waratahs now turn their attention to Randwick-Petersham who we tussle with next weekend in a 2 dayer.
Go Manly!
4 Pines Player of the Week – Steve O'Keefe (9/54 and 4/42)

Niiiiiice SOKy! Steve O'Keefe has showed his class in the Premier Cricket competition by taking 13 wickets as he looks to prepare to take down India in their own backyard. He was a class above on the weekend as he demolished Campbelltown-Camden's top, middle and lower order to set the tone and set up a great outright victory for the Tahs.

It's always a great thing when a guy of SOK's calibre and experience returns to Manly to not only share his expertise, but also lead by example and showcase his immense talent. I'm sure Monty Panesar was in awe of SOK and asking him plenty of questions about how he goes about his work.

Well done SOK, keep it up!

1st Grade – Manly-Warringah 5/147dec (A Crosthwaite 78, A Beadle 46*) & 3/134 (C Merchant 46*, R Farrell 37*) def Campbelltown-Camden 10/139(S O'Keefe 9/54) & 10/138 (M Visser 5/33, S O'Keefe 4/42)
The lads arrived at Manly Oval looking marvelous and were confronted with a quality cricket wicket offering some for the bowlers in the first hour but then flattening out throughout the day. We won the toss and chose to bowl.
Matty A and Whitey opened up and soon Whitey had taken the first wicket by up-and-comer Stephen O'Keefe who had started his day off on a high note. Little did we know he also bowled some handy left-arm orthos. In an attempt to get him into the game early Crossy brought Stephen (affectionately known as SOK) into the game at the Sydney Road End where he would bowl for the rest of the innings. He bowled beautifully and the batsmen had no answers for his flight, changes of pace and spin. As the quicks rotated from the other end SOK ended up with epic figures of 9-54 off 30 overs.
With 30 overs left in the day the batsmen went after the bowlers with Adam C scoring 70 and creaming them to all parts with a glass-shattering knock. Accompanied by Ahillen Beadle, we passed the total 5 down and declared at 147 when play resumed the next day.
The next day was almost identical however SOK only took 4fa as Michael Visser stole all his wickets taking 5-33 and bowled a fantastic length all day long as he came into the match as a replacement for Matty White. Again the batsmen looked to go after the bowlers with 46 overs left in the day and 130 runs needed to win the outright. After a loss of a few early wickets Cam Merchant swept his way to 46* and saw the lads home.
10 points getting us back in the hunt.
Jack Edwards
2nd Grade – Manly-Warringah 3/255 (L Weston 99*, T Kaye 76) def Campbelltown-Camden 10/231 (J Wigney 3/37, D Marshall 3/32, S Gainsford 3/29)
Second grade won the toss and elected to bat on a pretty well worn wicket. The boys started well getting to 0/65 before Billy D'Arcy fell for 25. Logan Weston was up the other end whacking them to all parts. Gainsford went quickly bringing Tom Kaye to the crease. The pair batted for the majority of the innings from there, battling the heat and some good bowling. Tom Kaye made 78 at a good clip while Logan accumulated at the other end. Jack Ritchie came in an got a quick 30 not out. Logan ended up carrying his bat for 99 not out, preferring to protect his average than attempting to get to 100 in the last over. The boys finished on 255.
Campbelltown started well with the bat and raced to 0/70. A Jordan Daly run out changed the game and gave us some momentum. After that Dylan Marshall came on and bowled one of the best one day cricket spells ever, running through their middle order. Gainsford came on at the other end and the pair bowled us to victory. Some lower order hitting saw the ghosts come close to our total but in reality they were never in it.
Billy D'arcy

3rd Grade – Manly-Warringah 7/199 (A Virdi 62*, J Crombie 39, W Wolter 32) def by Campbelltown-Camden 4/200 (W Evans 2/7)
Graham's Reserve was hard and quite grassy, a pretty good looking deck. I'm winning the tosses I would prefer to lose this year with the overcast conditions possibly favouring bowlers but the heavy dew the batsmen and that's what we ran with. Edgell (5) and Wolter (32) looked solid, Edgell playing the anchor role as Will started to hit out nicely. Luke got himself in a tangle in the 10th over with a mistimed pull and next over Will snicked the offie to slip to make it 2/48 from 11.
Sam Webber (15) and Jimmy Crombie (39) looked to consolidate. Sam not at his fluent best, unfortunately picking out the fieldsman for the majority of his well timed strokes. Jimmy kept the scoreboard ticking over but to Campbelltown's credit they were bowling a tidy line & length. We trickled along until Sam decided it was time but unfortunately was skittled in the 30th over. Zac (0) mishit a slightly wider ball from the spinner to cover and when there was a mix up between Arshdeep (62no) and Jimmy saw the latter run out we needed to do something.
Ned (0) missed an arm ball as did Dan McKenna (4) and at 7/131 after 40 we needed help. Evans (19no) played a support role to Ash who found some timing to play shots all over the ground, including three bombs. One in particular over cover was a great shot. Good running between the wickets allowed these two to put on 68 in the last 10 overs, by far our most enterprising period of play boosting us to a competitive but well under par total of 199.
We needed a good start and Falcs (1/20 off 4) delivered immediately with a beautiful inswinger to get one first ball. Dan (0/6 from 4) bowled tidily and was unlucky not to get an edge. Luke" Edges" Edgell (1/40 from 9) bowled aggressively and was also rewarded early via an excellent catch by Ned in the covers. Unfortunately this is where the good fielding ended as the next 15 minutes was comical, not so much for Luke but Campbelltown must have thought it was their day for sure. Three regulation edges went behind the stumps only for them to be spilt, all from Luke. The bloke who scored 102no was on about 25 and the bloke who scored 58no was on zero.
Evans (2/7 from 6) found his line and got an edge to gully and a bowled. He is still considering why he didn't finish off his 10 overs there and then as well as get D-Mac on for a few more tight ones. Thought he was coaching the U/11s (based on the fielding) and tried everyone rather than the stock 5 or 6 bowlers. At 4/50 at the first drinks break we were confident of a win. Maybe complacent as well? When we dropped another one at mid off I started thinking dark thoughts as the batsmen were starting to go OK. Trewartha, Alexander, Hole, Crombie were all tried, possibly occasionally guilty of trying too much towards the end of their overs, allowing the Townies to keep up with the required pace. As mentioned should have gone back to my main bowlers but didn't and we paid the price as they got well ahead on a very good wicket and there was no bringing it back.
A very disappointing result not just for 3rd grade but the club. Having dropped games against lowly opposition in Campbelltown and Parramatta we sit 4th on the Club Championship instead of 2nd. As a side we sit in 7th but our recent form guide suggests that is flattering. We need to hit back this week against a side rolled for 60 this weekend.
Warren Evans
4th Grade – Manly-Warringah 2/113 (J Boyer 42*) def Campbelltown-Camden 10/112 (B Wilson 5/11, A Bain 2/11, N Mclachlan 2/16)
The mighty tahs ventured away from the beachfront and travelled out to a humid Raby Oval. Maxy won the toss and chose to bowl. Young gun Brad Wilson continued his steep incline in cricketing prowess within the club and began the innings spearing into the batsmen's pads. In his 5th over it was evident that he bowled like a man possessed. Reminiscent of Patrick Bateman from American Psycho and he charged in and claimed a hattrick, eventually robustly standing on the pitch mimicking a chainsaw. He managed to steal a sneaky 5fa and his outstanding performance was backed up by the remainder of the bowlers.
Chasing a low total of 112 the lads faced a fighting Campbelltown attack. Nick Cohen was unlucky to be dismissed which brought James Boyer to the crease. Adam Gummer and James toiled hard and played smart, aggressive cricket to reach a solid partnership. Gummer fell for a solid 23 which brought Isaiah Vumbaca to the crease, Vumbaca raced away to finish on 23 not out accompanied by James who was the pick of the batsmen scoring 42 not out and seeing the boys home with a bonus point. Up the tahs!
Isaiah Vumbaca
5th Grade – Manly-Warringah 10/207 (W Outred 38, L Kerr 37) def by Campbelltown-Camden 9/208 (J Anderson 3/28, J O'Sullivan 2/39)
The 5th grade boys were keen to get some points on the board against the last placed Ghosts, having had a draw, a washout, and a tough loss in our last three games. Things got off to a good start with stand-in skipper Will Outred winning the toss & choosing to bat first on a pristine Mike Pawley oval.
Will & Matty Brewster raced out of the blocks, taking advantage of some loose bowling to score at a run a ball for the first 8 overs until Matt got castled for 19. Dom joined Will & they kept the scoreboard ticking until we were sitting pretty at 1/96, but Dom got yorked off the last ball before drinks and then Jacob O'Sullivan got fired in the first over after drinks which halted our momentum quite a lot. To add insult to injury Will then got fired for a well made 38 from a ball that pitched a good foot outside leg, and then Australia's new cult hero got run out by one of the best pieces of 5th grade fielding ever, and all of a sudden we were on the back foot at 5/105.
Lachie Kerr & Jake Osborne did a great job to consolidate from there, picking up singles & putting the bad balls away, combining for a 70 run partnership until Lachie was out for 37. This triggered another mini collapse however, with some more questionable umpiring decisions, which left us at 9/185. Some lusty hitting from big Mickey Counsell got us past 200 until we were finally bowled out for a well below par 207 in the 48th over.
We knew we would have to take some early wickets in order to put them under pressure, but unfortunately that wasn't the case – some loose bowling & a lot of streaky shots helped them reach 0/60 in the 15th over when the captain brought on Benny Watts with immediate effect – Ben managing to get one to drift down leg for a stumping. We weren't able to capitalise from there though – the Campbelltown batsmen kept playing freely & getting away with murder, and it took a great piece of fielding from Hayden Brown to get our next wicket via a run out with the score on 112.
Jonah Anderson then came on & bowled a quality spell, claiming 3 wickets, with Jacob O'Sullivan & Hayden Brown also snagging 3 between them at the other end to suddenly have them reeling at 8/180 & we thought we were going to be able to pull it out of the fire. Skipper Outred came on for an over himself and bowled an amazing over, getting the ball to drift & spin for a stumping to leave them 9/190 with 3 overs to go. But unfortunately the last two batsmen were able to keep chipping the ball into the gaps and just managed to scrape over the line with one ball to spare.
All in all, it was a pretty heartbreaking loss, but we showed a lot of fighting spirit to take the game that deep. We all know though that we should have been defending a much bigger total – if we can stop losing wickets in clumps like that it will go a long way towards setting a much bigger total next week & hopefully jumping Randy-Petes back into the top 6.
Go Manly
Dom Wheeler