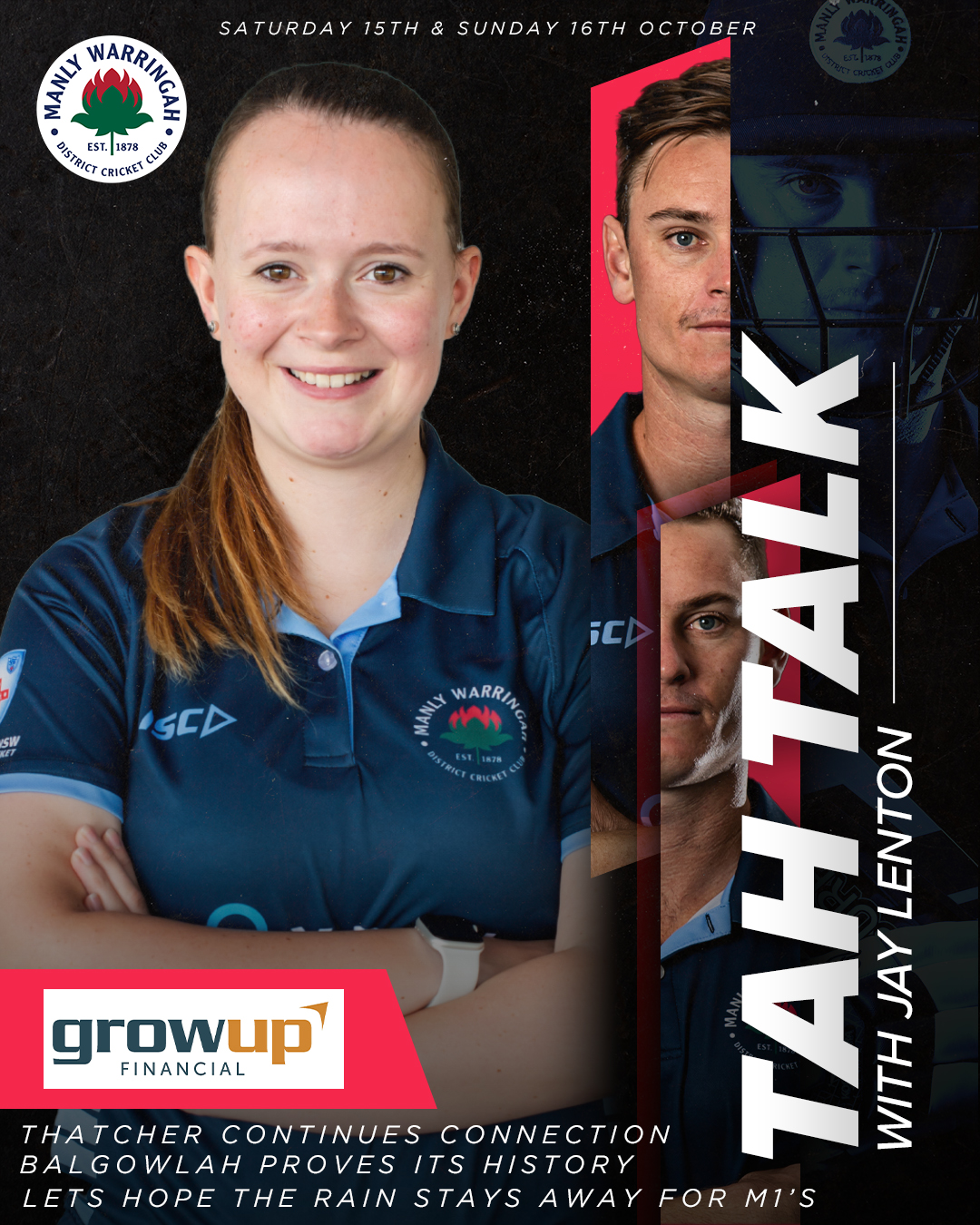 EMMA'S FEELING RIGHT AT HOME
Emma Thatcher was looking through the social media pages of a host of cricket clubs around the world while planning her next career move when she came across the various Manly-Warringah Waratahs platforms.
She was sold on a trip to the northern beaches from that moment.
"I looked at a lot of different clubs but after looking at Manly's socials and website, I knew I wanted to play for you," Emma told Tah Talk.
"I liked the overall layout and how you focus on the players. You also support sponsors and celebrate achievements and milestones. The pictures you use are of games and players, which is awesome and makes the club feel like a family."
Thatcher was put in touch with our vice-president Dave Gainsford and has been here for the past two weeks preparing for the start of the women's Premier League season.
A left-arm medium-pace bowler and lower order batter, Emma plays county cricket for Derbyshire and league cricket for Ockbrook and Borrowash Cricket Club, were she's often pitted against men's teams. She can't wait to don the blue and get out there for a game once the rain clears.
"I have only had one training session at Manly but I am amazed at how well organised everything is," she said.
"The training sessions are well planned and all coaches and players know exactly what's going on at all times. It is very rare for clubs to have a women's team in England and Manly has four, which is incredible. I'm looking forward to getting to know everyone and seeing them play."
As for the future, Emma said: "I'm heading home after the season but currently don't have a return flight so who knows!"
The girls are up against Northern Districts at Manly Oval on Sunday
THE ONE GAME TO ESCAPE THE WEATHER
I am trying my best not to talk about the rain but incredibly we got one up against the weather at Balgowlah Oval last Saturday. Our women's third grade side dodged the showers to pull off a terrific victory over North Sydney.
I know Balgowlah Oval – or Bally Oval to the locals – features a synthetic pitch, but it's remarkable the ground held up so well when just about every other venue in Sydney was washed out. The ground holds a special place in Manly's history, having at one stage been home to our fifth grade side before we eventually shifted to turf decks at Mike Pawley Oval.
Perhaps our very influential president Andrew Fraser can have a word with his mates at Northern Beaches Council and convince them turning Bally Oval into a turf facility would be a great vote-gainer!
FINGERS CROSSED FOR BLACKTOWN TRIP
So here we are, mid-October and still not a ball bowled in first or fifth grade. Surely this Saturday is the day we get underway when firsts travel west to take on Blacktown at Joe McAleer Oval. Joe Mac is one of the better wet weather venues and Blacktown always produce a strong line ups throughout the grades with competitive games to match. Training has been really sharp despite the weather challenges and players throughout the grades are desperate to get out there and get amongst it.
We have not been sitting around while the rain falls, with club captains Izzy Vumbaca and Zach Trewartha putting on a brilliant in-house seminar at Manly Oval last Saturday. The players got together for a two-hour discussion on expectations – on and off the field – and what it means to "bleed blue" for the Manly-Warringah District Cricket Club. Close to 50 players engaged with no coaches present in an open, honest and vulnerable manner to create charter of standards the playing group will go by.
It was a really good session and backed up by a superb batting masterclass presented by Cameron  Merchant on Tuesday evening. 'Dream", with a wealth of first grade and first-class cricket experience, shared his knowledge on mindset, preparation and game plans. It was an invaluable lesson for all players in attendance.