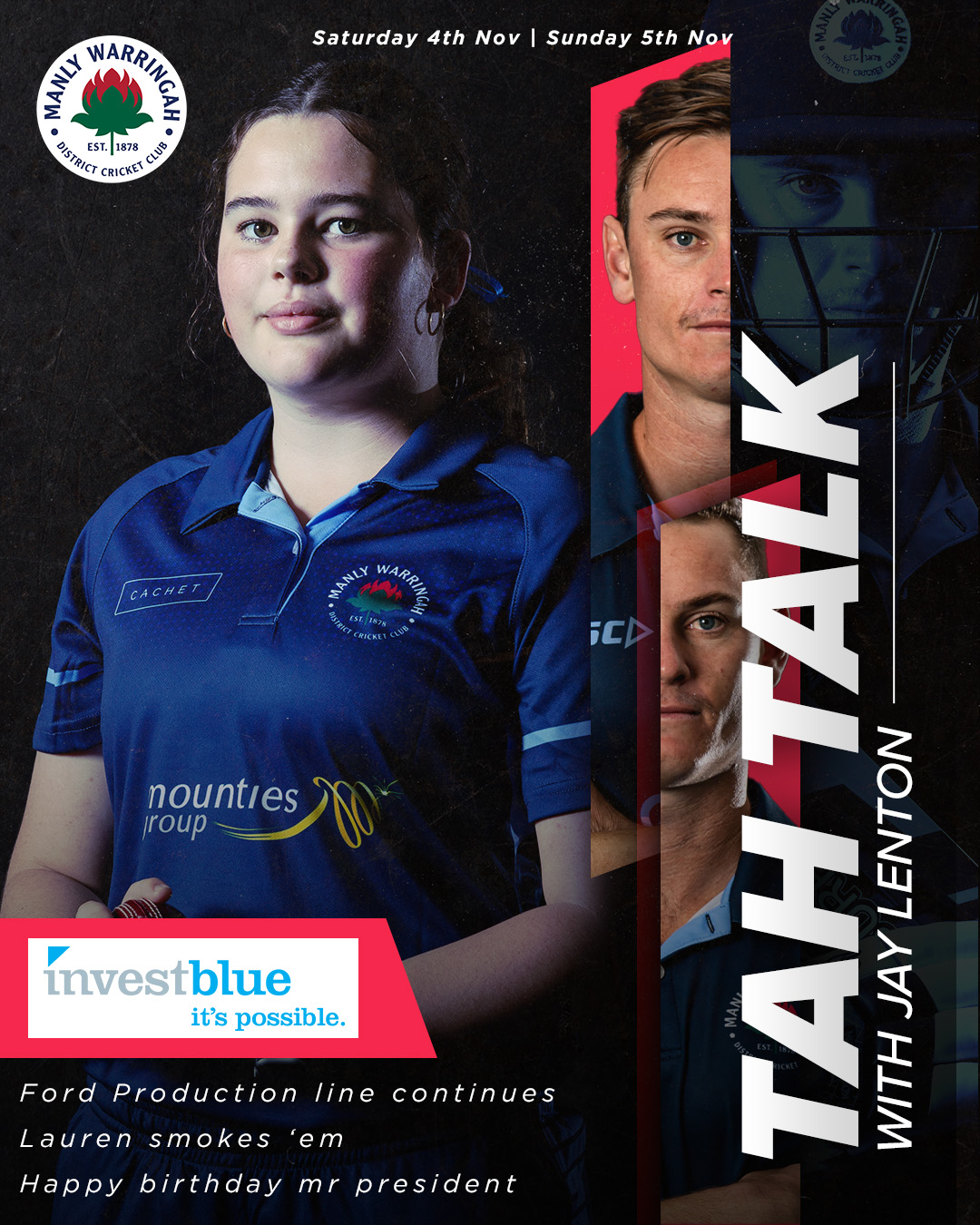 Welcome back to another week of Tah Talk, proudly brought to you by our good friends at Invest Blue. Visit them for all your financial planning needs at www.investblue.com.au
FORD PRODUCTION LINE CONTINUES
We've had plenty of father-son combinations turn out for Manly and now the girls are starting to make their mark.
The latest to roll off the production line is Saoirse Ford, a 15-year-old who came through junior reps playing Mollie Dive and Peden Shield for Manly.
An all-rounder, Saoirse played for Collaroy Plateau as a youngster and is the daughter of former first grader – and coach extraordinaire – David Ford.
Fordy played for us between 1984-2000, scoring 5281 runs across the grades before signing off with a memorable tour of Sri Lanka in his final year.
The Fords are the second father-daughter duo to play for us after Simon and Claire and Mia Waddington.
David said: "It is exciting seeing Saoirse play for Manly as it evokes so many wonderful past memories playing at Grahams and Manly.
"I also know how wonderful the Manly culture is and how many great people the club has both playing and volunteering.
"She loves the friendships she has made already and the strong bonds with the girls who have come through with her.
"I thought it was special seeing the Ford name on the Manly Oval scoreboard last week and sitting back under the pines enjoying the cricket."
Go well, Saoirse.
LAUREN SMOKES 'EM
Despite missing a number of stars due to WBBL commitments and with a nearby bushfire bringing on an asthma attack, women's first grade skipper Lauren Kua wasn't about to go MIA against Campbelltown-Camden last Sunday.
In what was the quintessential captain's knock, Lauren made an undefeated 65 to lead her side to an emphatic – and much needed – eight-wicket win at Raby Oval.
After taking 1-22 from her four overs to help restrict the home side to 5-122 from their 20 overs, Lauren came in at No.3 on the fourth ball of the innings and made a calm and composed half-century to ensure her team secured just its second win of the season.
To do it under some duress – she had difficulty breathing at times due to the smoke drifting in from a bushfire – made it an even more remarkable feat.
"Lauren has taken to the job in Saskia Horley's absence with great maturity and is learning a lot along the way," coach Dom Wheeler said.
"This win keeps us well in the hunt after the first four rounds, despite fielding an incredibly young team compared to most other clubs.
"It's great to see so many of our juniors getting some first grade experience under their belts already, which will hold us in good stead for the future.
"With a number of our senior players still to return from injury and rep commitments, we are in a very good position to set ourselves up for a big back half of the season."
HAPPY BIRTHDAY MR PRESIDENT
Sixty not out is a pretty fair knock but I reckon there's plenty more to come to for our indefatigable president, Andrew Fraser.
"Frase" turned 60 this week, celebrating with family and friends just a cover drive or two away from his beloved Manly Oval, and is already plotting what the next few decades might look like.
He's been at the helm since 2004 and shows no sign of slowing down, overseeing massive change both on and off the field.
Frase must sleep two hours a night because somehow he fits his cricket commitments in with a very busy job, a growing family (did you know he's a grandfather?) and a renewed love for golf.
He's aLways got a glint in his eye and is up for a laugh and a good time (I'm told he brought his famous chook impersonation out for a run at his party).
Here's cheers to you, Frase.