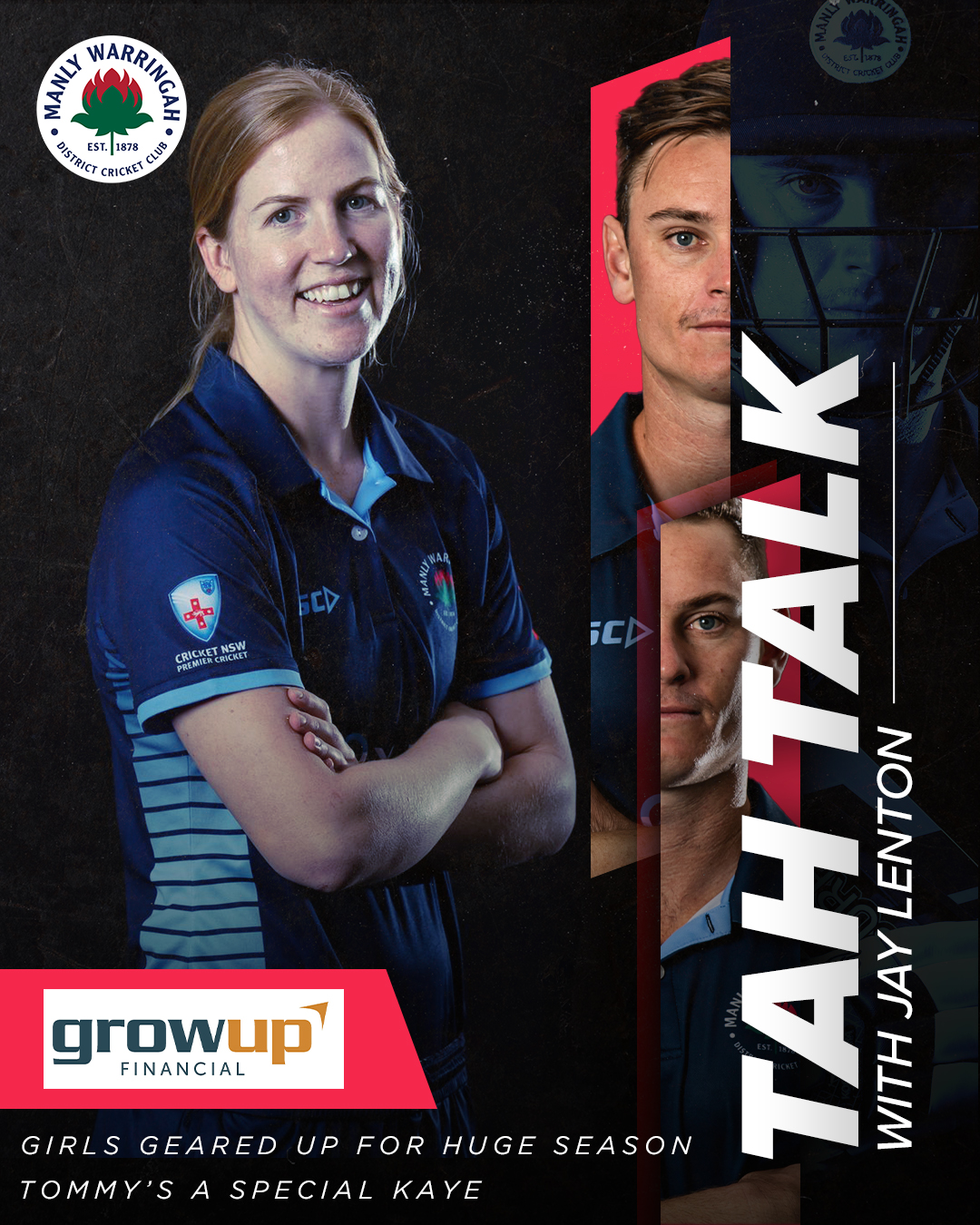 Welcome to Tah Talk as we get ready for the start of the Women's season, and the Men roll into Week 2 of their Round 2 clash with Wests. As usual, Tah Talk is presented by our great friends at GrowUp Financial – www.growup.com.au
GIRLS GEARED UP FOR HUGE SEASON
I'm not normally an overly religious man but I've found myself looking to the heavens a lot this week, asking whoever's in charge of the weather system to please give us a break from all the rain.
For the second week in a row, not a ball was bowled in our first or fifth grade games while threes and fours were also called without anyone making it out to the middle.
Seconds did get on and we will get to that in a little while.
This week is all about our women's sides as they prepare for a triple header of T20s against Campbelltown at Raby Oval on Sunday.
Manly's Brewer Shield, second and first grade teams will all be in action in the first round of what shapes as an exciting campaign.
First grade looks particularly sharp after the addition of country keeper Katie Letcher and Victorian Sam Bates on top of Saskia Horley's return after a productive off-season in the UK.
Skipper Mikaela Turik has watched Letcher and Bates in the nets and during the trial matches and is excited about what they bring to the table.
"Both are impact players – Katie with the gloves and Batesy with ball in hand," Mik told me.
"Not only are they great players, they're also great girls and have fitted in right away at the club.
"I can't wait to see them in action in a comp game."
Saskia returns after representing Scotland – and excelling – during our winter.
She is back and hungry for more runs and looking to impress those who hand out WBBL contracts.
UK import Emma Thatcher also earns a debut and is a player to keep an eye on.
It was great to see the women's program represented so strongly at the season launch, held at Seadrift Distillery on Tuesday night.
A large contingent of players, officials, volunteers and sponsors turned out to hear some great insights from the four-person coaching panel.
Everyone is keen and ready to rip in – all we need is for the weather gods to get onside.
TOMMY'S A SPECIAL KAYE 
As mentioned above, second grade was the only team to get on last weekend thanks to the rapid recovery rate enjoyed at Graham Reserve after rain.
We won the toss and sent Western Suburbs in and Tom Kaye took no time getting down to business.
He took four of the first five wickets to fall to have the Magpies reeling at 5-97.
A rain break allowed Wests to regroup and they showed more fight late in the day, reaching 6-232 by stumps.
TK finished with 4-71, swinging the ball around corners and consistently hitting the perfect line and length.
He will look to add to his tally when the game resumes on Saturday.
Before I go, a special shout out to the boys at Green Options, who were on the tools early hoping to get 4s underway at Manly Oval.
Stand-in skipper Dom Wheeler also did his best, taking the shoes and socks off and hitting the super sopper before teammates joined to help in the recovery bid.
Unfortunately, the rain had the final say.