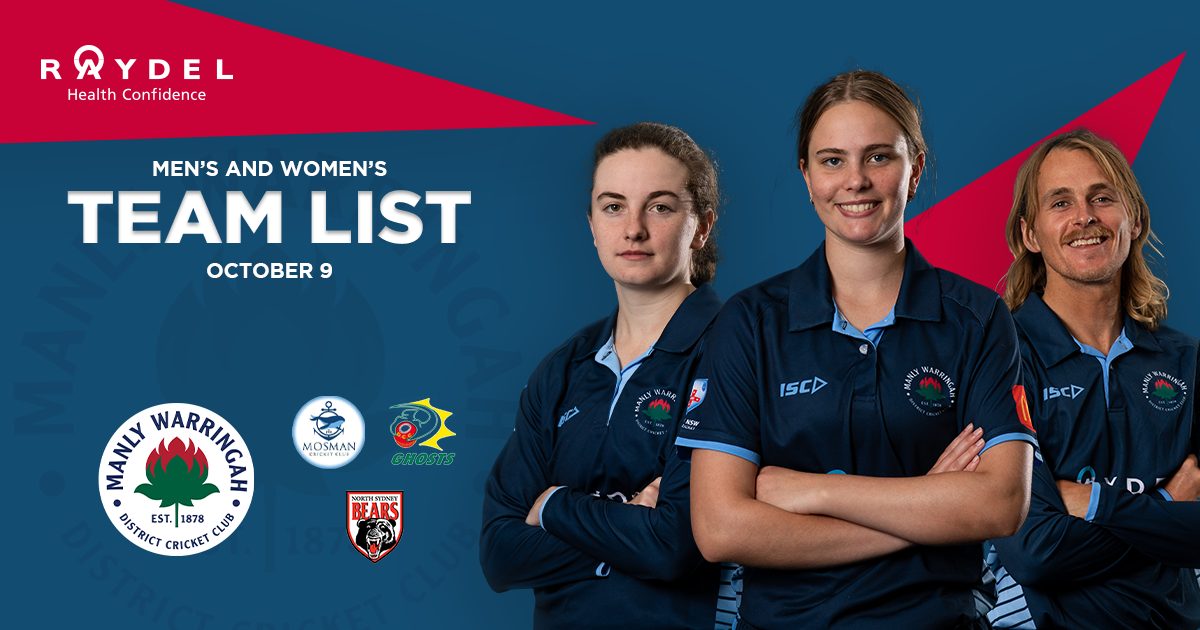 The Raydel Manly Warringah Waratahs have named sides for the opening round of NSW Women's Premier Cricket along with the opening round of the Kingsgrove Sports T20 Cup and the Poidevin Gray Shield. Women's 1's, 2's and Brewers have a triple header down at Raby which is sure to be a jam packed day of tah action, while 1st grade T20 and PG's host a double header at the fortress Manly Oval in the battle of the Spit, as they take on rivals Mosman.
There are many fresh faces among all the sides, with a huge inclusion being Sam Bates in Women's 1st grade, who brings an extensive First class profile to the side. First grade also welcomes two English players to the side, with Katie Letcher and Emma Thatcher joining the club for the upcoming season. Brewers and 2nd grade welcome many players advancing through the grades, either coming up from Brewers, or the u15 rep side, and will no doubt test the opposition with an abundance of cricketing talent on show in each side. 3rd grade are once again skippered by Renee Hough, and retain a largely similar playing core from their success last year.
1st grade T20 have a plethora of state and BBL contracted stars, and will once again be led by Jay Lenton as they look to bounce back from last seasons T20 campaign. PG's have kept a similar playing nucleus to last year, but also welcome several young players coming into the squad such as Andrew Boulton, Roop Dhillon and Hayden Williams.
Good luck to all sides, Go Manly!
Kingsgrove Sports T20 Cup – T20 match
Round 1 vs Mosman @ Manly Oval
10am start
1. Jack Edwards
2. Joel Foster
3. Jay Lenton (c) (+)
4. Ryan Farrell
5. Ollie Davies
6. Joel Davies
7. Elliot Herd
8. Ryan Hadley
9. Mickey Edwards
10. Jake Carden
11. Steve O'Keefe
Poidevin-Gray Shield – T20 Match
Round 1 vs Mosman @ Manly Oval
2:30pm start
1. Bryn Mendel
2. Josh Seward
3. Joel Davies
4. Lachie Coyte
5. Andrew Boulton
6. Evan Dunnachie
7. Jake Hutchings
8. George Cummings
9. Lachie Trewartha
10. Oscar Lucius
11. James Waddington
12. Josh Cooper
13. Roop Dhillon
14. Ollie Melville
15 Hayden Williams
Women's First Grade – T20 Match
Round 1 vs Campbelltown Camden @ Raby 1
3:30pm start
1. Sam Bates
2. Kristie Crawford
3. Saskia Horley
4. Annabel Hutt
5. Laura Judson
6. Katie Letcher (+)
7. Chelsea Mclerie
8. Mikaela Turik (c)
9. Shivani Mehta
10. Zara Shipp
11. Emma Thatcher
Women's Second Grade – T20 Match
Round 1 vs Campbelltown Camden @ Raby 1
12:15pm start
1. Kristie Crawford
2. Caitlin du Preez
3. Brooke Frew
4. Sarah Gordon
5. Eliza Henry
6. Emily Horstead
7. Stephanie Hughes (+)
8. Molly Kidd
9. Sophie Morris
10. Mia Nel (c)
11. Emma Thatcher
Brewer Shield – T20 Match
Round 1 vs Campbelltown Camden @ Raby 1
9am start
1. Olivia Champion
2. Charlotte Croll
3. Caitlin du Preez (c)
4. Arabella Handley
5. Lara Hughes
6. Ashleigh Karcher
7. Sophie Lowry
8. Hannah Moss
9. Sophia Slater
10. Darcey Whiteley
11. Isabella Zovi
Women's Third Grade – T20 Match
Round 1 vs UTS North Sydney @ Balgowlah Oval
12:30 pm start
1. Chloe-Amanda Bailey
2. Sophia Chick
3. Annabelle Gilbert
4. Emily Hatfield
5. Renee Hough (c)
6. Stephanie Hughes (+)
7. Helen Hull
8. Jaime Loh
9. Emma Lyon
10. Sallie Molyneux
11. Dyandra Prins
12. Cam Pryor
Unavailable:
-Sophie Beukers
– Niamh Bullen
– Charlotte Camburn
– Annabelle Croll
– Natalie Guyot
– Shae Hiskett-Jones
– Ellen Hall
– Jazzy James
– Lauren Kua
– Stacey McManus
– Sarah Turner
– Jasmin Wilson
– Mason White