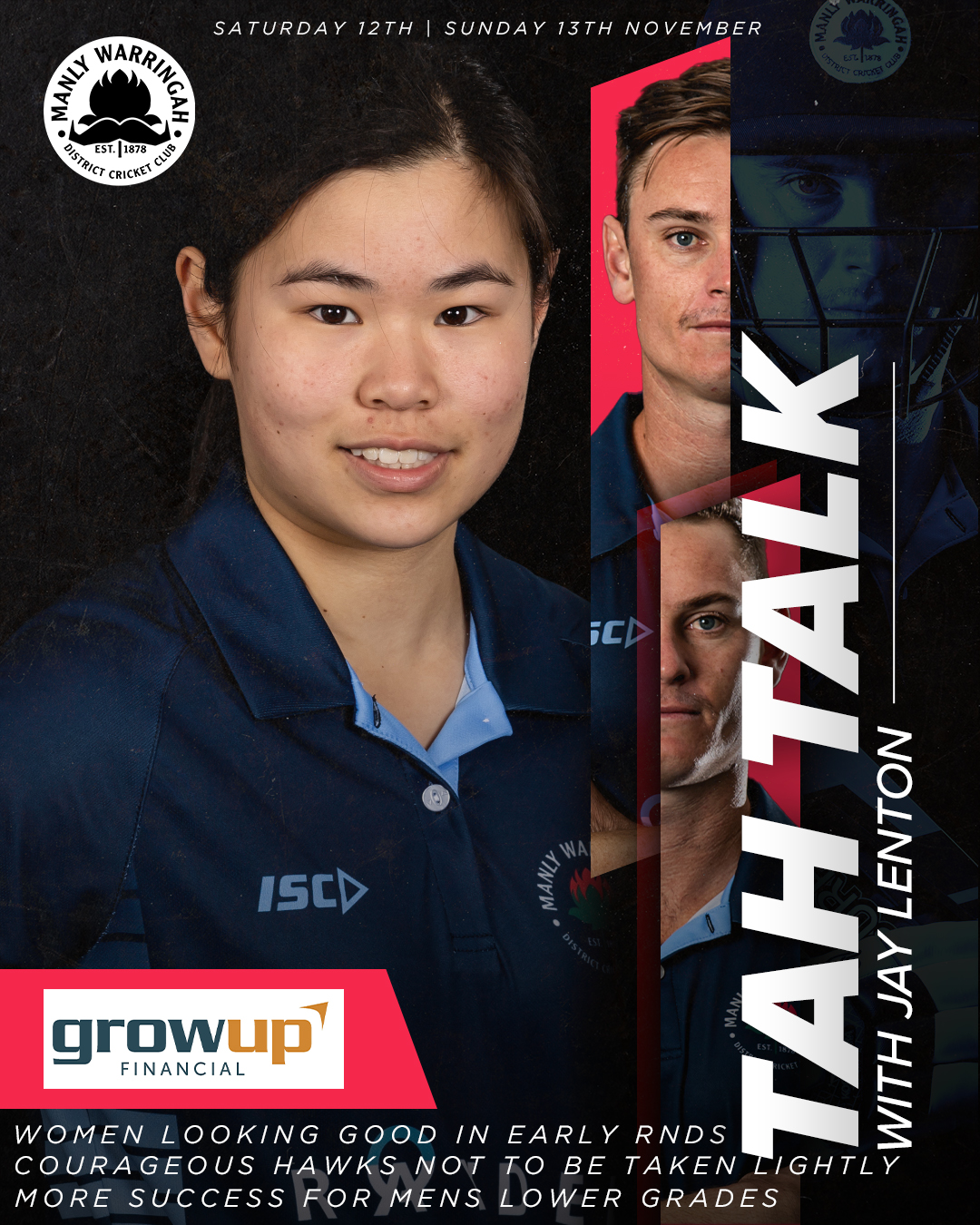 It's that time again where our esteemed Men's 1st Grade captain Jay Lenton talks about everything going on at Manly. Welcome to this weeks edition of Tah Talk with Jay Lenton. Proudly brought to you by our great friends at GrowUp Financial – www.growup.com.au
GIRLS LOOKING THE GOODS IN EARLY ROUNDS
Our four women's teams have made strong starts to the season, with three sides in the top four after the first month.
The third grade side, under new coach Matt White, sits undefeated in second following four wins from as many games.
Our Brewer Shield (under-18) and second grade teams are both fourth on their respective ladders after dropping just one match each.
First grade has found the going a little tougher, sitting seventh after just one win from three games.
The girls were desperately unlucky not to get the money last Sunday, going down by a run to the powerful Sydney side in a thriller at Manly Oval.
Mikaela Turik's side are seventh and could badly do with a win over Gordon this Sunday.
The Manly side boasts three former Stags – Zara Shipp, Saskia Horley and Lauren Kua – so should have plenty of intel to impart to teammates.
Zara and Saskia are Manly juniors who were wooed back to the Waratahs when we re-launched our women's program, while Lauren joined us this year and has proved an instant success.
In her first two matches, she's scored 38 off 44 balls and 50 off 49 balls.
They are outstanding numbers and I'm sure there are plenty more runs to flow from Lauren's bat.
And we should give a special mention to Sallie Molyneux, who has passed the 50-wicket milestone.
Sal is not only a wonderful cricketer but also a major contributor to club activities and culture.
Finally, it was great to see Emma Thatcher, Steph Hughes, Charlotte Camburn and Chelsea McLerie putting back in this week with our under-13s girls' reps, taking the next generation through a thorough batting session.
COURAGEOUS HAWKS NOT TO BE TAKEN LIGHTLY
You can have nothing but admiration for Hawkesbury, our next opponents in the men's Premier Cricket competition.
The Hawks have been hit hard by the rain over the past two summers, with their grounds and facilities completely flooded at least twice.
But they refuse to give in, travelling to all parts of Sydney to play and train while they do their best to get Bensons Lane fit for cricket again.
On Saturday they travel to Manly Oval as the home team – just another example of the sacrifices they are making to keep their cricket going.
The Hawks are coming off an almighty draw against Sydney and are certainly a team not to be taken lightly, showing their true grit and character in the early stages of the season.
We know we're in for a real dogfight and go in with plenty of confidence after a hard-fought victory against Bankstown on a somewhat tricky wicket at Manly Oval.
The six points were vital in the early scheme of the season and to be in the three, playing a game less than most of our opponents, in a great start.
The victory on Saturday was highlighted by a beautifully constructed innings by Ollie Davies.
I was lucky enough to stand at the other end for the majority of the innings and Ollie showed his class and maturity on his way to another match winning hundred for the club.
Although 215 seemed a slightly smaller chase it proved quite difficult on an uneven Manly wicket.
The way Ollie took the game on and continued to back his skill proved pivotal in our victory.
MORE SUCCESS FOR OUR LOWER GRADES
It has always been a tell-tale sign of a strong club if lower grades are putting in strong performances.
To win four of five grades and see 5ths play out a draw was an incredible effort against a very strong club in Bankstown.
Being a younger sibling myself, I know how frustrating it can be at times when big brother gets the limelight.
So, there is no wonder another Mendel shone through this week.
Keelan Mendel played the innings of his life in scoring his first senior grade 100 in 5th grade, holding off the Bankstown attack for a courageous draw.
Keelan batted the full 80 overs for 102* in what has been said to be one of the better innings played in a 5th grade fixture in many years.
Well done to KM and the lowers and good luck to our PGs boys against Sydney on Sunday.
It's another big weekend for the Tahs!
VALE ARCHER GRAY
Finally, we finish this week's column on a sombre note.
Earlier this week the Western Suburbs Cricket Club lost a wonderful young man and talented cricketer, Archer Gray.
Sadly, Archer lost his year-long battle with brain cancer.
From everyone at Manly we send our deepest condolences to the Gray family and the broader Western Suburbs Cricket Club family.