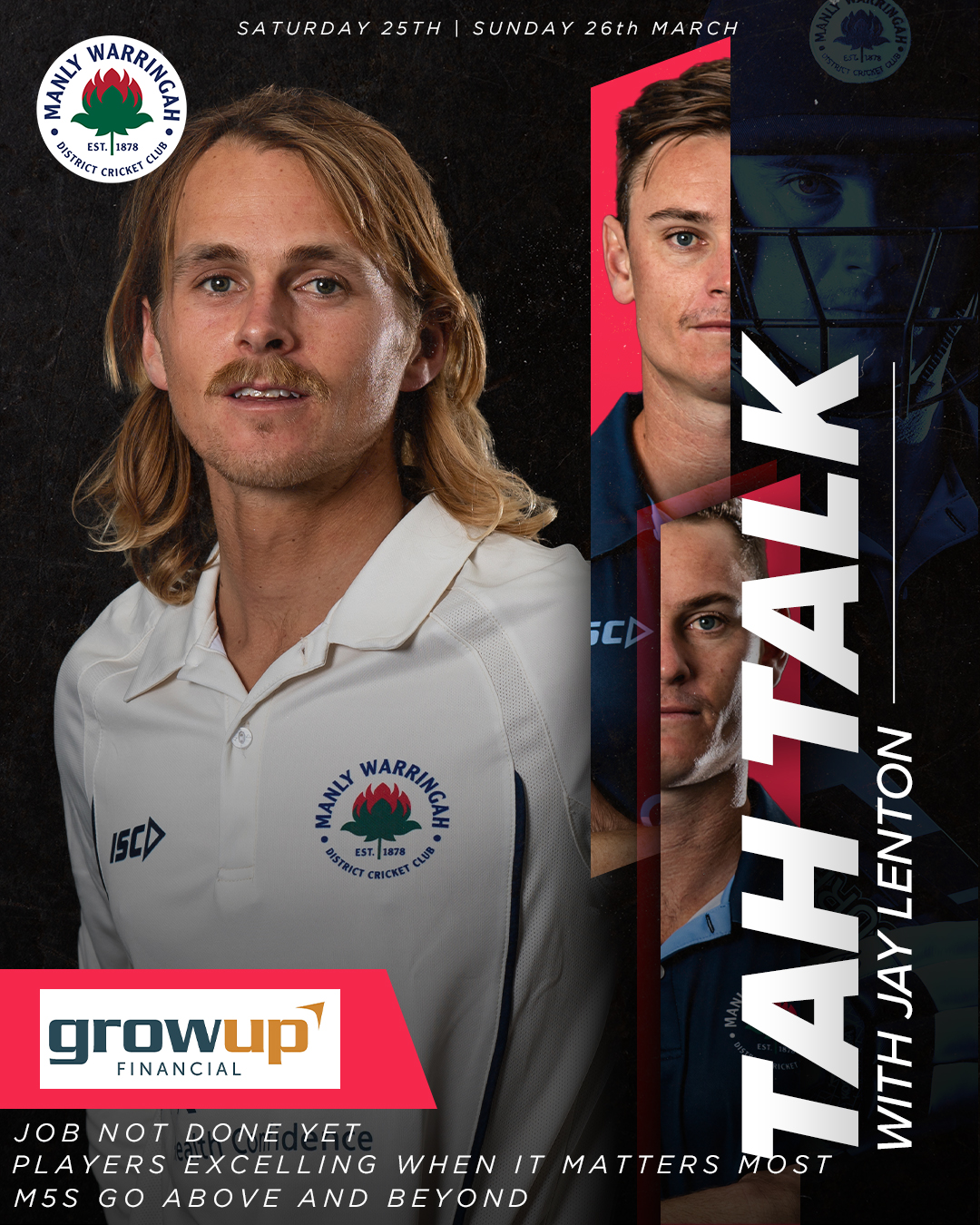 Welcome to Tah Talk with Jay Lenton, proudly brought to you by our good friends at GrowUp Financial – www.growup.com.au
JOB NOT DONE YET
Plenty has been written and said about our season so far across all 5 Men's Grades.
But you won't find us hooting too much in the playing ranks.
We know we have a job to do over the next two weeks and have a chance to create history.
No club has ever, as far as I am aware, got all 5 Grades into the Grand Final.
The closest I know is when we had 4 of the 5 Grades into the Grand Final in 2014/15, my first year at the club.
The best thing I keep on seeing across all the grades is that we are never dead.
We were in a number of compromising positions across all 5 Grades on the weekend, yet we found a way to come out on top in every grade.
That means everyone is contributing, lower order with the bat, change bowlers with the ball and wicket keepers taking 5 catches.
It's a mark of great team environments when that happens.
PLAYERS EXCELLING WHEN IT MATTERS MOST
Two of the more pleasing results from the weekend were the runs scored by Elliot Herd and wickets taken by Josh Seward.
Both went back down to Second Grade last weekend, a tough if not brutal time to be put back into the grade below, however they did what all good team mates and club people do, they did their talking out on the field.
Word is that Herdy's innings was one of the best you'll see.
Don't let our 300+ score fool you, Pratten Park had all the batsmen jumping around on Saturday and Sunday, but Herdy was at ease.
He may have been a bit short of runs this season, but for a classy player, a lower score just means your closer to a high score.
Josh Seward showed the exact same character. He bowled fast, aggressive and straight, and picked up 6 wickets for his troubles.
He showed he was too good for Second Grade and produced the type of effort we want to see from everyone at our club.
M5's GO ABOVE AND BEYOND
There were some great team performances over the weekend, but it's hard to go past 5th Grade for the team of the week.
Their bowling attack is as good as you'll see in 5th Grade, with arguably more pace than our higher grade attacks. Many see it as our trump card.
However that went out the window on Saturday as Easts piled on 6 dec 362 off only 82 overs.
Their declaration left us 113 over to bat.
I must say, I've never heard of a 5th Grade side batting for 113 overs, but they ended up doing it easily, batting out day 2 to finish with a well-deserved draw.
Oscar Lucius anchored the innings with a super 84.
How good is it seeing him back hitting the ball well. Oscar is one of the most popular figures across the entire club so everyone was ecstatic for him.
Then there was the 100+ ball innings from both Beau Kelly and James Waddington. Outstanding.
With the kind of aptitude, Simon Waddington's men are going to be hard to beat.