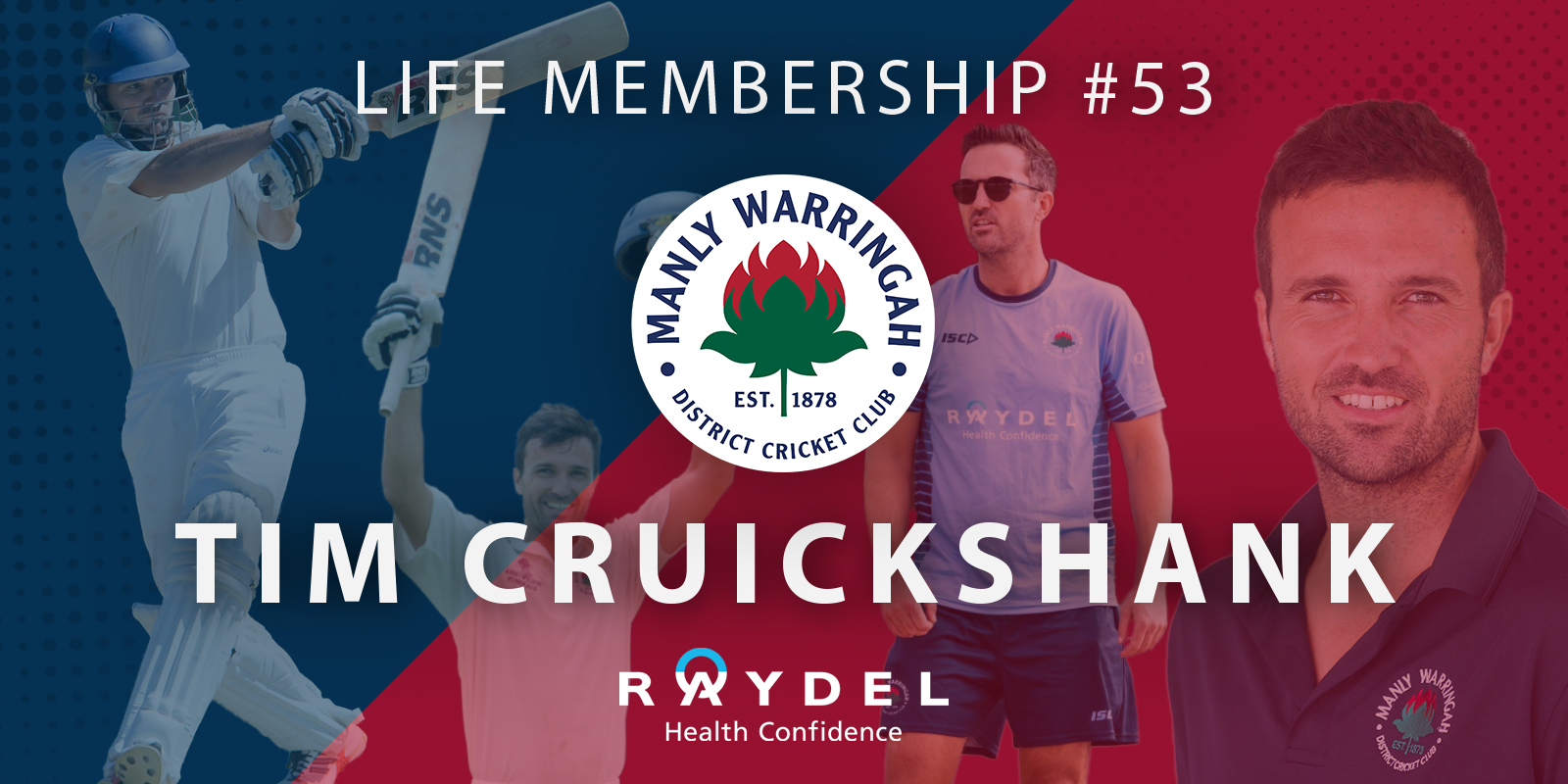 The Raydel Manly Warringah Waratahs are pleased to announce the nomination of Tim Cruickshank as the 53rd Life Member of the Club.
The former player and coach will officially receive this honour at the annual presentation evening on April 15th 2023.
A local junior, Cruickshank played for the Tahs for 19 seasons, becoming the clubs highest run scorer with an impressive 10,502 runs, at an average of 32.92, including 14 centuries.
Tim dominated Sydney Premier Cricket for years, and earned himself selection for NSW and the Sydney Thunder during his playing career.
His crowning moment came in the 2014/2015 season, when he captained 1st Grade to its first premiership in 26 years, capping off a spectacular playing career in the process.
Since retiring from playing in 2015 (minus a few cameo appearances), Tim has remained an integral part of the Club as a coach and mentor, including stints as Head Coach and 1st Grade Coach.
Club President Andrew Fraser has praised Tim's contribution to the Club over the years. "Tim has been involved in the Club for over 25 years now, both as a player and coach. He is our Club's leading run-scorer and was captain of our 1st grade premiership in 2015."
Fraser added, "The Board was unanimous in its decision when Tim's nomination for Life Membership was raised. Tim fully deserves this, and I think it will be a wonderful honour for him and his family when it is formalised at our Annual Presentation Dinner, when he becomes Life Member #53."
The Manly Warringah District Cricket Club has a proud history, and Tim Cruickshank's nomination as a Life Member is a testament to his outstanding contribution to the Club over the years.
Everyone would like to congratulate Tim on his nomination, and look forward to him being confirmed as the 53rd Life Member at the presentation night on April 15.
For a full list of Tim's stats, see below.
| | | | | | | | | | |
| --- | --- | --- | --- | --- | --- | --- | --- | --- | --- |
| | Season | Matches | Inns | NOs | RunsBat | BatAvg | 100s | 50s | HS |
| 1 | 1997-98 | 16 | 16 | 1 | 473.00 | 31.53 | 0 | 4 | 77 |
| 2 | 1998-99 | 18 | 18 | 3 | 461.00 | 30.73 | 1 | 3 | 101* |
| 3 | 1999-00 | 19 | 19 | 3 | 420.00 | 26.25 | 1 | 2 | 102* |
| 4 | 2000-01 | 17 | 17 | 2 | 612.00 | 40.80 | 0 | 5 | 97 |
| 5 | 2001-02 | 15 | 15 | 1 | 265.00 | 18.93 | 1 | 2 | 102 |
| 6 | 2002-03 | 27 | 27 | 3 | 817.00 | 34.04 | 1 | 4 | 106* |
| 7 | 2003-04 | 20 | 20 | 2 | 385.00 | 21.39 | 1 | 1 | 101 |
| 8 | 2004-05 | 18 | 18 | 2 | 631.00 | 39.44 | 0 | 7 | 97 |
| 9 | 2005-06 | 19 | 19 | 2 | 423.00 | 24.88 | 0 | 3 | 76 |
| 10 | 2006-07 | 21 | 21 | 2 | 554.00 | 29.16 | 1 | 2 | 175 |
| 11 | 2007-08 | 12 | 12 | 0 | 207.00 | 17.25 | 0 | 1 | 61 |
| 12 | 2008-09 | 22 | 22 | 1 | 809.00 | 38.52 | 2 | 4 | 151 |
| 13 | 2009-10 | 25 | 26 | 1 | 992.00 | 39.68 | 1 | 8 | 187 |
| 14 | 2010-11 | 24 | 26 | 3 | 942.00 | 40.96 | 2 | 6 | 203 |
| 15 | 2011-12 | 16 | 16 | 3 | 581.00 | 44.69 | 1 | 2 | 144 |
| 16 | 2012-13 | 18 | 18 | 0 | 838.00 | 46.56 | 1 | 5 | 179 |
| 17 | 2013-14 | 22 | 20 | 0 | 486.00 | 24.30 | 1 | 3 | 101 |
| 18 | 2014-15 | 26 | 22 | 6 | 584.00 | 36.50 | 0 | 5 | 74* |
| 19 | 2016-17 | 2 | 2 | 0 | 22.00 | 11.00 | 0 | 0 | 14 |
| Total | 19 | 357 | 354 | 35 | 10,502.00 | 32.92 | 14 | 67 | 203 |