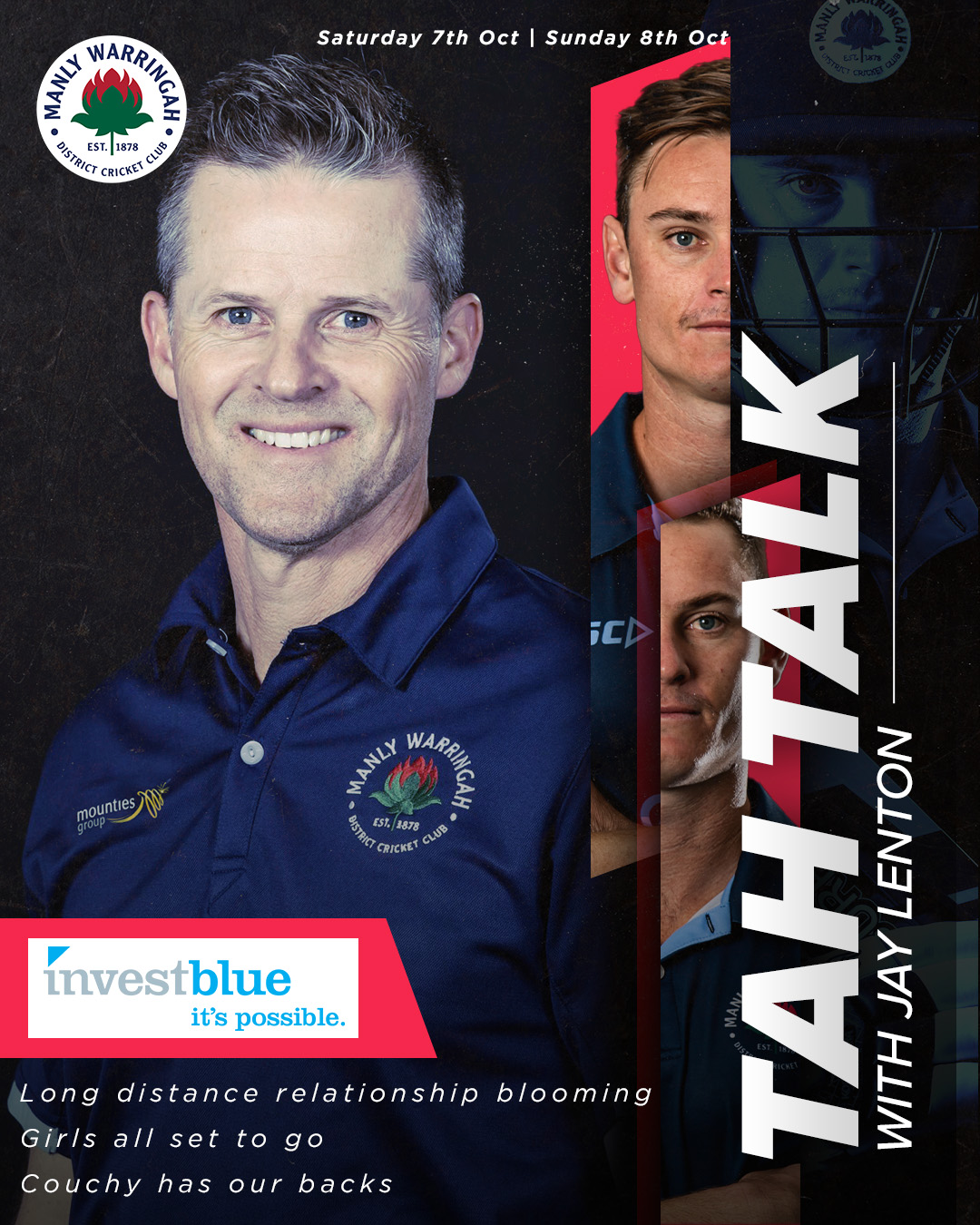 Welcome to another instalment of Tah Talk with Jay Lenton, proudly brought to you by our good friends at Invest Blue.
LONG DISTANCE RELATIONSHIP BLOOMING
It's 790km from Pottsville to Manly but distance has proved no barrier to us building a wonderful relationship with our north coast cricketing cousins.
What started out as a fairly casual arrangement with the Pottsville Cricket Club has blossomed into a genuine partnership that is supplying Manly with some of the best up and coming country talent in the competition.
Former Waratahs first grader Geoff Tucker is the main conduit, handpicking and tipping off his great mate, former teammate and Manly deputy president David Gainsford.
Two of "Tucksy's" boys made an immediate impact on debut last Saturday.
Teenage top order batsman Kai Croft made an unbeaten 120 to help fifth grade chase down Sutherland's 199 for the loss of just one wicket.
Not surprisingly, he won the Gage Roads player-of-the-week award, with the knock described as: "A match winning, debut defining, bonus point achieving, thunderously glorious innings."
In third grade, quick bowler Sam Tomlinson captured 5-26 as we bowled the Sharks out for just 160.
Kai played under Geoff's coaching on the far north coast while Sam played with Tucks and was kept in the little black book for future reference.
We've also got another couple of good north coast products in keeper-batsman Brodie McDowell and paceman Nathan Pryke, who have both played Green Shield for us and will make a big impact in the months and years to come to come.
Continuing that country connection, Harry Kershler, a very good left-arm leg spinner, will be part of our Green Shield campaign this summer and is another to keep an eye on.
His father Anthony Kershler, who played for many years in the Sydney comp and represented NSW, is alongside Geoff Tucker in fostering that relationship between Manly and the far north coast.   
"The great thing with both Geoff and Anthony is they not only have an eye for cricket talent, they've also got a very acute 'good bloke' radar," Gainsy told me.
"We're not only being sent quality cricketers; we're getting quality people as well."
Long may it continue.
GIRLS ALL SET TO GO
Staying on the country theme, our women's program is also benefitting from our links with the bush.
We've picked up all-rounder Lara Graham from Tamworth after a tip off from Brendan Lyon, brother of Australia's champion off-spinner Nathan Lyon.
Brendan coaches Lara and recommended her to the club and we're more than happy to have her on board.
She has fit in straight away, as our country players always do.
Our women's teams get their campaigns up and running on the weekend. 
Third grade gets us underway against Sydney at Balgowlah Oval on Saturday before seconds (v Campbelltown at Raby Oval) and firsts (v Sydney Uni at Marrickville Oval) continue on Sunday.
The Brewer Shield side (under-18s) also play Sydney Uni at Marrickville on Sunday.
There was a great buzz among all our female players and coaching staff at their official season launch at the Harbord Diggers on Wednesday night.   
I'm sure all four sides are in for great seasons.
Go Tahs!   
COUCHY HAS OUR BACKS
One of the big reasons we've enjoyed such great on-field success in recent years is down to our excellent off-field support staff. 
And one of the best is Simon Couch, the man who puts broken bodies back together and keeps us fit and roadworthy for those long days in the middle.
Couchy was an excellent junior cricketer, a naturally talented player who was the last person to captain a Green Shield-winning side more than 30 years ago.
He rose through our rep ranks before going on to establish himself as a very good grade player.
In between his cricket commitments – and the odd outing on the Manly party circuit – Couchy somehow found the time to study and become a leading chiropractor, opening his own business (Chiropractic Services) at Manly Vale.
For the past 15-20 years, Simon has been attending training sessions to tend to players with niggling injuries while offering expert medical advice.
He also oversees our pre-season fitness schedule, ensuring we are in shape before a ball is bowled.
Thanks, Couchy. 
Your contribution is much appreciated.