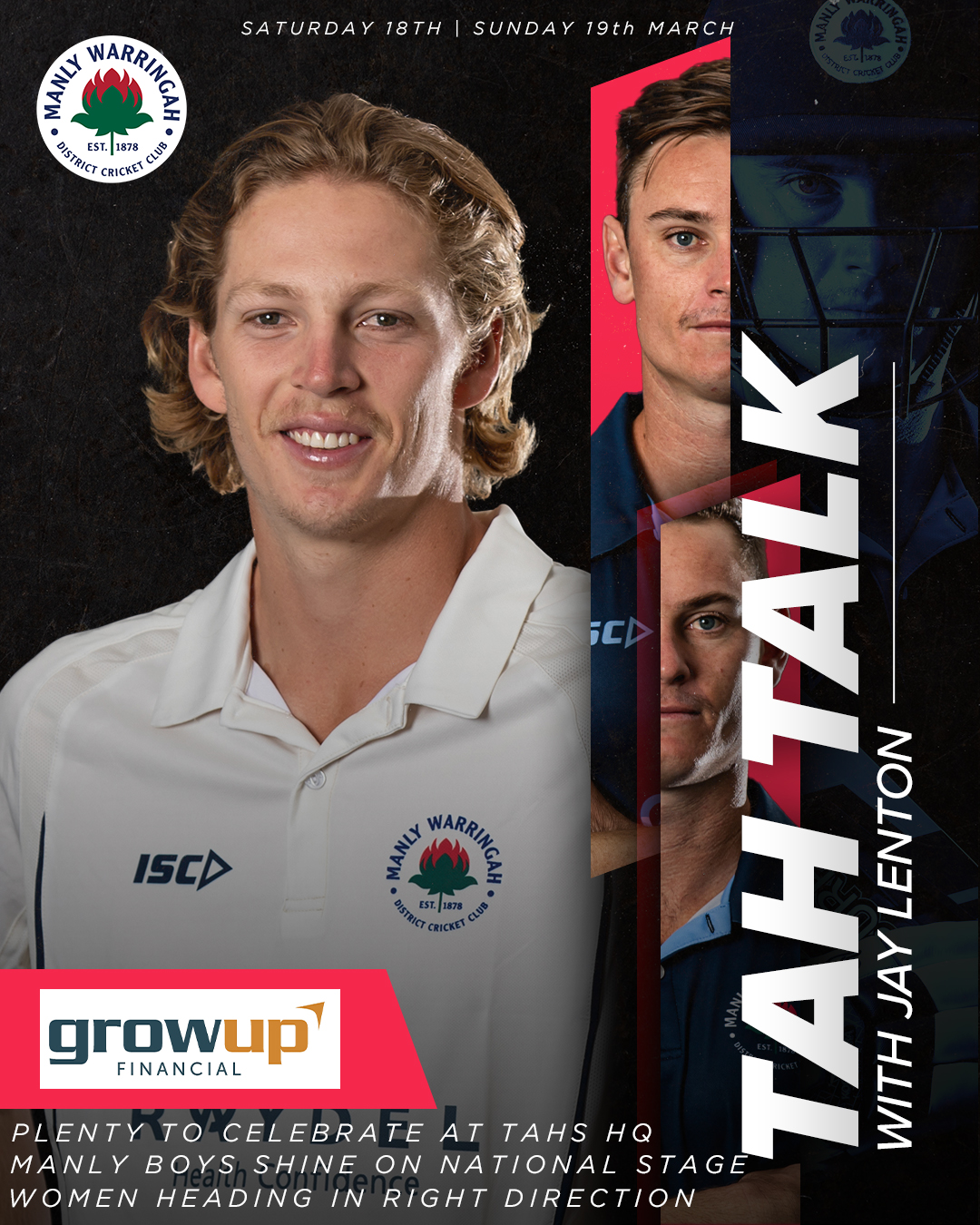 Welcome to Tah Talk with Jay Lenton, proudly brought to you by our good friends at GrowUp Financial – www.growup.com.au
PLENTY TO CELEBRATE AT TAHS HQ 
I've seen some big nights during my time at Manly and last Saturday was right up there with the best of them.
We celebrated long and hard into the evening after finishing the regular season in extraordinary shape, culminating in the Tahs' ninth club championship.
There were minor premierships for seconds, fours and fives, a second place finish for 1s after our last game went down the penultimate ball and a third place in threes.
Chatting among some of our ex-players and officials who were at Manly Oval for an old boys' reunion, none could remember a season when we finished so high up across all grades.
The playing talent and depth we have at our disposal is remarkable – and it's matched by the off-field camaraderie and spirit.
As this is a PG-rated column, I can't go into every detail of last Saturday night.
But suffice to say, everyone enjoyed themselves and were in need of a little sleep-in the following day.
Of course, this sort of success doesn't happen by accident.
There's been a lot of work behind the scenes for many years, involving a number of people putting in hours and hours of preparation and planning, to get us to where we are.
And they all do it for the right reasons, not for personal glory.
Now the challenge for us players is to kick-on from here and deliver premierships.
That all starts on Saturday when we line-up in qualifying finals in all five grades.
We'll be up for the challenge.
MANLY BOYS SHINE ON NATIONAL STAGE
How good to see three Manly boys – Ollie Davies, Jack Edwards and Ryan Hadley – line up for NSW against South Australia in the Sheffield Shield this week.
We haven't got exact records on this but we think you might have to go back to the 1960s for the last time we had three players from our club represent the Blues in a Shield game.
They didn't disappoint.
While Ollie didn't quite get going in the first dig, Jack Edwards (137) came in at No.7 and peeled off his second first class century.
And then debutant Hads picked up his first wicket in his opening spell, bowling with that great pace and nagging accuracy that's seen him lead the grade wicket-takers' tally in Australia.
Hopefully all three can be part of a breakthrough win for NSW and be back in Sydney in time for our qualifying final against Northern District, starting Saturday at Manly Oval.        
WOMEN HEADING IN THE RIGHT DIRECTION
Our women's campaign officially came to an end last weekend when our third grade side went down to undefeated champions St George-Sutherland in a hard-fought grand final.
We finished the season fourth in the club championship after mid-table finishes in firsts, seconds and Brewer Shield and a second place in thirds. 
It's remarkable to think how far we've come in a relative short period of time, given our women's program is really only five years in the making.
Pioneer coaches Ross Denny and Simon Waddington did so much great work to get everything up and running and mirroring our men's program, and we continue to prosper from their early endeavours.
This season we had Dom Wheeler (firsts), Mechelle Hare (seconds), Matt White (thirds) and Bill McLerie (Brewer Shield) in charge of our respective teams, overseen by head coach Duncan Kerr.
They all did a fantastic job.
The training sessions are high intensity, high skill and you can see the fruits of that labour on match day.
First grade benefitted greatly from the experience and talent provided by our English imports and they will always be welcome at Manly.
But what we are seeing – thanks largely to our excellent pathways program – is the emergence of some seriously skilled home-grown talent.
There's a very exciting future ahead.