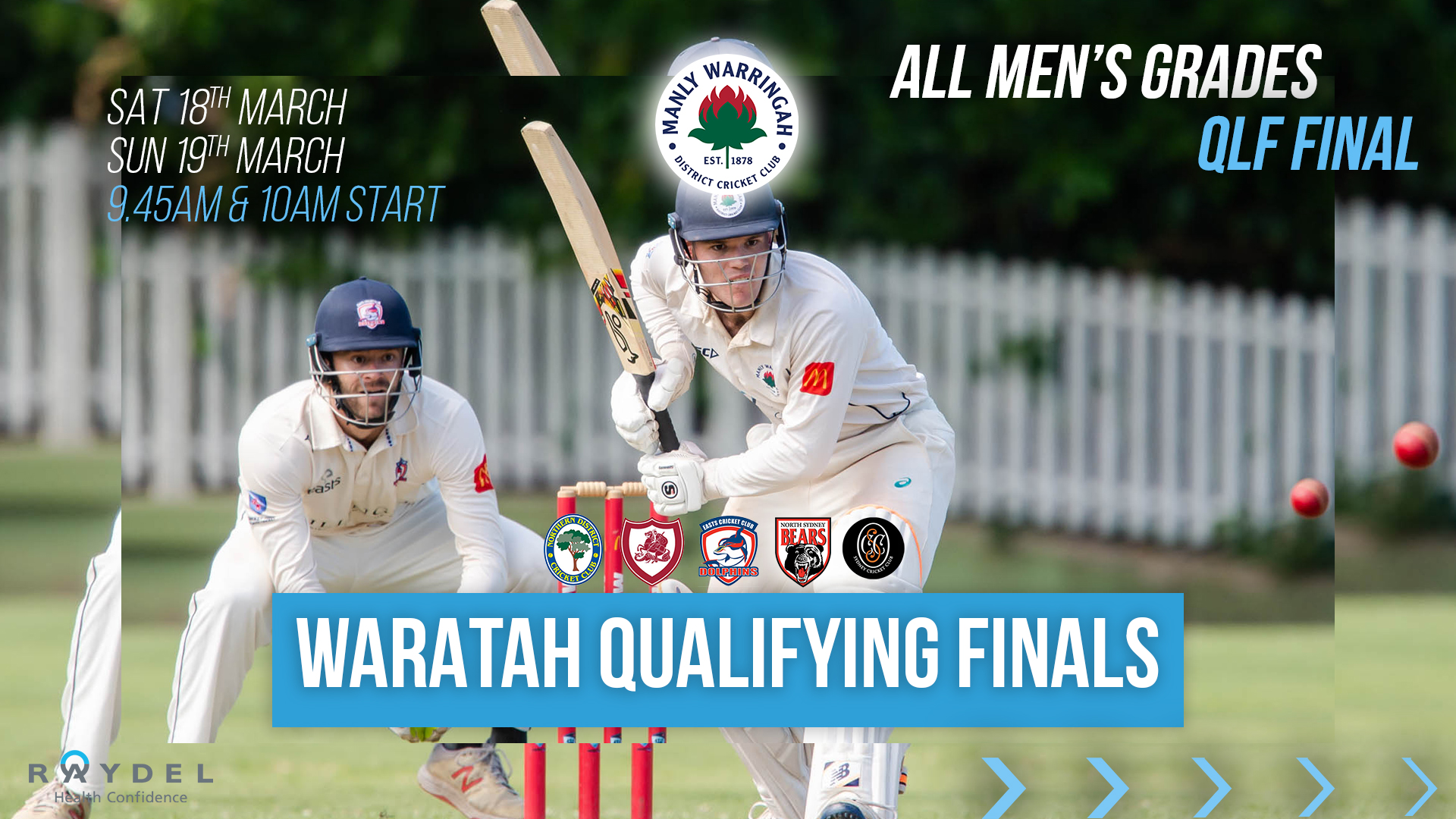 The Raydel Manly Warringah Waratahs have all 5 Men's Grades hosting Qualifying Finals this weekend as Men's NSW Premier Cricket moves into finals mode.
In what is the best regular season results on record, our Men have finished in the following positions:
2nd – 1st Grade
1st – 2nd Grade
3rd – 3rd Grade
1st – 4th Grade
1st – 5th Grade
It has meant that all 5 teams will be hosting finals, which has presented a few logistical challenges, but we have been able to resolve.
Firstly, 1st Grade plays at trusty old Manly Oval. We are up against the 5th placed Northern Districts, last year's Grand Finalists and always a tough opposition. But they are the kind of opposition we want to play against. They are full of good, seasoned first Grade cricketers including former Manly 1st Grade Captain Chris Green, as well as some exciting young talent.
But our first-grade side has had a very consistent season and will be up for the challenge. Our batting is deep, bowling strong and economical, and fielding tight. It's going to be a great game, so we urge all supporters to get down to Manly Oval this weekend for a look.
Match starts at 9.45am on both Saturday and Sunday.
Our 2nd Grade Minor Premiers have also secured a home semi-final, but with Manly Oval taken by 1s, we have chosen to take Pratten Park for the fixture against 6th placed St George. We would like to thank Wests for their help in securing the ground.
Of course, Manly and St George have a long history, not least of which is the 2nd Grade Grand Final from 2020/21. Many view it as one of the greatest Grand Finals they have witnessed with Manly coming out on top in the last few overs.
Andrew Jamieson will lead the side once again. His team has been the best side all year and will go into the match as favourites. But St George are such a tenacious club and team, it's going to be a great battle. 9.45 is the revised start time on both Saturday and Sunday.
3rd Grade are down at their home of homes, Grahams Reserve. they take on North Sydney in a tantalising local affair. The likely inclusion of a few ex-Waratahs in the side only adds to the occasion.
But Sam Hole's team are ready to roll. They will be disappointed at losing the top spot in the last 2 rounds, but it will only fuel the fire to go deep in the final's series. With a good mix of youth and experience, they'll be hard to beat. Match begins at 10am on Saturday and Sunday.
Andrew Rochford's Fourth Grade side has come into the finals series as undisputed Minor Premiers, having claimed it with an astonishing 3 rounds to go. They have been the best side for the last 2 seasons and will be looking to go back to back.
But they won't have it all their own way. Sydney always put up some tough opposition. While we won easily in our Round 12 encounter, we expect the match to be a tight one going to the depths of Sunday to get a result.
With all our home grounds already taken up, we have been able to secure Frank Gray at Harbord to play at. We thank you brothers at Warringah for all their support.
Match begins at 10am on Saturday and Sunday.
Finally, our 5th Grade side will be rumbling just next to the 4th Grade boys at their spiritual home of Mike Pawley Oval. The team has been somewhat of a surprise in many people's eye's considering their youth, but when you consider their quality it's a different issue. Young guns Donnan, Evans, Lawson and Kelly, with Waddington and Halloran keeping a close watch.
We take on the 6th placed Easts in what is always a brutal affair. We were pipped by 30 runs in this year's Round 7 clash, but as Minor Premiers, we will look to assert our authority from the beginning. Match begins at 10am on Saturday and Sunday.
What a weekend it promises to be. All home games secured, and semi-final spots up for grabs. Best of luck to all teams.
Full draw for the Waratahs this weekend:
1st Grade vs Northern Districts – Manly Oval @ 9.45am Sat/Sun
2nd Grade vs St George – Pratten Park @ 9.45am Sat/Sun
3rd Grade vs North Sydney – Grahams Reserve @ 10.00am Sat/Sun
4th Grade vs Sydney – Frank Gray @ 10.00am Sat/Sun
5th Grade vs Easts – Mike Pawley Oval @ 10.00am Sat/Sun
Go Manly.