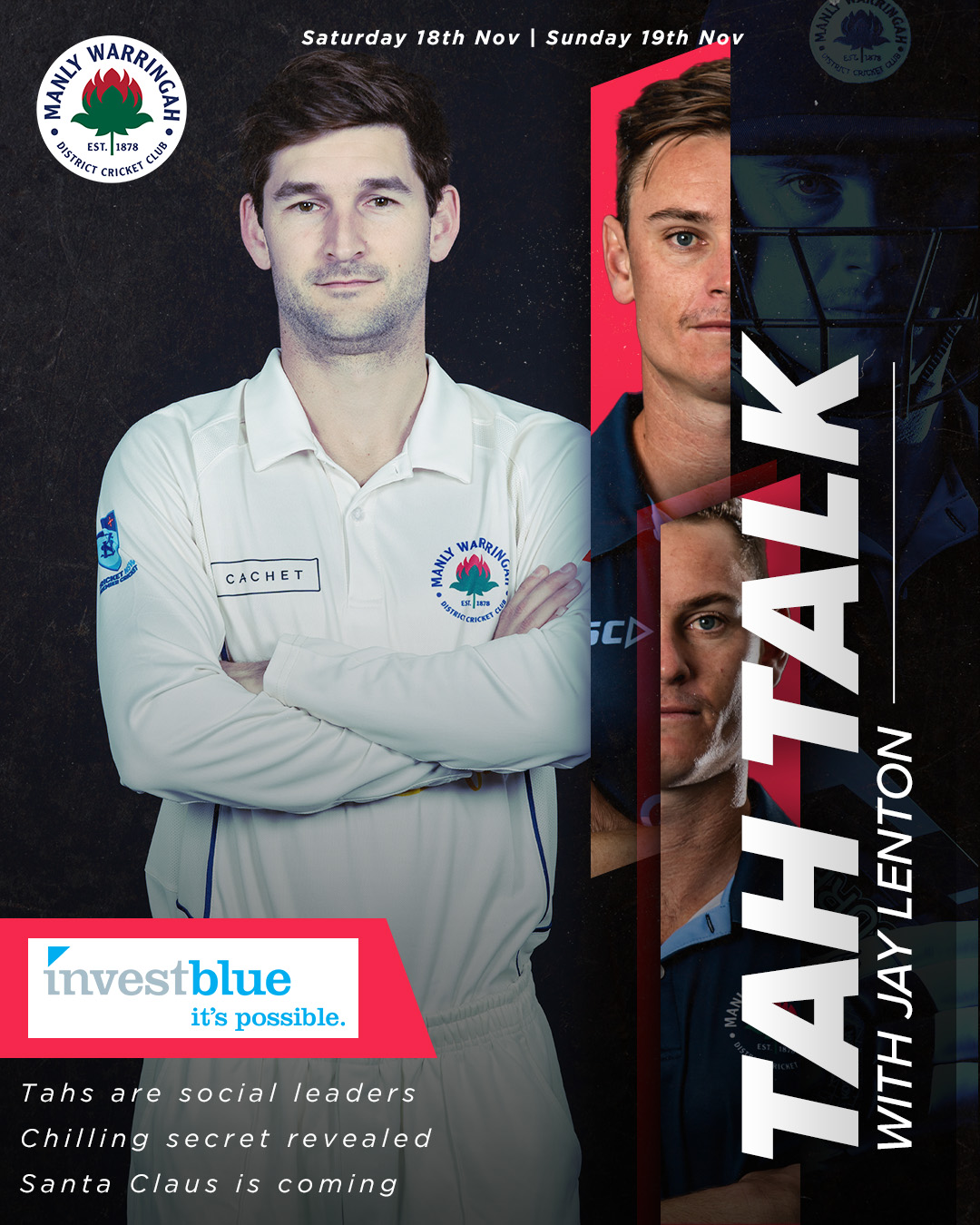 Welcome back to another week of Tah Talk, proudly brought to you by our good friends at Invest Blue!
TAHS ARE SOCIAL LEADERS
If you're reading this week's edition of Tah Tak, chances are you got here via one of our social media channels.
From Facebook to X (formerly Twitter) and Instagram to Tik Tok, Manly cricket has you covered as far as being up to date with news, results, videos, player milestones, club promos and all the brilliant and silly moments the game throws up at this level.
At last count, we had the most followers of any cricket club in Australia and, at the risk of sounding immodest, boast the best and most interesting content.
None of this has come about by accident.
Following the demise of local print media (RIP our old mate The Manly Daily), we were quick to identify social media as the most important way of getting our message out there.
In many cases, it's the only way those of a certain age consume their news.
It's also the perfect way for ex-players and supporters from outside the northern beaches to keep in touch and feel connected to the Manly cricket family. 
It's been a long-term commitment from the club – over 10 years at least – to build an audience from next to nothing to what it is now. 
Not that everything has gone smoothly.
There's been a lot of trial and error and we failed at many things but simply kept changing and adapting.
Joel Mason is the maestro pulling all the strings, Sam Webber the unsung hero and technical genius behind a lot of the processes and Ian Bird the magnificent snapper whose catalogue of photos bring it all to life.
Much of the work is done on buses, trains and planes via mobile phone as the trio juggle work, family and cricket commitments. 
Players help with specific posts they are accountable for (e.g. Renee Hough handles Women's Player of the Week) and we post anywhere from 20 to 30 times a week. 
That's helluva lot of content but the audience, which numbers well over 10,000, is obviously lapping it up.
Some of our videos on Facebook Reels attract millions of views, with one featuring a Steve O'Keefe bowling "clinic" for young spinners watched by 8.5m punters.   
The media team has some exciting plans for the future so stay tuned.   
CHILLING SECRET REVEALED
Now the secret can be revealed.
One of the big reasons our quick bowlers have found form and rhythm in recent weeks can be put down to their sneaky little lunchtime disappearing acts.
Instead of scouring the Corso for the best sushi or banh mi, the fast-bowling brigade has been hitting Recoverie in Belgrave St.
For the uninitiated, Recoverie is a wellness and recovery centre offering a range of services aiding mental and physical wellbeing.
There's hot and cold therapies, saunas, hypervolt systems, hyperbaric chambers and zero gravity experiences.
The Manly franchise is part-owned by ex-Wallabies skipper Michael Hooper and managed by former Manly cricketer – and current Marlins conditioner- Dave Kennett.      
Our boys have been diving into the hot and cold baths to help muscle recovery ahead of those lengthy afternoon sessions with ball in hand.
They claimed to be new men when they emerge, so why not drop in and give it a try next time you're in Manly.
Recoverie is for everyone from the professional athlete to the everyday person.
SANTA CLAUS IS COMING
It's a long way from the North Pole to the RATT but the Christmas spirit will be in full swing when we host our annual festive season bash on December 9.
Manly Oval's Room at The Top (RATT) will be the scene for one of the great social events of the year, with a great line-up of entertainment, food and drink.
Kicking off at 7pm, the $10 entry free will entitle you to food, drinks at cheap bar prices and live music.
Where are you going to get better value than that?
Half the bar proceeds will go to a very worthy cause – the National Breast Cancer Foundation.
The night is open to anyone connected with the Manly cricket family – from players, partners, volunteers, parents, members, ex-players, supporters and sponsors.
Why should Christmas just be about the kids, right?
So let Joel Mason know you're coming so he can sort catering – RSVP him at joel.mason@manlycricket.com – and get ready to party.