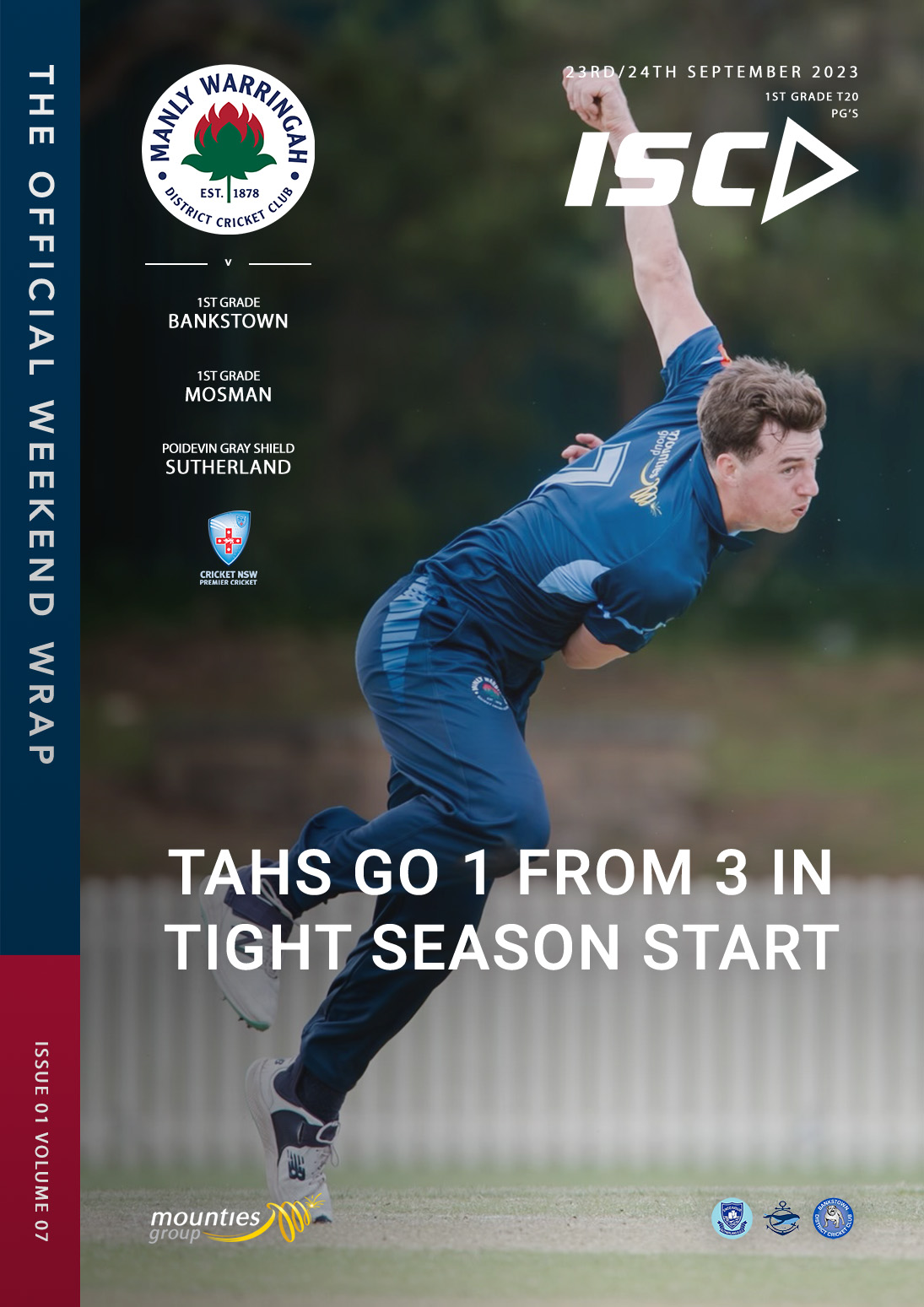 The opening weekend of the 2023/24 season proved to be one of mixed results for the Tahs, highlighted by some individual brilliance from Ollie Davies, along with a couple of close losses across Saturday and Sunday's games. Our 1s boys got their season underway with a block-buster double header out at Bankstown, with matches against the hosts and then later, Mosman. Meanwhile, PG's ventured out to Caringbah on Sunday to take on Sutherland in the first of their round games.
Bankstown Oval was the venue for 1st Grade's season opener against the host side. Losing the toss and being sent into bat on a fresh wicket, the Tahs got off to a shaky start to be four down within the first six overs. However, some positive batting from Joel Foster (22) and Matt Brewster (20), followed by an unbeaten 49 run partnership between Ryan Farrell (31*) and Ned Hole (20*) saw the Tahs post a competitive 6/124. Bankstown were off to a flying start in their run chase, before three quick wickets to Ollie Davies (3/18) brought us back into the game, followed by two to Josh Seward (2/14) just when Bankstown were getting away. Unfortunately despite the boys putting up a big fight to take the game deep, Bankstown passed the total five wickets down with an over to spare.
Moving next door to Grahame Thomas Oval for afternoon fixture, the Tahs were in the field first against Mosman. Big wickets to Joel Davies (1/19) and Josh Seward (1/17)  saw Mosman on the back foot for most of their innings, intensified by 3fa to Jacob O'Sullivan (3/30) and some economical bowling from Jack Edwards (2/13). However, a late flurry of boundaries from Mosman's lower order saw them reach 9/158 off their 20 overs. Our run chase was off to a positive start at 2/74 courtesy of some brutal ball-striking from Ollie Davies, before things began to look dicey after a sudden collapse had the Tahs slumping to 7/120. No need to fear, with Ollie taking calculated risks in a phenomenal display of batting, finishing 104* with Jacob O'Sullivan providing invaluable support at the end, Tahs victorious by three wickets.
Our U21s PGs side also kick-started their season with an away trip to face Sutherland on Sunday. Josh Seward took the reins as skipper, with the Tahs sent into the field first after losing the toss. Tight bowling early from Evan Dunnachie (3/27), Seward (1/48), Nick Kent (0/14) and Josh Lawson (0/8) went for the most part unrewarded, before Roop Dhillon (1/38) and Akshay Joseph (2/27) bowled a great spell in tandem to put the pressure back on the home side, with Josh Cooper (1/28) also chipping in. Good bowling at the death from Dunnachie, Seward and Kent saw Sutherland finish with 8/194 off 50 overs. The Tahs run chase began positively with starts from Preston Lee, Seward, Joseph and Cooper putting us in a strong position. Unfortunately, a middle to lower order collapse saw us fall to 9/173, and despite the best efforts of Lawson and Oscar Lucius, we ultimately fell 4 runs short in an agonising defeat.
Overall, an up and down weekend for the Tahs to begin the season, but lots of positives to take from all games. 1st Grade move onto the second weekend of the Kingsgrove T20 Cup, while grades 2-5 begin their season with one-day fixtures against Sutherland.
Until then, up the Tahs.