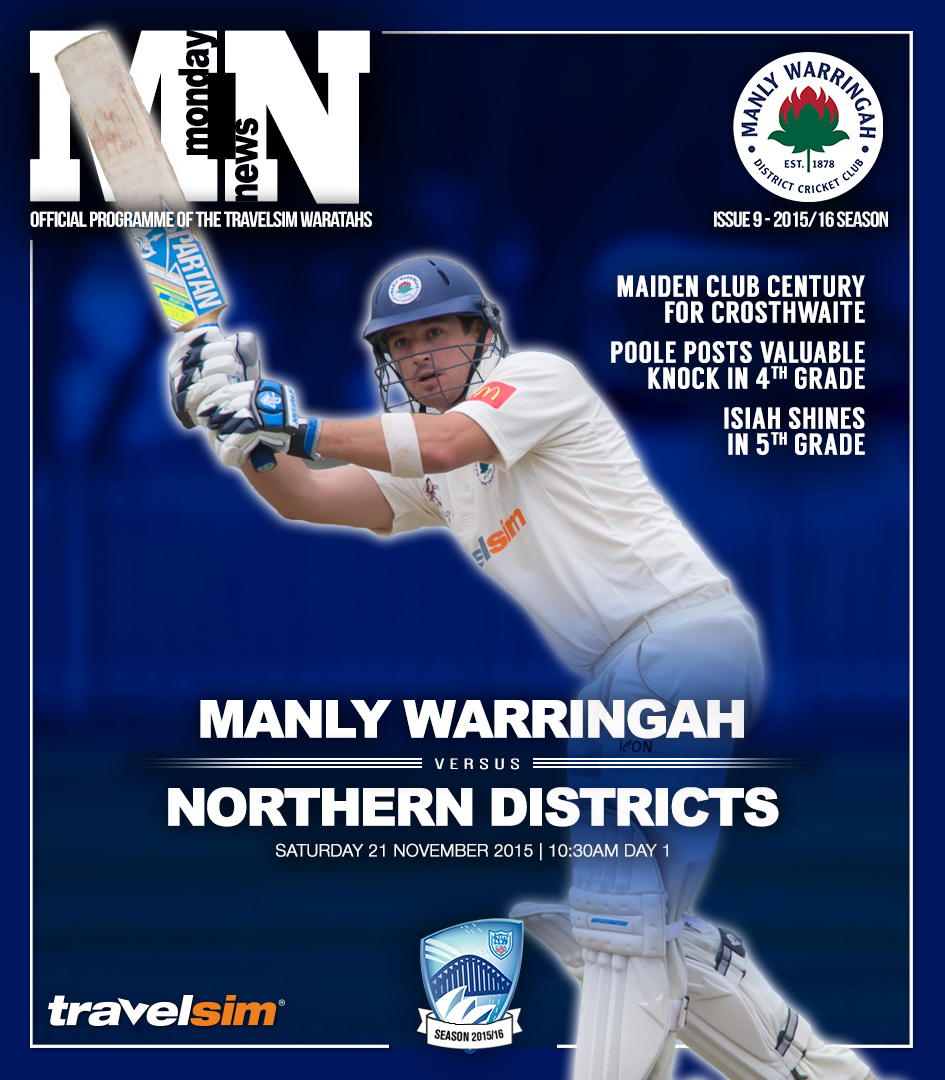 The Travelsim Waratahs have begun this rounds fixtures against Northern Districts with a strong weekend, with all grades still in the hunt for points. After a scorching week across Sydney, the weather cooled on Saturday for near perfect batting conditions, which were capitalised upon by our top two grades in particular.
1st grade built a menacing total of 371 with James Crosthwaite making a classy 131, his first century for the Tahs. Contributions were also made by Cameron Merchant (88*) and James Munting (54), who now have the task of defending this total against a strong batting line-up including former test cricketer Brad Haddin. 2's also had a good day with the bat, making 293 on a flat wicket at Mark Taylor Oval. Rawlings (71), Kaye (57) and Baker (54) were all amongst the runs as Rowan Hamman's side were bowled out late in the day.
3's toiled hard at Grahams Reserve, with ND's making 6/231 on a typically flat wicket. The wickets were shared between Warren Evan's men, who will back themselves to chase the runs if similar conditions are to arise next week. 4th grade made 8/217 at Asquith Oval with Toby Poole (68) and Ash Virdi (49) the main contributors. Captain Max Burgess has the option to bat on next week and built a bigger total before unleashing his strong attack in the search for 10 wickets. Finally, 5's were led by an unbeaten 86 by Isiah Vumbaca to 219 at Mike Pawley Oval. Debutant Ollie Davies also made 219 in what is a defendable total for Simon Waddington's young side.
All in all a good weekend for the TravelSim Waratahs, who will back themselves to take the points across the grades next week.
Until next time, Go Manly!
4 Pines Player(s) of the Week – Isaiah Vumbaca
While we can't ignore the phenomenal maiden century by last weeks winner James Crosthwaite, we're all about sharing the love down here at Manly. Therefore, this weeks 4 Pines Brewery Player of the Week goes to young-star Isiah Vumbaca, who led 5th grade to a defendable total with his highest score and most prolific innings for Manly to date.

After showing us a taste of the batting talent he possesses in the second-half of last season, Isiah stood-up for Simon Waddington's men (well mostly boys!) at just the right time. 'Izzy' scored all around the ground and was the rock for 5's at Mike Pawley Oval, remaining not out on 86* when he unfortunately ran out of partners with a century on the horizon.

We're stoked that Izzy, an acomplished leg-spinner as well, is back amongst the runs, and can't wait to see him continue his fine form not only on a Saturday but for our Green Shield side throughout December and into the New Year.

Well Done Isiah!
1st Grade – Manly 7/371 (J. Crosthwaite 131, C. Merchant 88*, J. Munting 54) vs. Northern Districts
First grade got off to a good start when Crossy won the toss in batsman friendly conditions. Although we lost two key wickets early, James Crosthwaite showed his star qualities, posting his first century for the Club, including an impressive four sixes and 16 fours. Shot of the day coming in the first session with James clearing the front leg and sending the ball half way up Ragland street.
Contributions from returning first class cricketer Jay Lenton (28) and AB (24) moved the score along consistently until just before tea. At 5-254 the match was evenly poised and required a strong partnership to move manly to a position that could be defended the following week. This came by way of Cameron Merchant proving his quality yet again with 88* and with Munting scoring fluently and regularly finding the boundary for 54. Manly finished the day on 7/371, giving us a healthy total to defend next week.
Munter
2nd Grade – Manly 293 (J. Rawlings 71, T. Kaye 57, A. Baker 55) vs. Northern Districts
Second grade played away to northern districts on Saturday looking to replicate a dominant victory against the rangers in last years semi final. Rowan winning the toss on a flat deck and billiard table like outfield was a great start.
Rawling and Graham set us off to a great start not loosing a wicket in the first hour and putting on close to 50 before Joey bbq'd himself learning quick singles with ralph are no longer an option. Tommy K put his modelling on hold for a short while and held a strong partnership with Rawlings, both scoring easily with clean hitting and great singles. At 4-250 at tea, we set a target of 330-360 at the end of play and a big score from a top 6 with 3 bats having passed 50.
Unfortunately, we lost 4/30 in the next hour putting a serious dent in our target score. Gainsy nearly throwing his back out swinging so hard, Rowy, Bucky, Schwebs falling cheap too didn't help but golden boy (Jake Carden) showed great maturity and skill combining with yours truely to put 30 for the last wicket in 5-6 overs.
293 was the final score and a defendable target with a lot of firepower ready to take the ball! I look forward to seeing Bucky, Falcs and Joey Graham step up and dominate these blokes!
Cheers Dizzy
3rd Grade – Manly vs. Northern Districts 6/231 (J. Edwards 2/32, D. McKenna 2/44)
We lost the 6th toss of the year and had a bowl on a hard deck with a tinge of patchy grass. Overhead conditions suggested some movement through the air but we did not quite get our lines right early and NDs got off to a solid start after Dan McKenna got an early one care of a snick. NDs rattled along nicely before we managed to get the 2nd wicket mid way through the session to make it 2/74. We applied the brakes nicely after this but NDs batted with composure to go to tea at 2/122.
This was a great launching pad for them but to our credit we toiled well and with NDs opting to play a rather dour game they dawdled a bit after tea not really putting us under too much pressure but likewise we did not look like taking a swag of wickets on what was now a Grahame's belter. All bowlers bowled well with Jack Edwards (2/32 from 12) and Zac (1/27 from 14) bowling very well. Wigney (1/48 off 14) was a bit expensive early but bowled a much better 2nd spell. McKenna was unlucky not to get an earlier wicket when he found the edge and his figures of 2/44 from 14 could have been better. Evans (0/34 from 16) was accurate, Morris (0/40 from 9) bowled his early overs very well but then got the full toss yips for a few overs and a few easy runs. Matt will be better off for this game after his 8 week layoff with a hamstring.
It was obvious at times we had not had a decent full team fielding session as we did not grasp the half to ¾ chances that came our way. We gotta get better with training attendance boys, 4 on Thursday is not good enough by a long shot.
NDs showed us what batting within yourself can do and how you can be well rewarded. Their opener batted all day to slowly compile 119 from 249 balls, without giving a chance. Next week's chase of at least 231 (they are 6 down) will test us after our twin failures against Wests.
See you at training?
WE
4th Grade – Manly 8/217 (T. Poole 68, A. Virdi 49) vs. Northern Districts
An overcast and brisk morning greeted Fourth Grade as we arrived at Asquith Oval to take on the 9th placed Northern Districts. ND's are a strong club and always competitive so we knew we had to be at the top of our game. Max lost the toss as predicted and we were sent into bat on a wicket that would offer a little for the bowlers early in the conditions, but it would become easier to bat as the day went on.
Burgess and Cole strode confidentially to the wicket and opened up. We lost Cole (5), then Hole (2) soon after, both to good rocks. Poole (68) and Burgess (24) patiently built a solid partnership that took us to 2-77 at tea. The pair worked perfectly in tandem, Poole as the aggressor playing hard and straight and Burgess looking for the singles to rotate the strike. We were happy with the base we had built as we indulged in one of the better teas in grade cricket (with scones almost up to Ferg standard). There was still plenty of work to go and we needed to put our heads down.
Unfortunately we lost Burgess in the first over after lunch, this brought Virdi (49) to the crease. Poole continued where he left off and Virdi followed suit attempting to lift the run rate. Both batsmen batted maturely, going after the bad balls and respecting the good balls. Poole snicked off and was caught behind which brought a great innings to an end. Pickering fell for less than he would've liked, then Virdi soon after, shelling one to mid-on selflessly looking to up the scoring rate, unlucky not to make a deserved half-century. Outred scored freely for a well compiled 25, Graham battered smartly on his way to an unbeaten 17. Wood also contributed to the total but fell on the penultimate ball of the day. This brought Bishop-Perrett (1*) to join Graham in Fourth Grade's never-ending batting order. At stumps we are in a solid position at 8/217.
Overall we had a good day on the park but benefited from some poor catching and missed chances from the opposition. Captain Burgess has a decision on his hands – whether we should bat on or not in the capable hands of Bishop-Perrett and Jacob Graham. We have the bowling attack to get a result and all look forward to next week where Will Wolter will move up into 4s and Sam Hole will leave us and move to 3s.
Sam Kelly
5th Grade – Manly 219 (I. Vumbaca 86*, O. Davies 28) vs. Northern Districts
Waddo won the toss and decided to bat. W.Wolter and T.Sheedy set the team off to a steady start forming a 35 run partnership. However some nagging off-spin bowling from opponent A.J.Singh, Wolter was caught on the boundary for 18, followed by Sheedy being caught in close for 19 and unfortunately N.Hole being dismissed for 6 LBW.
The score was 3 for 51 and we were not in a convincing position. Runs were flowing nicely in a 31 run partnership from N.Osborne and I.Vumbaca until Osborne was caught at Mid-Off trying to hit the spinner for a maximum. Debutant O.Davies was striking the ball well accompanied by Isaiah. They put on a 49 run partnership, but Davies was caught at short fine leg trying to manipulate the ball into the gap.
I.Vumbaca continued to score freely at the other end showing his class, however he was losing support with the bottom order getting out cheaply. Vumbaca finished undefeated on 86 after losing his remaining partners. His innings set us a satisfying total of 219.
The off-spin bowler A.J.Singh ended with figures of 7 for 89 off 31 overs. Most of his wickets came from lazy shots and wanting to hit the ball in the air too often, so there are lots of improvements to work on. However if the pitch is similar next week, our team is confident in defending 219 with our strong bowling attack.
Will Wolter