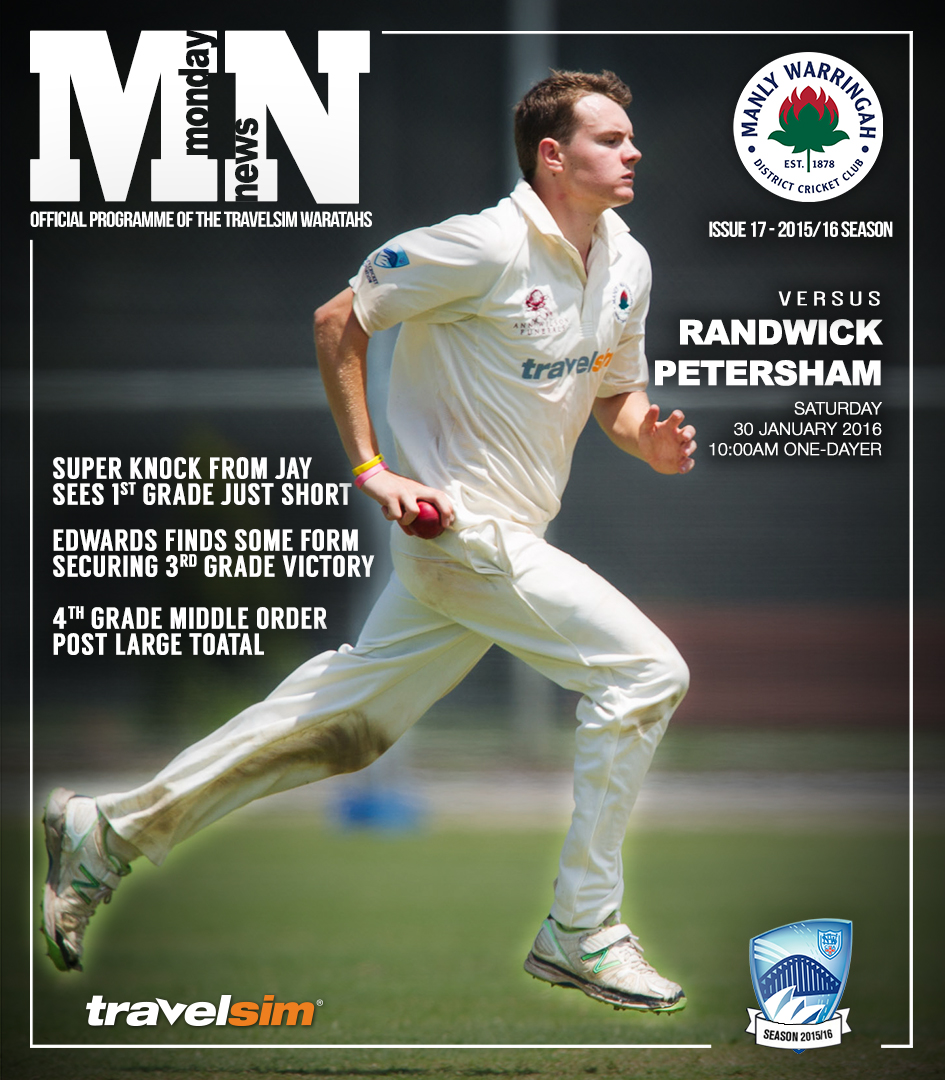 Round 11 against Randwick-Petersham didn't go quite to plan for the TravelSim Waratahs, with some poor batting performances bringing us up short in 2s and 5s as well as a courageous but ultimately unsuccessful run chase in 1s despite a brilliant ton by Jay Lenton. Despite this, 3rd Grade and 4th Grade both registered strong wins. 2s bowled well to dismiss RP for 185 but we fell to 6 for 38 in response, and despite getting to 106 without losing another wicket courtesy of 48* from Sam Webber, we lost on run rate. Jack Edwards got back to form with a half century leading 3s to chase down their target 6 wickets down, while half centuries to Hole, Boyer and Outred got 4s to 228 which they defended successfully. Finally, 5s struggled with the bat, bowled out for 92 and despite getting close thansk to some great bowling by Sam Alexander, Ed Hole and Alex Bain slinked over the line 8 down.
Go Manly!!
4 Pines Player of the Week – Jay Lenton

This week's 4 Pines Player of the week has to go to Jay Lenton and his 125 in first grade. Jay's performances this season have been extremely impressive to say the least, hitting centuries with apparent freedom and earning himself a NSW debut in the process. Unfortunately it wasn't quite enough to chase down the 346 set by Randwick-Petersham with the boys falling an agonising 23 runs short. It's great to see him notch another ton in Manly colours and hopefully we get the chance to see him hit a few more big scores before the season's end.
Well done Jay!
1st Grade Manly 326 (J. Lenton 125, M. Alexander 43) def by Randwick-Petersham 8/346 dec (A. Beadle 3-58 [32], 2-84 [18])
On Saturday we lost the toss and RP's decided to bat. We did not get off to the start we wanted with the new ball at all, Jimmy injuring himself in his 2nd over also did not help. Nickos and Matty A came on the stem the flow of runs and bowled in a great partnership, both unlucky not to get a wicket. AB and Viss followed with another bowling partnership which lead to the breakthrough.
Wickets were tough to come by throughout the day and credit to RPs who batted well saw them 8-345 at the end of the day. AB was ridiculously good all day with 32 overs 3-54, with no boundaries hit off him all day.
RPs declared overnight and we were off to a great start of 0-75 before we lost 2 quick wickets before lunch. Followed by 2 quick wickets after lunch we had Jay and Nappa looking to rebuild at 4-92. They showed their experience in doing so and when Nappa was out manly were back in the hunt.
Matty A then came in and supported Jay perfectly, scoring 43 and getting the run chase down to the wire. Jay was the rock of our innings and showed just how much class he has by hitting his 4th 100 of the season, he re-builded the innings perfectly and put us in a position to win.
Unfortunately after Matty A and Jay were removed the tail fell away and we went down by 20 runs.
Viss
Watch 2 oustanding Caught and Bowled's from Mickey Visser and Ryan Farrel below:
2nd Grade Randwick-Petersham 184 (M. White 2-21 [10], S. Gainsford 2-12 [4]) def Manly 6/106 (S. Webber 48*, J. Carden 30*)
Second grade turned up to a muggy Coogee oval looking for points to help our push towards the finals. Randwick won the toss and they chose to bat first on a relatively flat wicket. Matt White and Taylor Beatty opened the bowling and started with great lines and lengths, with Matty taking an early wicket for us. Flat came on and continued the work done by the openers and was unlucky not to take more than he actually did. This was backed up by Jake Carden who came on and bowled great areas as well. The two spinners of Dizzy and Sammy Gainsford bowled during the middle overs and restricted the run rate as well as taking a couple of wickets each. A solid team bowling effort meant that we restricted them to 184. The boys knew that with the batting talent we had in the shed, it was very possible to chase down the score.
However things did not start well. Tom Kaye got knocked over second ball, leaving us on the back foot from the get go. A mix of decent bowling and poor shot selection caused a panic within the dressing rooms. Reeling at 6 for 30 odd, Jake Carden joined Sam Webber at the crease and the two looked to resurrect our innings and give us a chance of victory. Moving the scoreboard along nicely, thanks to some brilliant shots all around the ground and some smart running, the attention was moving the thunderstorm that was about to hit the ground. With lightning and thunder about, we were only allowed to put a small cover on the pitch, without pegging it down. As predicted, the weather moved the tarp off the pitch. After a lengthy delay of not being able to be on the ground due to the lightning, we were finally allowed to inspect the pitch and unsurprisingly found that half the pitch was soaked. Unable to get back on, the game was called off with Randwick winning on Duckworth Lewis.
A disappointing result for us considering our great bowling effort and the fact that we would have been in with a chance of victory if we'd had more wickets in the shed with Duckworth Lewis in play at the end.
Go Manly
Falcs
3rd Grade Manly 6/182 (J. Edwards 64, Z. Trewartha 39) def Randwick-Petersham 202 (J. Graham 3-40 [10], J. Edwards 2-23 [7.5])
Grahames was back to its' old self – flat and hard. The outfield looked quicker than previous weeks . None of the 700 daily users turned up to watch. We lost the toss again and RP got off to a solid start against some at times wayward bowling. We bowled 11 wides and 3 nb in total. Wiggers (0/43 from 10) again bowled better in his 2nd spell. Dan McKenna (0/28 from 7) was solid but the pitch was flat and not much happening. Joe Graham (3/40 from 10) came on early and got the breakthrough care of a Ben Treloar LBW – it must have been plumb.
Having done his job Graham was taken out of the attack and Edwards (2/23 from 8) and Evans (2/28 from 8) then came on in an attempt to slow things down. RP were travelling at 5s early care of an opener hitting the ball quite sweetly. He soon spooned one into the covers from Evans to make it 2/53. Jack started with 3 maidens and a wicket, clean bowling the #3. Jack bowled very well having to contend with a dirt patch right on his run up. From mid on, 15 yards away I saw a massive turn of the ankle on one delivery out of the corner of my eye but his ligaments were up for it.
Marshall (2/37 from 7) came in and had an immediate impact with a good catch taken by Jack at square leg. Dylan had 1 for 4 from 3 and was bowling beautifully but then got a bit funky with the fields which was not always met with agreement by the captain and possibly Dylan lost his length a little bit following this and was hit a bit in his latter overs. The signs are good though for Dylan and he is starting to get back to his old self. Just stay patient Dyl and you will take plenty this year.
He and Joe bowled very well and Joe in particular got important wickets all day, dismissing their threatening #4 with a smart stumping from Aiden Bariol and then a good C&B to get rid of the big hitting #7 just as he was getting into stride with 10 overs left. Valuable stuff.
We went through them consistently but some decent lower order batting, whilst never making us panic, certainly got them to a reasonable total of 202.
Jack (64 from 104) and Billy Darcy (19 from 32) ensured a solid start getting us to 49 before Bill's leading edge popped one into the covers. Bariol (32 from 65) kept things moving and he and jack were cruising.
A quick look to the west and backed up by RADAR a big storm was obviously approaching. If it was Duckworth Lewis we were a mile ahead but with it being straight run rate we were a little behind.
Pens, notebooks, calculators and a shifting batting order all rose to the surface and when Aiden was caught at mid off to be 2/118 we were about 10 runs behind schedule. As a result Zac (39 from 26) was sent in at #4. The sky was dark now and not easy. We were thereabouts but when Jack faced a few tight overs and eventually snicked one we were maybe 10 behind still. Ash (7 from 5) ran himself out via a direct hit from 3rd man to make it 4/161. Jimmy was yorked soon after to make it 5/163 with play to be suspended any minute. It was a fine line as to whether we risk wickets to make sure we get in front. Zac then opened up and sent the ball flying around for 5 fours and a six to give us some great breathing space. Unfortunately he did not make the most of his luck when stumped from a no ball due to bowler clipping the stumps and was caught in the covers two balls later. Despite this Zac got us into a winning position with his clean hitting.
As Evans (5no) approached the crease the umps decided the light was terrible and came off. Lightning rule was then enforced. At the end of the break we were 14 runs ahead. After time lost we needed just 6 runs from 5 overs. Evans and Graham (1 beautiful run not out) ensure 6 points, even though the winning runs were quite comical. Evans middled one back which Joe couldn't get out of the way of and the ball rebounded away for an easy 2 at a point when we needed just one. If it didn't hit Joe it was going for either a 4 or an easy single if mid off dived and saved it. A couple of RP boys complained about it and Evans was considering calling it a zero but Joe set him straight and off we went 6 points in the bag. No hard feeling as the result was quite obvious.
A solid win and great to win 2 in a row. Has us in 3rd spot – doesn't mean much as the table is so tight. A loss will send us as low as 10th and a win possibly into 1st.
WE
4th Grade Randwick-Petersham 6/134 (R. Bishop-Perrett 3-25 [8], M. Morris 2-36 [10]) def by Manly 4/228 (W. Outred 63*, S. Hole 60, J. Boyer 56*)
Petersham Oval was the scene of what would be another solid win by the 'main grade' as we progress to the finals.
The great 'tosser' Maxy Burgess got us underway and elected to bat on a cracking cricket wicket. He just keeps winning tosses. What a tosser.
Gumms and Bomber opened up but bomber missed a straight one which missed the second set and was told to pack em by the umpy. A resurrection was underway with gumms and Sammy hole putting on a solid partnership before Gummer departed. Sammy hole continued on with 'I probably should of drank more water so I don't get dehydrated and throw up on the field' James Boyer with the boys both reaching 50 each. Sammy Hole departed bringing in the mighty Will Burrrrrrr who batted out of his small body to hit a run a ball 60 odd. Boyer and Will ended not out leaving us with 228. A very respectful score considering the outfield.
We came out strong with the ball and Randwick never really got going. Matty 'slippery' Morris got us going with a couple of wickets in consecutive overs before Ryan 'I'm an introvert but am coming out of my shell' Bishop Perrit bowled out of his skin and picked up a quick 3 which killed all chances Randwick had. Pick of the bowlers on the day.
We got called off after Armageddon came through and won on run rate .
Another win for the lads. #6points
5th Grade Manly 92 (M. Cole 42) def by Randwick-Petersham 8/94 (S. Alexander 3-21 [10], E. Hole 2-13 [6], A. Bain 2-19 [6])
Losing the toss and batting first on a slow and low Mike Pawley pitch, Manly 5's knew runs would be hard come by early on.
Stand-in skipper Tom Sheedy and Will Wolter led the charge taking 6 off the first over before Sheedy snicked off in the second. Wickets began to tumble as we were caught on the crease and guilty of playing shots more suited to the hard and fast nature of synthetic pitches.
Matt Cole was the star of the innings showing some true intent in the middle. Cole proving to be the rock of our innings, he hung around for most of our innings displaying smart stroke-play and reminding us all what he is capable of (although he did cook Ollie Davies with a run out – sorry legend). He was well supported by Alex Bain late in the innings whose impressive batting saw us limp to 92 all out.
Bain (2-19 off 6) got us off to the perfect start taking two early wickets, before Ned Hole (2-13 off 6) cashed in with his quality mediums.
With wickets falling regularly and the score teetering at the 6-60 mark, we thought we were in with a chance but some big shots from the Randwick lower order got the Stags over the line in the 32nd over, 8 wickets down.
Ultimately if we had batted our 50 overs we would've reached our goal of the 110 run mark and wrapped up the game.
Special mention to all the boys for a top fielding and bowling performance in which they never gave up and made Randwick work extremely hard for their win.
Onwards to next week.
Samos.
Hardboard Diggers Team of the Round
The Harbord Diggers Club Team of the Round has been named. Some great performances this week from the Waratahs, earning them entry into the Harbord Diggers Team of the Round. Jack Edwards and Sam Webber open the batting after some great performances, while Sam Hole comes in at no.3 continuing his good recent run of form. Lenton is a shoe in after his brilliant ton, while run a ball half centuries from Boyer and Outred see a diminutive middle order. Sam Alexander and Joe Graham form the loosest spin attack in Australian Cricket. Ryan Bishop-Perret gets his first call up the the team of the round with an eye catching fast bowling performance in 4s, while Bain and White returned great figures in 2s and 5s respectively to form a lethal opening bowling partnership.