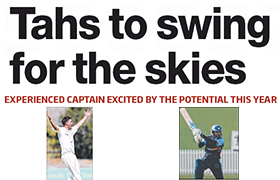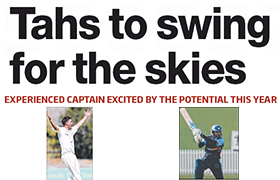 AFTER making his firstgrade debut as a fresh-faced teenager, Tim Cruickshank has played in his fair share of talented Manly-Warringah squads.
Former NSW captain and current coach Shawn Bradstreet, quick Mark Cameron, tearaway Jamie Heath and prolific batsman Matthew Phelps are all former teammates.
So when Cruickshank said the current Waratahs XI has the "potential to be anything", it carries a bit of sway.
"On paper we are definitely one of the better sides in the competition,'' the 32year-old said ahead of Saturday's Sydney Grade opener against Sydney University. "But everyone knows that means zero once the first ball is bowled.
"Pre-season was very challenging this year, the constant rain disrupted plenty of sessions.
"I do like our balance, we just need to get out there and do the business."
Cameron Merchant will move up the order to open the batting, with Jay Lenton the new wicketkeeper.
Cruickshank is also tipping big campaigns from allrounder Ahillen Beadle and returning quick Jimmy Munting.
"I am pretty excited about what Jimmy can do, he offers plenty,'' the skipper said.
"He has come back from Adelaide a different player, having that taste of firstclass cricket with the Redbacks (in the Sheffield Shield) was invaluable for his development.
"AB (Beadle) is a terrific talent, he was fantastic for us last season and now he has the opportunity to build on that over the next few months."
Left-arm orthodox spinner Steve O'Keefe, who is likely to make his Test debut for Australia next month versus Pakistan, will play this weekend only.
He will be replaced by emerging youngster Luke Diserens for day two of action.
Play at Manly Oval over the next two Saturdays is from 9.30am.
{loadposition cricket}