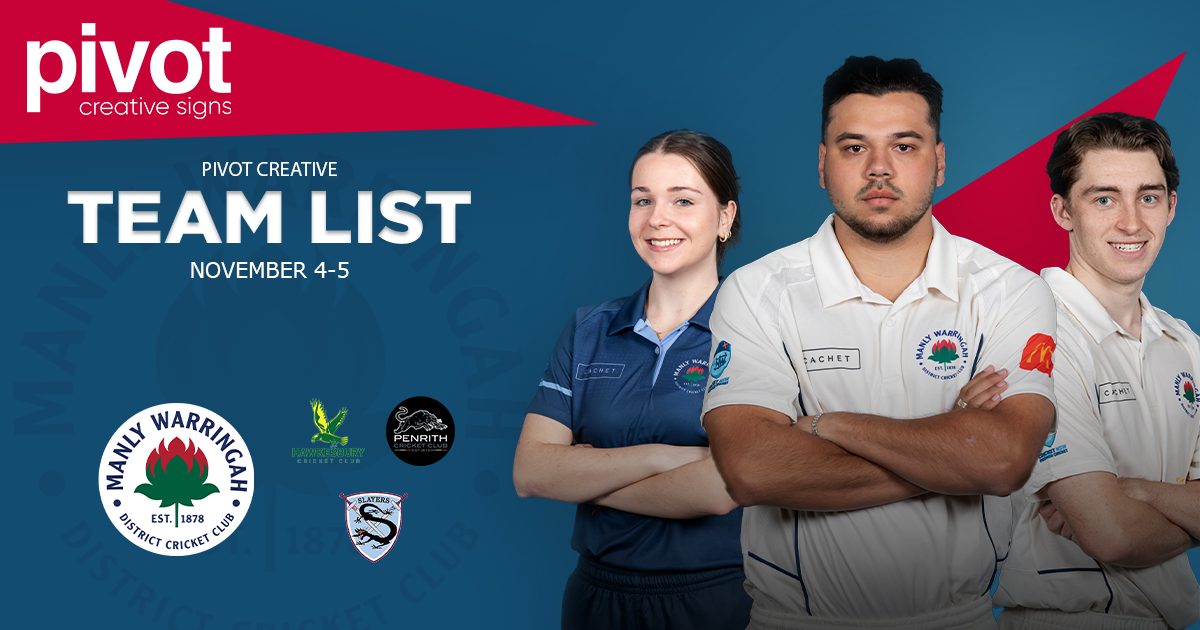 The Manly Warringah Waratahs are pleased to announce the Pivot Creative Team Lists for this weekends Premier Cricket fixtures. The men's sides take on Hawkesbury in a 2-dayer, while the women's host a triple header on Sunday at Manly Oval, with 3's playing awat to St George-Sutherland.
Ned Hole makes his 2 day debut for 1's, while Zach Trewartha replaces him in 2's. Ryan Hadley returns from injury in 3rd grade to help the middle order, while Andrew Boulton also returns from injury in 4's, with Jaack melchiore another addition after his twin tons. Osbourne, Overhoff and Kershler come into 5's as they look to remain undefeated.
Chelsea Mclerie returns to W1's, while 2nd grade post a very strong side with some strong additions. Brewers welcome in Horstead, while Levin makes her club debut in W3's.
1st Grade – Two Day Match
Round 5 vs Hawkesbury @ Manly Oval
10am start
1. Jay Lenton (c) (+)
2. Joel Foster
3. Ned Hole
4. Ahillen Beadle
5. Ryan Farrell
6. Matt Brewster
7. Jacob O'Sullivan
8. Tom Kaye
9. Bertie Foreman
10. Josh Seward
11. Lachlan Ford
Second Grade – Two Day Match
Round 5 vs Hawkesbury @ Owen Earle Oval
10am start
1. Lachie Coyte
2. Zach Trewartha
3. Ben Bryant
4. Brynn Mendel (+)
5. Isaiah Vumbaca
6. Lachlan Barnsley
7. Jordan Daly
8. Matthew Sunshine
9. Andrew Jamieson (c)
10. Michael Counsell
11. Roop Dhillon
Third Grade – Two Day Match
Round 5 vs Hawkesbury @ Graham Reserve
12pm start
1. Sam Hole (c)
2. Keelan Mendel
3. Lachie Charles
4. Nick Rigg
5. Ryan Hadley
6. Sam Webber (+)
7. Josh Coyte
8. Lachlan Trewartha
9. Evan Dunnachie
10. Josh Lawson
11. Fraser Noack
Fourth Grade – Two Day Match
Round 5 vs Hawkesbury @ Benson Lane #2
12pm start
1. Jayden Kennedy (c)
2. Liam Dinan
3. Oscar Lucius (+)
4. Josh Cooper
5. Luke Watts
6. Ellis Raymond
7. Jack Melchiore
8. James Waddington
9. Andrew Boulton
10. Will Skinner
11. Preston Lee
Fifth Grade – Two Day Match
Round 5 vs Hawkesbury @ Mike Pawley Oval
12pm start
1. Harry Kershler
2. Lukas Overhoff
3. Reiley Dunlop (+)
4. Jordan Brewster
5. Simon Waddington (c)
6. Jack Donnan
7. Ollie Melville
8. Julian Osbourne
9. Will Matheson
10. Kai Croft
11. Brodie McDowell (+)
Unavailable:
– Ollie Davies
– Kieran Smith
– Adam Parkinson
– Jake Hutchings
– George Cumming
– Chris Halloran
Women's 1st Grade – T20
Round 5 vs Penrith @ Manly Oval
3:30pm start
1. Kristie Crawford
2. Lara Graham
3. Eliza Henry
4. Alana Horsfall
5. Laura Judson
6. Annabel Hutt
7. Isabella Zovi
8. Lauren Kua (c)
9. Katie Letcher (+)
10. Chelsea McLerie
11. Mia Phelps
Women's 2nd Grade – T20
Round 5 vs St George-Sutherland @ Manly Oval
12:15pm start
1. Elizabeth Cambridge
2. Emily Horstead
3. Gabriella Dunnage
4. Renee Hough (c)
5. Lara Hughes
6. Stephanie Hughes (+)
7. Mia Nel
8. Hannah Moss
9. Nat Guyot
10. Darcey Whiteley
11. Elissa Andrews
12. Erica Sharma
Brewer Shield – T20
Round 5 vs Greater Hunter Coast @ Manly Oval
9am start
1. Charlotte Allen
2. Eve Burke
3. Olivia Champion
4. Elizabeth Cambridge (c)
5. Charlotte Croll
6. Saiorse Ford
7. Arabella Handley
8. Emily Horstead
9. Lara Hughes
10. Kaya Punter
11. Annabelle Croll (+)
12. Daisy Addison
Women's 3rd grade – One Day
Round 5 vs St George-Sutherland @ Gannons Park #5
12:30pm start
1. Lily Crabbe
2. Sophie Beukers(+)
3. Sophia Chick
4. Emily Hatfield
5. Sienna James
6. Emma Lyon
7. Renee Hough (c)
8. Grace Pike
9. Dyandra Prins
10. Cam Pryor
11. Sophia Randall
12. Jasmin Wilson
13. Kirra Levin
Unavailable:
– Georgia Adams
– Chloe-Amanda Bailey
– Annabel Kyme
– Anisha Dissanayake
– Caitlin du Preez
– Annabelle Gilbert
– Saskia Horley
– Brooke Frew
– Ashleigh Karcher
– Molly Kidd
– Shivani Mehta
– Sam Bates
– Sarah Turner
– Mia Waddington
– Mason White
– Sallie Molyneux