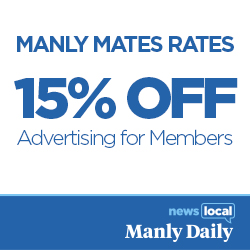 We are pleased to announce that The Manly Daily is again supporting the Manly Warringah Waratahs for the 2016/17 season.
Our local newspaper have been strong supporters of cricket on the Northern Beaches for over 100 years, with great coverage of both the Manly Warringah Waratahs and all of the junior clubs on the Peninsula. They are also great supporters of our brothers at Warringah Cricket Club. 3 years ago this support was extended to a commercial one, with the Waratahs and The Manly Daily joining forces in a mutually beneficial sponsorship agreement. We are excited to report that the Manly Daily have renewed this agreement for the coming season.
Established in 1906, The Manly Daily has been a constant on the Northern Beaches since that time. With the Manly Warringah Waratahs approaching their 140th year, both organisation have a long history of community activity, so it's fantastic to be able to continue our commercial relationship. Sales Manager Jenny Walker is especially delighted with the ongoing partnership.
"The Manly Daily is an iconic Northern Beaches organisation, as is Manly Warringah District Cricket Club" said Walker. "To have both organisations working together to help each other is a fantastic step in the right direction and something we are very proud to be involved in".
"The club is a big part of the community in the summer months. We believe we can help them expand their presence on the Northern Beaches, and are confident that they can help us also. A big thankyou to Andrew Fraser, David Gainsford, Joel Mason and the team at manly Cricket for their great support."
The Manly Daily will be providing us with a number of advertising opportunities during the summer to help promote our events, sponsors and community activities. The Manly Daily are an official club sponsor of the Waratahs in exchange for a variety of benefits, including game day promotion at Manly Oval. We are hopeful this will continue well into the future.
The Manly Daily are also involved with our Manly Mates Rates program. They are offering a 15% discount for all initial advertisers. Contact Jenny Walker on jenny.walker@news.com.au or visit http://www.dailytelegraph.com.au/newslocal/northern-beaches