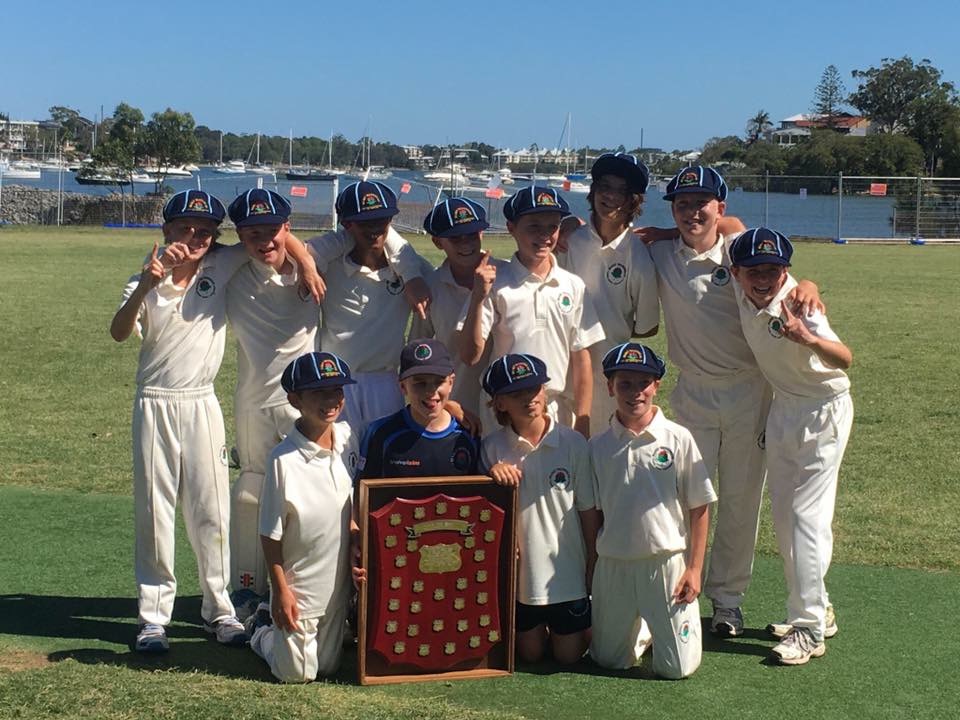 DID YOU KNOW THAT…..:
The 2017/18 side are the 2nd Manly team to take out the U-11 DCA J H Creak Shield title following up from the winners of 2013/14 edition.
#Hurdles – The 2017/18 side came from 7th: beating the 1st , 2nd and 3rd ranked sides along the way.
Matt Evans 39 was the 7th highest score in an U-11 DCA Final since online records started (past 9 seasons).
Tom Molloy's 4 for 9 are the 2nd best bowling figures in an U-11 DCA Final.
Will Brewster, Ethan Buchanan, Tom Molloy and Matt Evans are the only boys from any association to win the U-11 Presidents Cup as well as the U-11 DCA Premierships.
DISCLAIMER: The Report is a long one……
PRE-MATCH: Another great fielding session at Grahams on Thursday and some wise words from Manly First Grade skipper Chris Green had the boys pumped to go that one more step. The wisdom was washed down with some pizza and waterborne chaos at Little Manly afterwards, as the focus was just on having some fun under the setting sun and enjoying each other's company. The GF will sort itself out…….
Bowling
THE MATCH – MANLY INNINGS
After the loss of our last competition round to Sutherland a month ago, Scott actually did the thank you's for the season and handed out all the burrito vouchers. We thought the boys were out of finals contention. We were in the lap of the results gods to see if Manly can sneak in the backdoor as we trudged off to Freshie to celebrate and commiserate whilst fate was still up in the air. History shows that Manly snuck in with quotient our friend as we finished 7th. These boys then embarked on a run that saw them topple the 1st and 2nd ranked teams to now face the 3rd ranked Inner West, who were standing in the way of Manly pulling off a quite remarkable premiership. No salary cap issues with this Manly side incidentally.
Tommy made it two correct calls in a row and the boys excitedly padded up. There was a good vibe around. Runs on the board. How important is it? Manly have shown that they can defend scores in the low 100's – would today be the same? Harry O'Sullivan and Matt Evans have been our rock solid openers for the last 4 or 5 matches, often seeing off the opening combos and establishing a nice, steady start. Inner West are a very good side: they were finalists in the U-10's when beaten by North Shore and were keen to go one better at their home ground in front of a large throng of support.
They had good depth in their bowling attack but both Matt and Harry looked comfortable, albeit extremely cautious and runs were hard to come by. The field was dry and a lovely breeze meant perfect cricketing conditions. Inner West started with plenty of good chat but the openers blunted it with respectful, clever play that got Manly through those difficult early overs. Both boys had just started to lift when Harry – surely the most unlucky kid in the age group – was given out stumped. It was a very close call based on a back foot precariously hanging on the crease, Manly 1-28 off 15. Tom Molloy ambled out to join his Harbord team mate and after his usual cautious start, commenced to up the ante as they started to push Inner West for 4 an over. They constructed the biggest partnership of the match putting on 32 in 51 balls as the total passed 50, both boys starting to find the boundary before Tommy chipped one to square-leg, 2-60 after 24 overs.
A score of 120+ looked on the cards with the batting to come, but also lurking in the background was that collapse bugbear that has hurt us this season. The cricket wrecking ball was next in – Ethan Buchanan. He has had a stellar season racking up boatloads of runs and wickets but the game of cricket can catch you unawares and facing his fourth ball he latched onto one that was well taken at cover. 3-70. One wickets brings a second and it brings a…..ok, time to bottle it. Will Brewster took his turn in the middle and as only Will can do, clattered two boundaries on leg side soon after arriving, one a really good thump towards the throng of Manly mum's delightfully squealing as the ball rolled past the boundary. Tent city was so maternal, the dad's being dads were already off pacing their laps, or sitting quietly under a tree mumbling incoherently to themselves whereas the mums stuck together in a picture of composure and provided a cacophony of support from beneath the shade. The next ball Will took off on an overthrow, but was hit quite hard on the shoulder by the return. This stopped play and took some decent wind out of Will's sails. A quick massage from dad got him going again.
The lull in play let Inner West regroup and they were rewarded soon after when a horrible mix up saw Will unluckily run out. 4-81. This turned into 5-81 a few balls later in the 31st when Matt popped one up and was gone for a well compiled 39 of 86 balls. We needed one end to be held up and Matt did this in a solid and unflappable innings. It was tough for Manly as we had two newbies at the crease in Lewis Whiley and Lochie Kinstler-Smith. Both boys worked hard to right the ship but just when it looked like they were going to hit the accelerator Lewis was run out, 6-88. Benji Cook was the new bat, he pocketed a few runs before sending a soft chance skyward, 7-99 in the 38th.
Ollie Mann – one half of the dynamic duo with the bat vs North Shore, took strike. He wasted little time and clubbed one tasty boundary through covers, we lost Lochie with the score on 110, but Ollie and the No10 Charlie Poynton chipped in with a few more singles to see 113 entered into the scorebook as the score to chase. Runs on the board. Scott absolutely nailed it when he called the team in. He asked them 'what did you bowl North Shore out for?' In unison they replied 106, and the coach reminded them that if they bowl Inner West out for the same score, Manly win the game. A few lightbulbs flicked on……..
An epic lunch was served and the boys warmed up for their stint in the field. These kids back themselves. They know they are a good fielding side and have some weaponry in the bowling cabinet. Actually that's not fair. They are a bloody brilliant fielding side and it has been the major catalyst for their success in the final series. Can they defend it against a team who has chased down 139 and 119 in their two previous finals?
THE MATCH – INNER WEST INNINGS
First ball bowled by Ethan threw a spanner in the works. The boys were so pumped up waiting for that first nut, when it went spearing for 4 byes one couldn't help but think 'ok, it's not going to be our day'. Next over by Lewis the opener cracked one for a boundary and after 2 overs they had more runs on the board than we had after 9 overs and were 10% of the way there already. This always tests characters but the Manly boys never waivered. Talk remained up and invariably a very good catch by Harry at square-leg got the ball rolling in the 4th over, 1-12.
Lochie, Charlie, Will and Tommy are like leopards pouncing on wounded prey in the circle and Inner West could only limp to 16 runs by the 10th over. Manly had conceded a mere 4 runs in seven overs as our opening bowlers found their mark of line and length, with a dash of venom. Speaking of marks – mark this name down: Lewis Whiley. This big bopper from the Peninsula club bowled with searing pace for an 11yo on a very awkward and undulating run up to the wicket. Oh yeah, into the wind as well. Wazza was talking about getting him a start in 5th grade next week! Honestly, it was very, very fast for Under-11's, very fast, and he was shaping it as well. With a few seasons and technique refining under the belt, he is going to terrorise batsmen! In the meantime at the other end Ethan was unlucky not to get a wicket, a regulation caught behind was shelled by Ollie. He really felt that 4 byes off the first ball and it plagued him for the first 30 overs of the innings, but he regrouped and had a magnificent final 10 overs which we will get to soon – a true test of character when the chips are down.
Tommy Cole and Matt Evans revved up the 1st change engines, but Inner West were up for the challenge. They had their two best bats at the crease and they seemed comfortable against the Manly bowling. Tom Cole bowled with his usual passion and kept things tight. They came out after drinks blazing, and all of a sudden in 5 overs they doubled their score. With the wind kicking up it was time to turn to the spin twins as we needed a breakthrough – Tommy M with his finger spin and the leggies of Eshaan. What will unfold?
Manly were immediately rewarded by the decision to take the pace off the ball when the tall No3 hit a low drive straight back at Tommy who made no mistake, 2-36. You could feel the temperature rise as the massive crowd around the ground knew it was game on. Another two tight overs saw a frustrated No 4 lash out against Eshaan in an effort to get off the mark, Lewis taking a regulation catch at mid-off. Hello, 3-43. Next over this became 4-44 as Tommy lulled their new bat to hit uppishly, Charlie made no mistake in the covers and the boys had some pretty big kick in their step. The wind started to play havoc with Itchy's leggies pushing them down leg-side and Inner West started picking off runs. Tommy sent down a maiden, unfortunately Ollie couldn't glove a tickle by their opener. He also shelled a 2nd hard chance off his skip, head was down but he was soon to make up for it in a big way later on. Tom didn't relent and in the 24th over with the score on 56, he sent a lower, flatter delivery that got through the batsman to claim his 3rd pole, 5 down. In Tom's 6th over the opener went to sweep and the ball struck him low, bang in front. Their wild appeals for a huge scalp went unrewarded as it was given not out. Such is cricket. The spinners had done their job tightening the screws with an ever enthusiastic field launching themselves whenever the ball came their way.
The equation read 58 runs to win with 102 balls at Inner West's disposal, 5 wickets in hand.
Like last week and the week before, Manly had to bowl the opposition out. Lewis re-entered the fray and Will for the first time. Another 4 byes hurt but both bowlers kept things exceptionally tight without reward. Inner West had wickets in hand with time and deliveries on their side: the key for Manly was removing their pugnacious opener. Lewis sent down a frightening ball at searing pace that bent like a banana the last bit, their captain was all over the shop and it struck him on the ankle. There was genuine concern about it because it looked nasty, but to his credit he got back up and kept going after a few minutes lying flat on the pitch as their coaches dealt with him. It was a brutal blow. This pair then edged their way to 86 in the 32nd over when a quite incredible passage of play unfolded that turned the game towards Manly.
Ethan had resumed with 4 dots. The talented Inner West opener could see the finish line and went for a big shot. It sent the ball skywards with our mid-off Charlie only having to take a step or two forward to take the chance. Benji – standing at mid-on decided to fly across and try and take the catch right in front of Charlie. It thumped into his chest and rolled quickly out towards skipper Tommy. The opener was half-way down the wicket and tried to scamper back only for an accurate fling by Tom and great glove work by Ollie saw the opener run out. Coach killer but it had the same result. The team piled onto Ollie in sheer delight, it was like the confidence tonic that he needed as a very, very good bat was sent back to the sheds, 6-86. Benji my boy, talk us through that one!
Buoyed by that Ethan steamed in at a rate of knots and sliced their No7 in half with a jaffa, Ollie made no mistake with the edge, 7-92 after 34.1. The boys had their backs up, the pincer was out and the pressure was all on Inner West.
Inner West require 24 off 35 balls, 3 wickets in hand.
Parents couldn't watch, old mate with the joint backing onto the oval was going to eat his leaf blower given it was interrupting a wonderful afternoons cricket. Even the drones in the nearby park scurried for cover as this game was going right down to the wire. Tommy M was back on, three dots and a near chop back on was rewarded 4th ball when Ollie took an excellent caught behind…..Stop it! I can remember a whole platoon of us looking at each other thinking 'can they really pull this off? It's not we didn't think they could do it, but it's all the hurdles these boys have had to overcome to get this close to taking out the premiership and here they were two wickets away. Tommy M finished his 8 overs with a wicket maiden and figures of 4-9 off 8.
24 balls to go with Inner West needing 22 runs and 2 wickets in hand.
How do you set your field? Who fields where? Who is bowling? Holy smoke. The sidelines resembled a lawless state of animation and tension whilst on the field the boys remained remarkably composed. So Reps cricket that! This composure was tested when Ethan speared one down leg that Ollie tried valiantly to glove but the afternoon breeze blowing hard off the bay grabbed it and sent it out of his reach. Lewis sprinted hard from fine-leg and with an exasperated dive kept it just in, saving two very important runs. The parental throng under the tree less than 5m away exploded in delight at the commitment that typified these last overs. A no ball and a leg bye were all they got off the 4th last over.
Equation: 18 balls, 18 runs. This is it, the end of the season right here, right now.
The last few weeks the boys have been so lucky to get down to Graham's to participate in fielding training with the likes of Jay Lenton, Roy Vumbaca and Chris Green. The fielding of this Manly side has been nothing short of sensational – in fact the entire age group are exceptionally strong as our Presidents Cup boys are also very good fielders. It is such an important part of the game and probably the most endearing cricketing strength of the DCA team, if not the entire U-11 age group. This was to play itself out in the last 3 overs with fantastic general fielding closing the game out with two run outs.
Matt Evans had the task of bowling the 3rd last over, a few singles and a wide kept the nerves jingling – not for our boys in the field. On the 2nd last ball the Inner West bat pushed it to cover where Charlie latched onto it quickly.
Split second.
We have been teaching the boys to take that split second to line up your return as accuracy is paramount. His under-arm return was like slow motion as it went straight next to the stumps, bails off. Picture perfect timing. Everyone stared agape towards the adjudicating umpire and the boys started to run and cheer even before the finger got past his waist. 9 down. Manly knew they were so close, only one to go.
Inner West require 15 runs off 12 balls, Manly require one wicket.
Ethan stepped up for the penultimate over. What more do you want than to have 4 dot balls to start it? Three swung down leg, but Ollie gloved them perfectly. His old man delightfully dotted the scorebook. 5th ball they pushed one towards Tommy M, who held the ball and went flying horizontally across the wicket taking the bails off then cannoning into the stumps themselves. He saw no one was there and didn't want to risk the overthrow.
Everyone watched the ump who was caught in a bad position as it happened so quickly, but was given not out which was the correct call. The tension…….! Tommy had taken off a fair bit of bark as he limped back to covers with one ball to go from which they pinched a single. Ethan bowled beautifully at the death, 8 overs 1-10. Dead set cricketing star of the future this kid.
Championship over: Inner West need 13 runs, Manly need 1 wicket or keep IW from scoring 11 or more runs.
The skip dropped some of his fielders back which enticed the Inner West bat to play a relatively defensive shot to Matt's first ball for a leg bye. 12 off 5. Matt bowled a ripper off a delivery 2nd ball and the batsmen could only bunt it back just wide of the pitch to Matt's right on his follow through. Matt jumped on it – split second – took time to line up the three stumps, lobbed it gently into the furniture………
Manly U-11 DCA Champions!
As the bails hit the ground the gravity of the game, the situation, the effort, the ups and downs sunk in.
The Manly lads just became this writhing mass of delighted youngsters who had achieved a pretty remarkable title ascent. They quickly toned down their celebrations for they knew they had to shake hands with a despondent opposition. Whilst it is great that Manly won, we really did feel for Inner West. It was a magnificent game of cricket played at a very high standard. I guess you expect that for a final.
We didn't realise there were plenty of people not at the ground hanging on the result. Our Presidents Cup team had finished their game and were apparently holding hands and chanting support around a phone waiting for the latest. Ok I have embellished that a bit but their support has been fantastic, greatly appreciated by everyone in DCA and we look to reciprocate that as they continue their season. See you on the sidelines!
The boys were gleefully hugged by their parents, siblings, relatives. Their big smiles were priceless. They re-hydrated and some even grabbed a quick snack. They weren't fazed. They just played a game they loved. That's all that mattered.
When you manage a team you want everyone to buy into a certain culture, a culture that makes cricket such a great game that it is. We had such a moment as the Inner West boys – having grouped near the pitch to be spoken to by their coach – trudged back towards their parents and supporters. Our entire Manly entourage stood there facing them and started clapping them. It was just one of those moments and one that did the Manly name proud. It could have been our boys sadly walking off and I know how much Inner West appreciated our respect of their team. They were outstanding hosts and opposition in every facet from lunch, interaction and banter, support for both sides and spirit of the game. It was the best advertisement for junior cricket and we collectively lament the directive that CA want to get rid of Under-11 Reps cricket. If they were there to witness this match and the undeniable love of the game as shown by 24 boys out there, they'd be forced to rethink.
In some ways if the CA directive comes through, then it is possible that Manly have just won the last The J H Creak Shield. It sat below the scorers' desk for the umpires to present to Manly. Scott spoke to everyone in a great coaches speech, they shook hands and the Manly boys headed for the middle with the shield for photos. In the run up to this game it was quite incredible the well wishes and 'good luck' sentiments that flowed from the Manly Grade club, the MWJCA and beyond. From Ollie Davies in Tassie through to Chris Green and Jay Lenton, to other junior Rep teams, Saturday cricket team mates and families. The phones were hitting tilt as the word had spread, Manly had won and the messages of congrats came flooding in. How lucky these boys were to have such widespread support. On behalf of them – thank you.
DCA boys – your job is not done yet. Let's get down and support our Presidents Cup team. The victory in DCA was a victory for the entire age group, not just one team. The camaraderie intertwining both teams augurs well for the years ahead, the strength of the age group and competition within. Rip in your Presos!
THANK YOU
We cannot thank everyone personally but want to make it known that the messages of congrats that came from Andrew Fraser (Manly Club President), Gainsy (Manly club V-P), Blake Cousemacker (MWJCA Reps), Mike Pawley from Cambodia, Joel Mason, Chris Green, Roy Vumbaca, Ross Denny, the U-11 Presidents Cup Manager / coaches / parents and beyond were warmly appreciated. The support has been staggering. What is not lost on us now in the post-match glow is how many people with deep Reps experience telling us just how hard it is to do what these youngsters had just done. As the late, great Richie would say in his dulcet tones ' A fine effort that'.
Of course it will be remiss of me not to thank those whom shaped, moulded and built this team into a championship outfit. Scott Brewster and Warren Evans. Both men have a long cricketing pedigree which spans the MCC at Lords to Manly First Grade. How lucky are these boys to learn the ropes from two incredibly experienced cricketers! It shows out on the field. As for the parents – you bought into the Manly Reps culture with zest, enthusiasm, support and compassion. For many it is their first taste and we hope you enjoy it so strap yourself in for a wonderful six year journey.
The boys. What can you say! The part we want to bottle the most is their attitude towards team, playing as a team. It comes first. They play as a very potent bunch and it's the little things that galvanise them as a unit – in the final just played one of our boys bowled a wide near the end and was hurting….three team mates rushed up to him to pat him on the back and support him. Can you coach that? Their respect for the game and its values, their sheer, raw cricketing ability and relentless enthusiasm to enjoy every moment makes them the champion side they are.
CRICKETING NIRVANA
In signing off, cricketing nirvana came in the seven days Sunday to Sunday for this rambling author. First our Manly boys topple the 'unbeatable' North Shore on Sunday 3rd in a stunning game of cricket. Second the Australians give England a sniff before mercilessly putting them out of their misery to go 2-0 in the Ashes. Thirdly, my beloved Dutch cricket team regained ODI status last Wednesday and will play in the global league against all the big nations regularly. Get ready to tour Holland boys when you are older for some cricket below sea level! Fourth the U-11 DCA won the premiership in an incredible run from 7th. Fifth – my young bloke was blessed to captain this side of out and out champions. He said to me today ' Dad, being captain of the DCA side has been the greatest experience of my life'.
Adrian Molloy