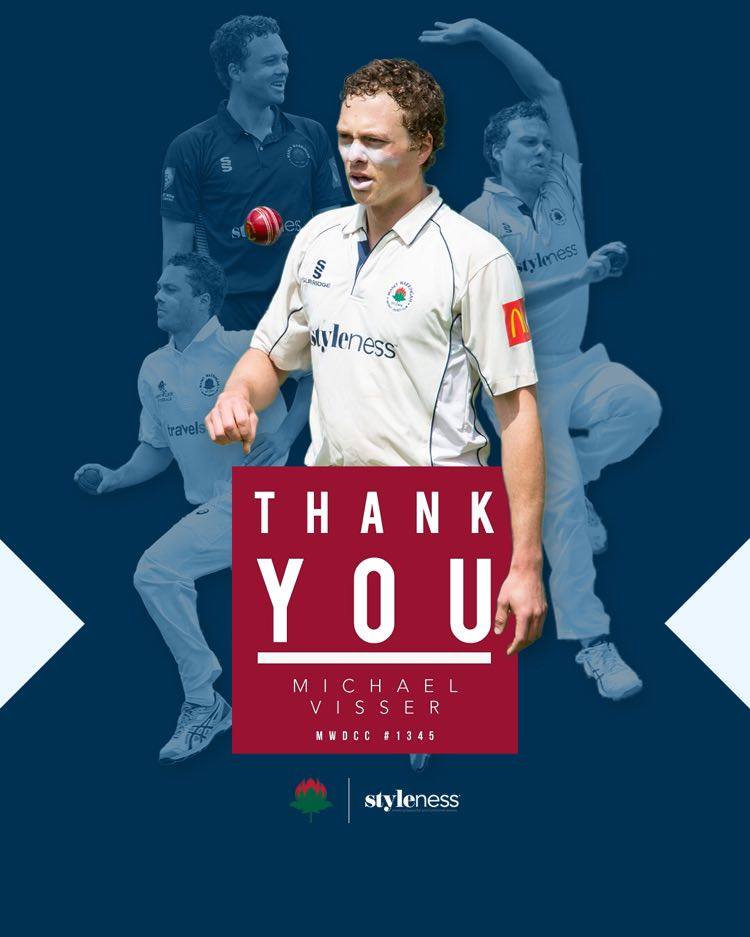 The Styleness Manly Warringah Waratahs would like to congratulate club legend Michael 'Viss' Visser on a fantastic career with the Tah's after announcing his retirement at the end of the 2019/20 season.
Visser, a local Manly Junior, spent 15 years playing with the Tah's, working his way through the grades, and becoming an integral part of the club.
"I consider myself lucky to have played for such an amazing club for such a long period of time," said Visser.
Visser, known for being one of the most consistent bowlers, and one of the hardest workers in the club, worked his way through the grades, tallying up some amazing achievements along the way.
This included winning an incredible 4 club championships, and leading the bowling attack for 2nd Grade as they made their way to the Grand Final in 2014/15.
However, Visser says one of his favourite moments with Manly, was when he made his first grade debut.
Visser said of his first grade debut, "One of my favourite moments was the feeling of receiving my first grade baggy cap from Fletch."
Viss made his first grade debut in 2013/14 season and would become a mainstay in the side over the past 5 seasons.
Visser was the leader of the attack, in a side boasting NSW contracted bowlers, demonstrating the experience and skills of Viss in the 1st Grade side.
His leadership skills, and his dedication to the club were put on full display in 2019/20, when he was appointed First Grade captain.
"One of my proudest moments came in my final year, having the honour of captaining first grade, it's something I will never take for granted or forget," said Visser.
As well as stepping up as first grade captain in 2019/20, Viss was also appointed as Club Captain, where he did an amazing job, demonstrating his passion for Manly Cricket.
Viss will be sorely missed around the club, a sentiment he also shares, saying that he will "miss the mateship and the opportunity to spend so much time with great friends."
Visser amassed an incredible 371 wickets for Manly, 132 of those in First Grade. This included 9 five wicket hauls, 4 of these in 1's, and best bowling figures of 8/44.
When reflecting on his time at the club, Viss said it could not have been possible without the amazing coaches, mentors and volunteers at the club.
"I owe a lot to every coach, captain, mentor and teammate that I had the privilege of learning from over the years and it wouldn't be fair to try and single any out," said Visser.
"The people I would like to thank most are the volunteers this club has, people like Don 'Dollars' Sellin (who just finished his 60th year with the club), Michael 'Juice' Shepheard and all our amazing volunteers are what make this club so special.
Congratulations Viss on an amazing career with Manly Cricket.
Manly Cricket would like to thank you for your amazing service to the club over the years.
We wish you the best for the future, and hope to see you around to support the club from the sideline, in the coming seasons.
See below for Michael Visser's career statistics with Manly.
Bowling
| | | | | | | |
| --- | --- | --- | --- | --- | --- | --- |
| Season | Matches | Runs | Wickets | Ave | 5WI | Best Bowling |
| 2019-20 | 19 | 610 | 17 | 35.88 | 0 | 3/38 |
| 2018-19 | 17 | 760 | 31 | 24.52 | 1 | 7/28 |
| 2017-18 | 18 | 904 | 32 | 28.25 | 0 | 4/58 |
| 2016-17 | 14 | 751 | 29 | 25.90 | 3 | 5/31 |
| 2015-16 | 18 | 739 | 28 | 26.39 | 1 | 5/54 |
| 2014-15 | 15 | 620 | 45 | 13.78 | 1 | 8/44 |
| 2013-14 | 15 | 613 | 30 | 20.43 | 1 | 6/51 |
| 2012-13 | 10 | 226 | 10 | 22.60 | 0 | 3/15 |
| 2011-12 | 13 | 410 | 28 | 14.64 | 0 | 4/28 |
| 2010-11 | 14 | 635 | 31 | 20.48 | 1 | 5/44 |
| 2009-10 | 14 | 556 | 28 | 19.86 | 1 | 7/10 |
| 2008-09 | 0 | 450 | 19 | 23.68 | 0 | 4/20 |
| 2007-08 | 0 | 361 | 16 | 22.56 | 0 | 4/26 |
| 2006-07 | 0 | 530 | 23 | 23.04 | 0 | 4/58 |
| 2005-06 | 0 | 50 | 4 | 12.50 | 0 | 2/32 |
| Total | 167 | 8215 | 371 | 22.30 | 9 | 8/44 |
Batting
| | | | | | | | |
| --- | --- | --- | --- | --- | --- | --- | --- |
| Season | Matches | Innings | NO | 50s | HS | Runs | Ave |
| 2019-20 | 19 | 4 | 0 | 0 | 16 | 22 | 5.50 |
| 2018-19 | 17 | 8 | 4 | 0 | 9 | 35 | 8.75 |
| 2017-18 | 18 | 6 | 3 | 0 | 7 | 17 | 5.67 |
| 2016-17 | 14 | 8 | 3 | 0 | 39 | 70 | 14.00 |
| 2015-16 | 18 | 5 | 1 | 0 | 11 | 12 | 3.00 |
| 2014-15 | 15 | 10 | 4 | 0 | 43 | 89 | 14.83 |
| 2013-14 | 15 | 9 | 3 | 0 | 34 | 78 | 13.00 |
| 2012-13 | 10 | 8 | 2 | 0 | 25 | 73 | 12.17 |
| 2011-12 | 13 | 10 | 3 | 0 | 28 | 53 | 7.57 |
| 2010-11 | 14 | 8 | 2 | 0 | 14 | 51 | 8.50 |
| 2009-10 | 14 | 13 | 1 | 0 | 40 | 184 | 15.33 |
| 2008-09 | 0 | 14 | 4 | 1 | 51 | 135 | 13.50 |
| 2007-08 | 0 | 9 | 3 | 0 | 21 | 74 | 12.33 |
| 2006-07 | 0 | 13 | 2 | 1 | 87 | 205 | 18.64 |
| 2005-06 | 0 | 1 | 1 | 0 | 7 | 7 | N/A |
| Total | 167 | 126 | 36 | 2 | 87 | 1105 | 10.91 |