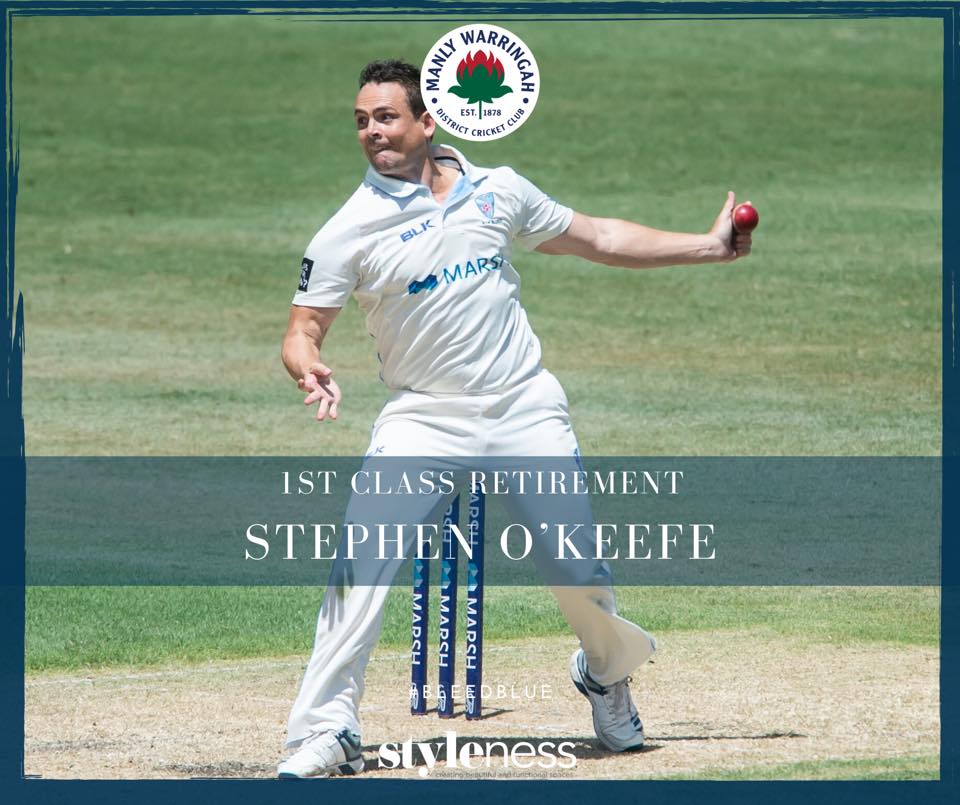 Former Test Spinner, and Styleness Manly Warringah Waratah, Steve O'Keefe (SOK), has today annouced his retirement from First Class Cricket.
Making his first class debut for NSW in November 2005, the left arm spinner went on to become one of the best bowlers in NSW history.
Cricket NSW CEO Lee Germon praise O'Keefe, saying "Steve has been a committed and consistent performer for the Blues over a long period of time," Mr Germon said."
SOK took a total of 301 first class wickets across his 88 match career, including 224 First Class and Sheffield Shield wickets for NSW, at an average of 25.
This included 13 five-wicket hauls and a best return of 8-77 for the Blues at Junction Oval in Melbourne during March 2018.
SOK also captained the Blues between 2011 to 2013, and was a leader amongst the side for the years following.
"I will forever be grateful to Lee [Germon] and all the staff, from the front office to the warehouse to the development officers in regional areas, who have all shared the same passion for the game," said O'Keefe, about his time with NSW.
SOK's hard work and consistency also earnt him test honours, playing for Australia in nine tests, claiming 35 wickets at 29.4.
This included his magnificent performance against India in Pune, where he claimed man of the match honours with 6-35 in each innings, collecting 12-70 for the match.
When talking about his retirement, O'Keefe said he would miss playing with his NSW teammates.
"It's been such a privilege to play for my country and captain my state, but above everything else I'm most proud to have played alongside some of the best blokes I've ever met."
O'Keefe also thanked his family and friends, including Manly Club President Andrew Fraser.
"On a personal level, I want to thank my family, as well as my manager and friend, Andrew Fraser. They've been by my side through everything and I couldn't have done this without them," said O'Keefe.
Despite retiring form First Class Cricket, the Stylness Manly Waratahs are happy to confirm SOK will be lining up for the Waratahs full time next year outside of his BBL commitments, which is a huge boost for the club.
The Styleness Manly Warringah Waratahs would like to congratulate SOK on a fantastic First Class career.
We wish you the best for the future, and look forward to seeing you down at Manly Oval in 2020/21, and playing for the Sixers in the next BBL.