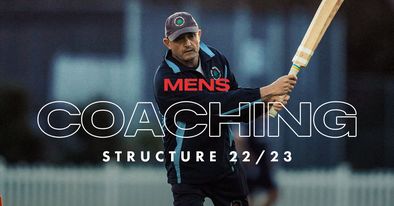 The Raydel Manly Warringah Waratahs are pleased to announce that Roy Vumbaca will continue in his role as Mens Head Coach for the 2022/23 season.
After a successful first season at the helm, which saw a 4th Grade premiership, Roy will be keen to continue the great results, and lead the club to more silverware.
Roy will once again be joined by former Test star Morne Morkel as his assistant, and fast bowling coach.
Morkel was instrumental to the success of our bowling unit last year, and his presence and knowledge will no doubt see fantastic results again.
Morkel will be supported by 2nd Grade captain Andrew Jamieson and 5th Grade Captain Simon Waddington in the fast bowling department.
Sixers superstar and former test spinner Steve O' Keefe will lead the spin bowling coaching team while 1st Grade skipper Jay Lenton will also act at the wicket keeping coach.
Once again life members Sam Mesite and Dick Fry will serve as batting coaches, and will be accompanied by prolific run scorers Cam Merchant and Ahillen Beadle.
All batting coaches have scored more than 5000 runs for Manly, and will play a key role in the clubs success in 2022/23.
The great, David "Lozza" Gardiner is back for another season as fielding coach, who will be putting the men through their paces with plenty of drills throughout the season.
Lozza will be aptly supported by expert throwing coach and Mike O'Niell, who has been fantastic for the playing group over the past couple season.
Adain Baker will return as the U/21's Poidevin Grey Shield coach for 2022/23, while Kev Davies will take over the reigns as AW Green Shield coach.
Both are very experience cricketers and will be fantastic for our up and coming junior cricketers.
Roy and his team are already well into pre-season and have big plans for the season ahead.