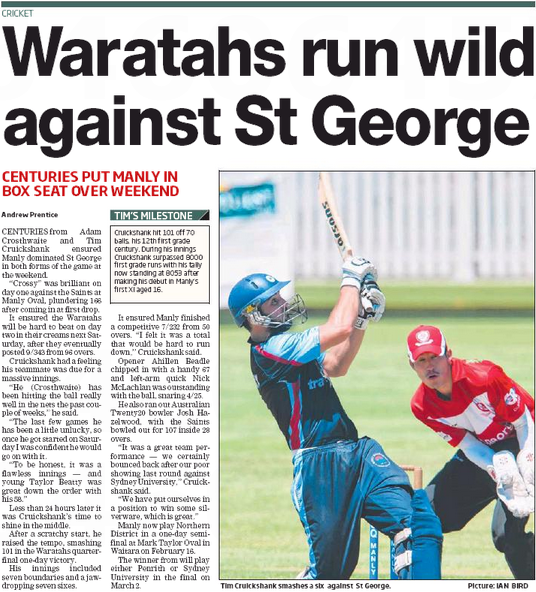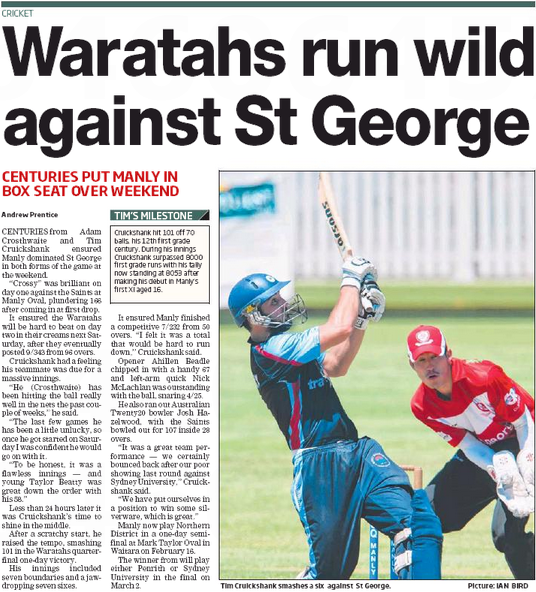 CENTURIES from Adam Crosthwaite and Tim Cruickshank ensured Manly dominated St George in both forms of the game at the weekend.
"Crossy" was brilliant on day one against the Saints at Manly Oval, plundering 166 after coming in at first drop.
It ensured the Waratahs will be hard to beat on day two in their creams next Saturday, after they eventually posted 9/343 from 96 overs.
Cruickshank had a feeling his teammate was due for a massive innings.
"He (Crosthwaite) has been hitting the ball really well in the nets the past couple of weeks,'' he said.
"The last few games he has been a little unlucky, so once he got started on Saturday I was confident he would go on with it.
"To be honest, it was a flawless innings — and young Taylor Beatty was great down the order with his 58."
Less than 24 hours later it was Cruickshank's time to shine in the middle.
After a scratchy start, he raised the tempo, smashing 101 in the Waratahs quarterfinal one-day victory.
His innings included seven boundaries and a jawdropping seven sixes.
It ensured Manly finished a competitive 7/232 from 50 overs. "I felt it was a total that would be hard to run down,'' Cruickshank said.
Opener Ahillen Beadle chipped in with a handy 67 and left-arm quick Nick McLachlan was outstanding with the ball, snaring 4/25.
He also ran out Australian Twenty20 bowler Josh Hazelwood, with the Saints bowled out for 107 inside 28 overs.
"It was a great team performance — we certainly bounced back after our poor showing last round against Sydney University,'' Cruickshank said.
"We have put ourselves in a position to win some silverware, which is great."
Manly now play Northern District in a one-day semifinal at Mark Taylor Oval in Waitara on February 16.
The winner from will play either Penrith or Sydney University in the final on March 2.
{loadposition cricket}