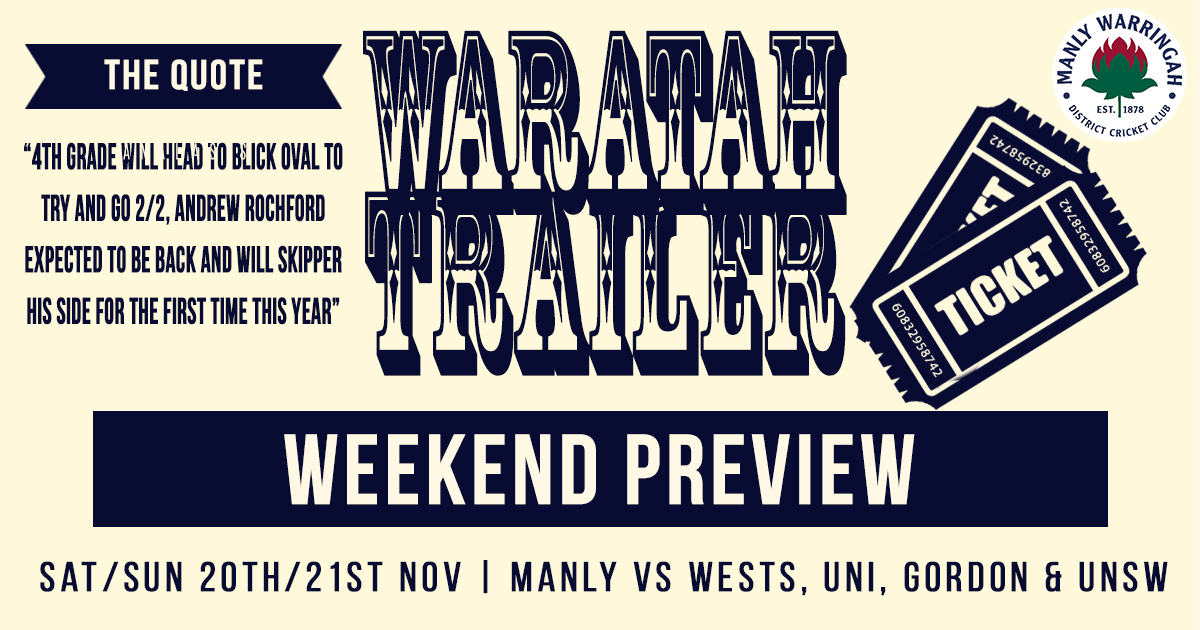 The Manly-Warringah Waratahs are coming off a mixed week of results last weekend with men's first, second and third grade all suffering defeats at the hands of Randwick-Petersham. Lachlan Coyte stole the show in 4th grade with his 110 opening the batting whilst Jack Melchiore was the star in 5th grade also smashing 110 in his sides victory. Women's 1st grade made history on Sunday afternoon getting off to a terrific start thanks to classy 55 from debutant Saskia Horley.  
 All men's teams will face Western Suburbs this coming weekend as 1st grade look to get back into the winners' circle after a tough start to the season. Skipper Jay Lenton will be looking to back up his round two century where he saved the Manly innings along with Ryan Farrell who it a half century. Wests have made a solid start to their campaign and are coming off a strong win against Eastern Suburbs in round two. Their opening quick Lachlan Ford has started the season in red hot form already taking 9 wickets across both formats, He was also the pick of the bowlers when Manly faced Wests last season. Opening bat Josh Clarke already has an 80 to his name in round one and will be a big wicket for the Tahs come Saturday.  
Unfortunately for Manly, Ryan Hadley is expected to miss Saturday's fixture due to NSW 2nd XI duties but will be available for the T20 against UNSW on Sunday.  
2nd Grade will be looking to bounce back after a disappointing loss in round two. They're in for a tough encounter with Wests starting the season with back-to-back wins. Isaiah Vumbaca finished off Manly's innings in fantastic style last week with an exciting 62 and will be one to keep an eye on with the amount of one day cricket this season with both bat and ball.  
3rd grade will be looking for their first win of the season when they return to Grahams Reserve for the first time this campaign. Young spinning duo Lachlan Trewartha and Roop Dhillon impressed in round one and could be very dangerous on a low turning Grahams wicket, 3rd grade skipper Sam Hole had this to say about Roop, "There are few things more titillating in the game than a leg-spinner who spins the ball hard. Couple that with Roop's arousing control and all-round ability with the bat, you have a beautiful young cricketer who we are excited to see grow in the years to come". 4th grade will head to Blick Oval to try and go 2/2, Andrew Rochford is expected to be back and will skipper his side for the first time after Adam Gummer filled the void in round one. Ellis Raymond made a solid start to his grade cricket career and will be one to watch closely after joining the club from Long Reef in the MWCA, Ellis averaged an impressive 44 with the bat and 18 with the ball last season. 5th grade were clinical in round one picking up a bonus point, Jack Melchiore starred with the bat whist young quick Toby Laughton tore through the Randwick line-up with the figures of 4/15 and looks primed for a big season ahead.  
 The Women's season got off to a perfect start with all three grades grabbing maximum points and 1st grade putting on a clinic in front of a big Manly Oval Crowd. This week 3rd grade will take on Gordon and the top two grades will head to David Phillips and will face Universities. Universities had the Bye in round one in 2nd grade and were defeated convincingly by Campbelltown-Camden in 1st grade.