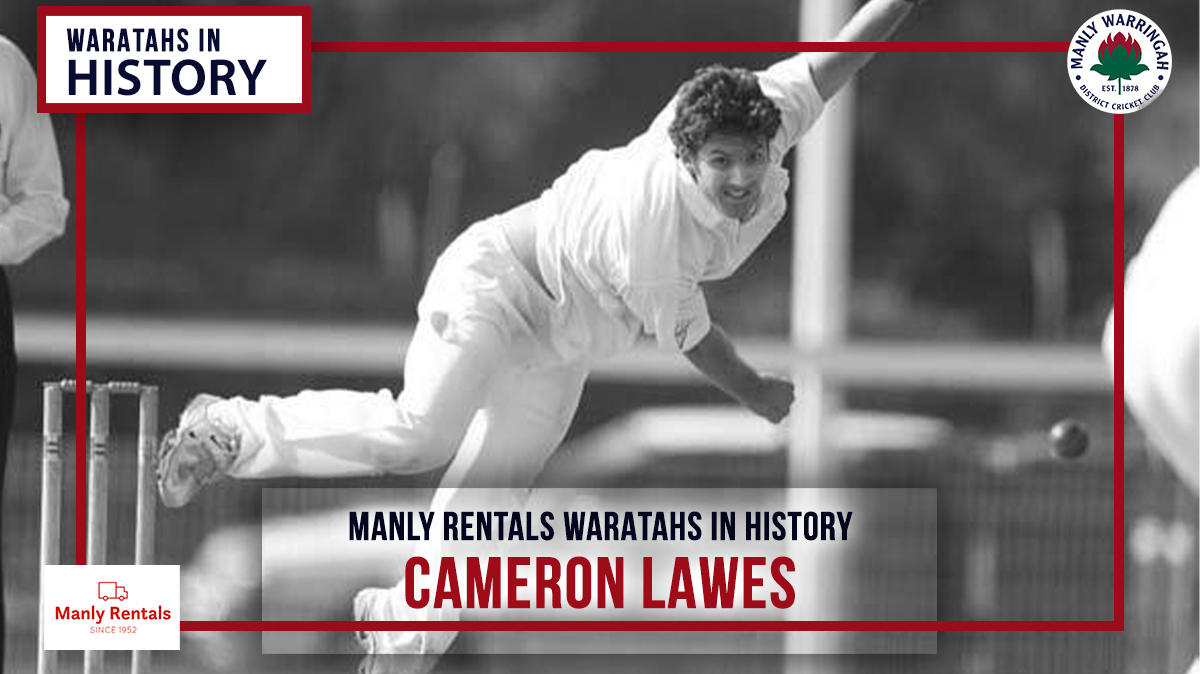 Cameron Lawes is this weeks Manly Rentals Waratah in History. A white line fever fast bowler, Cameron was a big part of our club in the late 90's and early 2000's until his move up to greener pastures in Newcastle.
The man affectionately known as "Lawson" (Cameron Lawson, pad up) bowled quick and batted strong, and if not for injury could have played a lot more higher level cricket.
Cameron had a great passion for our club, and was one of the leaders who helped set the club on it's way around the turn of the century.
Take a read through Cameron's time at the club.
You were a local junior who came through all the age-groups, tell us a bit about your journey on your way to playing at Manly?
I grew up in Cromer and played my junior cricket for the mighty Cromer Cricket Club. Around that time myself and Adam Parkinson played in the same age group team whilst Matt Cranney and Gaeten Juul were the year above and Luke Edgell a couple of years younger. From Under 13's onwards like many of us Grade tragic's, Summer was all about Cricket. Age group cricket in the mornings, over age cricket in the afternoon and rep cricket on Sundays. Every day during the week was made up of either training for the respective teams  or playing school cricket.  I played in the junior rep sides from 13 up and was lucky enough to play a couple of years of Green Shield.
A lot of the guys around your age came through to play grade at Manly… Parkinson, Fitzsimmons, Glassock…. Who was it out of the players you came through with always stood out and did/could have gone on to higher honours?
We had a pretty good side in junior cricket. Some of the better players didn't even play grade cricket. Adrian Webb was a stand out in Green shield as an opening bat. He found the beach and surf clubs to be better fun than cricket. Mark Turner had a heap of promise but if you saw mark hit a golf ball you would understand why cricket wasn't his top priority. Fitsy was always great to watch when he got going. One year in second grade he scored 2 tons on the trot. I bet him a case of beer he couldn't get a third in a row. We were playing at Manly Oval and he was smashing them. David Ford ran him out on 96. I was cheering! He still owes me that case! Parko was always about with the bat and  his medium pace straight turning leg spinners and Guys like Matt Cranney and Gaetun Juul were just naturals. A couple of years ahead of us you had the "Cover Drive King" Couchy and a freak called Brian Clemow. Clem was just a cut above the rest. The best part about those mentioned and the zillion other people I didn't we were all good mates and had a heap of fun.
When you arrived at the club as a 14 year old, was there anyone in particular who took you under your wing and helped you through the early years.
At the time I started playing Grade at Manly in the early 90's the club was going through a bit of a transition. It was nothing like what it is today or what it became in the early 2000's. There were a group of us who played Grade at the same time. We use to go from Saturday morning cricket to either a 4th or 5th grade game. Errol Cranney (Father of Matt and an absolute champion. One of the most memorable times was a group of us singing the Australian Crawl song Errol whilst he was umpiring a 1st grade game on the hill at manly……..whoa Errol!) use to drive us to games and was always their to help. From the age of 16 -20 I had a couple of bouts of stress fractures as well as some other injuries. These kept me out of cricket for a fair amount of time and I also spent a couple of years at Warringah Shires.  I worked closely with Sawn Bradstreet and Dave Patterson.
Do you recall your 1st Grade debut? Who was your Captain and how did you go?
Weather and injury meant it took about 4 year to bowl a full over in 1's. My first game was at  Dummoyne Oval. It was a rain affected game where there was no result. I didn't bat or bowl. Potentially my best game in 1's.  My second game was against Randwick at Coogee. We batted first and didn't do too well. I managed to score approx. 25 at number 10! I bowled 4 balls the game was washed out. The next week I was diagnosed with Stress Fractures. It was about 4 years before I got another opportunity, albeit unexpectedly. I was going to captain second grade. It was my first year back bowling properly. I think shawn and heathy got ruled out of the first game. I got a shock call up to play Parramatta. By memory I got about 3 for 40. Could have been 4 but Cruickshank drop a sitter at second slip. It was all down hill from this game.
Who was the funniest player you played with at Manly and why? Do you have any clean stories you could share with us?
As everyone would say there were a heap of characters. Gaetun "Pickets" Juul was unintentionally funny. When I first started there was a guy called Alex "The Super Cat" Haigh. He was a classic. I think he wrote a book about how Bill O'Reilly got a heap of wickets cause he stayed at home whilst the men went to war.  Jamie Sullivan could always make us all laugh.
I remember driving with "Pickets" to Penrith one day. He was in the process of becoming a Federal Police Officer (im not sure if this should be broadcast as he maybe undercover). He had done his driving courses at the feds. We were driving a thousand kilometers an hour and he was telling me how fast he could drive and go around corners etc etc….. Its funny in hindsight!
A classic story is when Chris Glassock crashed his car on the way to a PG's game. He went straight instead of right and ran into a brick wall. He was the worst driver!!!!
One year in second grade Brad Pamp was captain. Pampy had the worst job on earth. He was captaining a bunch of 18-20 year olds. Plenty of loose canons and we were all playing poorly. We were out at Bankstown after Christmas and hadn't won too many games. We bowled first and they were getting ahead of us. We got a wicket and Pampy stormed into the huddle and said "right! whoever drops the next catch is off" (or something along those lines). Guess who dropped the next catch? Off my bowling too!
You started to get involved with the club quite heavily off the field up until your departure up to Newcastle, as Club Captain but also as part of our committee. What did you remember about the club's off-field activities back then?
During the mid to late 90's there wasn't too much going on at the club. It was a struggle to get players to training. I was fortunate to be asked to be club captain a couple of years as well as be involved in the committee     with the likes of Bob Brenner, Frase, Langdon, Gordon Currie, John Warn plus the great timmy bailey and timmy ferris (tim said he had ever met a rock star until he met Tim Cruickshank! Must be something to do with the first name).  the before mentioned guys really had the direction and future of the club organised. My role was to try to boost the social side of things within the club. It sounds simple but from BBQ's after training, to post match presentations at the "Room at the Top". The aim was to bring everyone together.
You played in an era where we were quite successful with multiple Club Championships, but fell at the last premiership step in many Grand Finals. Why do you think we weren't quite able to win that elusive premiership during your playing time?
When I run into Mick Pawley he always reminds me I cost the club a 4th grade premiership. I can still remember the crap shot I played!!!!
Who knows. Since I left, the club has won a few premierships but probably not as many as we should have. In hindsight with a couple of teams I played in we should have won  a 4th, 3rd and a couple of 2nd grade comps.
Actually I think we won the first grade one day comp and third grade comp the year after I left. Maybe it was me?
Who drove the standards at the club during your playing time?
When I started the club had a pretty big change over of players. Craig Glassock and Winga were the guys who were leading the club on the field and able to attract other top line players like Phelpsy, Mark Cameron etc etc…. I think one of the biggest differences on how the club grew in the mid / late 90's early '00's was the next generation of leaders that were coming through. they may not have captained but they were vital in the advancement of the club culture. The Warns, couch, Procopis, Fraser's (when he was just an old player), Pearce, etc etc….. we had a really great group of guys who were leading across the club.
Who was the best player at Manly that you played with?
There were many gifted players. Clem, Craig Glassock, Phelps, Wing, Shank were all amazing. I think I'd have to say  Mark Cameron was the one guy who was just on another level. So quick. He was probably the worst sledger ever! Such a nerd! I still give him shit about selling his soul and playing with Uni (don't let the truth get in the way of a good story). I was also lucky to play a couple of games with Michael Bevan and Stuart Clark but these guys played for Oz so they don't count!
Best Nick Name?
Wow there are so many. Frase was always good in coming up with nick names. Lets be honest there are a heap you wouldn't publish too.
Its hard to go past Inzaman for Parko. Looks, batting technique, temperament. A lot of people don't know this but Parko was actually a medium pace bowler. He couldn't be bothered running in anymore so he decided to bowl spin (medium pace off a short run).sorry ma
We use to call Chris Glassock BOC. It was tough for Little Sac to always be referenced to Craig so Brother Of Craig seemed to fit well.
Juice for Michael Shepperd was great to!
You took 8 for 96 also in 1997/98, your best ever figures for the club. What do you recall about the game?
This game was against Easts in 3's at Atmosphere Park.  I'd been dropped from 2's after bowling pump. I think I had 0/60 and bowled about 20 straight to end with 8 fa. Thanks to my 3rd grade captain Gary Holmes. This was the catalyst to more stress fractures!!!! At least we won !
Your top score was 109* in 1997/98, what do you remember about that innings?
It was against Penrith at Penrith. In 5th grade. They brought the boundary in about 40 meters!
When you moved to Newcastle you continued to play a fair bit of cricket in the local Newcastle competition. What was the biggest difference between playing in Sydney and playing in Newcastle?
This could be a sign of where I was  in life. I moved to Newcastle for work, I was married and had a young family. Cricket wasn't a priority. Cricket was a Saturday afternoon release.  I played for Merewether. A very successful club. We had lots of fun, plenty of piss taking and had the opportunity to meet some great people. Along the way we won a couple of club championships, first grade one day comp, a few second grade comps and a couple of 4th grade comps.  I'm not sure if I stayed in Sydney I'd be able to have the same experience. In Newcastle every ground is within 20 – 30 minute drive. that's a lot of time saving compared to playing at Manly and travelling to all parts of Sydney.
Cricket in Newy is generally very relaxed compared to Sydney. There is a difference in the depth of standard but in saying that there are some very good cricketers going around on a Saturday in the Newcastle Grade comp.
What are some of your predictions for Manly in 2021 /2022.
I'd be surprised if Rochy doesn't get no balled for throwing when he bowls.
What does your life involve now and do you still keep abreast of how the Waratahs are faring?
Im the father of 3. 2 girls and 1 boy. My eldest is studying year 12 this year (I left Sydney and Manly Cricket 17 years ago this year!!!) whilst my youngest is in Year 6. My wife is happily married to me and is also the most patient lady in the universe!
I am a founder and director of a business called Cypher IQ. We assist businesses to use technology to digitise and automate their business processes.
I am constantly amazed at where Manly Cricket is today. I'm proud that one of my best mates was made life member for his contribution along the way (Joel Mason). Plus I was also able to work and contribute  along side some other outstanding humans and life members in Don Sellin, Mick Pawley, Gary Flowers, Wazza, Maso, Juice, Gainsy, Geoff rogers, Warny, Wing, Bobby Brenner, Dicky Fry, Patto, Mal Elliot, Ron Holmes and the list goes on.
I follow a bit of Waratah cricket via FB messages etc etc . I'm absolutely hopeless in keeping in contact with teammates and keeping up with all things  Manly. For 17 years I've been meaning to come back and watch a game. Maso said he'd shout beers for all past players  at the Room at the Top if I turn up!  Its one of these false hopes we all cling to. A bit like Frase buying a round when all five grades win!
Go Manly!
Cameron Lawes Batting Stats
| Season | Inns | Runs | NOs | 50s | 100s | HS | Out? | BatAvg |
| --- | --- | --- | --- | --- | --- | --- | --- | --- |
| 200405 | 12 | 246 | 3 | 1 | 0 | 76 | Y | 27.33 |
| 200304 | 16 | 324 | 3 | 2 | 0 | 83 | Y | 24.92 |
| 200203 | 18 | 422 | 4 | 3 | 0 | 92 | Y | 30.14 |
| 200102 | 19 | 366 | 3 | 1 | 0 | 100 | Y | 22.88 |
| 200001 | 1 | 5 | 0 | 0 | 0 | 5 | Y | 5.00 |
| 199900 | 11 | 209 | 0 | 0 | 0 | 48 | Y | 19.00 |
| 199899 | 16 | 264 | 2 | 0 | 0 | 49 | Y | 18.86 |
| 199798 | 19 | 363 | 4 | 0 | 1 | 109 | N | 24.20 |
| 199697 | 8 | 62 | 0 | 0 | 0 | 26 | Y | 7.75 |
| 199495 | 9 | 130 | 1 | 0 | 0 | 33 | Y | 16.25 |
| 199394 | 10 | 123 | 7 | 0 | 0 | 29 | N | 41.00 |
| 199293 | 5 | 54 | 2 | 0 | 0 | 24 | Y | 18.00 |
| Total | 144 | 2,568 | 29 | 7 | 1 | 109 | N | 22.33 |
Cameron Lawes Bowling Stats
| Season | Overs | Maidens | Runs | Wickets | Bowl Avg | 5WI | Best Bowling | Catches |
| --- | --- | --- | --- | --- | --- | --- | --- | --- |
| 200405 | 198 | 29 | 709 | 23 | 30.83 | 0 | 4/25 | 5 |
| 200304 | 151 | 16 | 637 | 16 | 39.81 | 0 | 3/43 | 7 |
| 200203 | 203 | 49 | 664 | 34 | 19.53 | 0 | 4/32 | 3 |
| 200102 | 86 | 15 | 353 | 18 | 19.61 | 1 | 5/11 | 10 |
| 200001 | 1 | 0 | 2 | 0 | 0.00 | 0 | 0/2 | 0 |
| 199900 | 190 | 26 | 662 | 37 | 17.89 | 1 | 7/50 | 5 |
| 199899 | 44 | 12 | 100 | 7 | 14.29 | | | 12 |
| 199798 | 183 | 33 | 617 | 26 | 23.73 | 1 | 8/96 | 5 |
| 199697 | 146 | 20 | 497 | 23 | 21.61 | 1 | 5/59 | 5 |
| 199495 | 109 | 15 | 369 | 12 | 30.75 | 0 | 2/22 | 3 |
| 199394 | 144 | 32 | 412 | 14 | 29.43 | 0 | 3/22 | 1 |
| 199293 | 30 | 5 | 115 | 5 | 23.00 | 0 | 3/25 | 2 |
| Total | 1485 | 252 | 5137 | 215 | 23.89 | 4 | 8/96 | 58 |