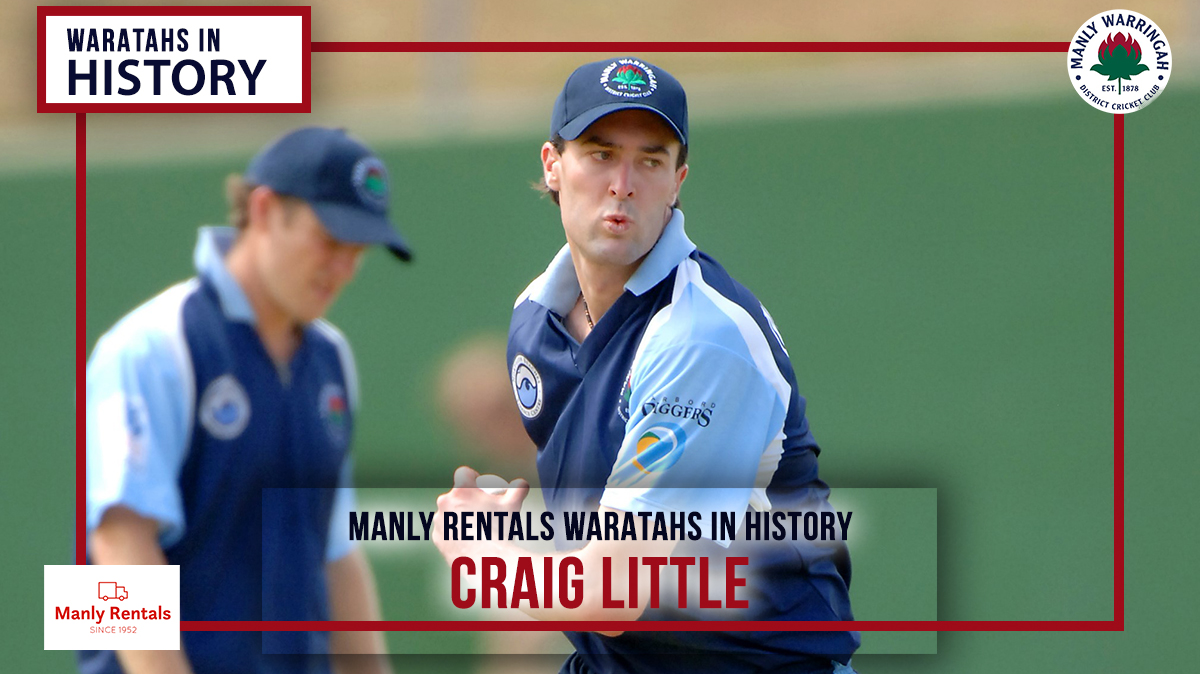 In our 3rd Manly Rentals Waratahs in History Q&A, we have a chat to local legend Craig Little. The man known as "Jeanie" was a pure winner, never missing a finals series as Captain of his beloved Third Grade side. He was a leader people wanted to play for.
But he was also Manly through and through, and loved his club with a passion. It was great having a chat with "Jeanie" as he took us through his Manly cricketing journey.
You were a local junior who came through all the age-groups, tell us a bit about your junior journey on your way to playing at Manly?
I started at Narrabeen Youth Club as an 8 year old in the under 10's. The following season I moved to Peninsular CC and played there until the age of 14 when I went down to Warringah Shires. I played all the junior rep ages from under 11's through to Green Shield, so I guess the progression to Manly was always on the cards and something that I definitely wanted to achieve.
Who were some of the well known cricketers who you came through the system with, and who was the best player coming through the Manly ranks during your time.
I was lucky enough to be in the same team at Peninsular every Saturday morning as Tim Cruickshank and former Warringah President Brad Lewis, so those 2 names stand out. Tim and I played every year of the rep stuff together along with Ryan Bonnor.
After Green Shield in 1997/98 you went and played at Warringah, how was your time there and what do you remember about your time at the MIG?
Back in the days that I joined WCC, it was seen as a stepping stone into the Grade comp for young players coming through the junior system. It was a great place to learn your trade on a weekly basis against men on turf wickets. There were a few old hard heads there that certainly let you know if you weren't performing as required, so it was a good way to mature pretty quickly as not only a cricketer but a young man. In my 3 years at WCC I was lucky enough to win 3 comps and be a part of still the only Club Championship win, so I look back at my time there with some great memories.
You played your first grade game for Manly in 1999/2000. How old were you and what do you remember about your debut?
I was 17. I remember I had been picked in 5th grade for Rd 1 of the season against Parramatta but was called up to 4's on Thursday night. Russell Pearce was the 4th grade skipper and gave me the new ball and listed me to bat at 11. For some reason he moved me up to 8, I finished not out, hit the winning runs and we won pretty comfortably. Was never again listed to bat at 11.
What are your memories of the club in the early 2000's as you were coming through the grades? Both on and off the field?
A lot different to the club than when I left. Firstly, the average age seemed a lot older when I started, but that could have been because I felt (and was) a lot younger. There just seemed to be a lot more older and experienced players throughout the grades. Also, the club seemed to be less structurally set up in terms of coaching, facilities and equipment than we are now. Nothing against how it was, but the professionalism of the club definitely evolved over the course of my years and I think the results reflect this. Off the field there was always a big turn out after days play at the bowling club, especially after the conclusion of the round. I remember a few hilarious team nights out at Mr Hows Restaurant in Manly where I once had the whole restaurant sing happy birthday to me when my birthday was 3 months prior (Thanks Tevarkis). These days everyone seems to have other more important commitments which is a shame, as lot's of good memories and friendships were created at these nights.
You were a member of the 2004/05 3rd Grade Premiership side captained by Jon Warn, which was actually our first grade premiership since 1st Grade in 1989/90. A great side with Fitzimmons, Lindsay, Parker, Parkinson, Youell. What are your recollections from the year and how much did it mean to you and the team?
We had a pretty handy line up for a 3rd grade side. We had a good blend of youth and experience, players that had played higher grades and a strong leader could read the game very well and get the best out of his team. Someone always seemed to put their hand up when we needed it most which is a sign of a really good side. For all of us in that team it was our 1st premiership, so it certainly meant a lot to bring the trophy home after so many years without one. Looking back on it now it gave me a taste of what it felt like to win a premiership and made me pretty determined to experience that feeling again.
Who was the funniest player you played with at Manly and why? Do you have any clean stories you could share with us?
A few come to mind. Sam Alexander was just loose. Steve Philips was just an A Grade pest. Matt Todd and Mark Atkinson formed a pretty hilarious trio with Jamie Sullivan that made every Saturday entertaining. But it would have to be Sully and no, nothing able to be shared here.
You played every grade for Manly, coming from 5th Grade all the way to playing 1st Grade. Who provided you with the most support during your time coming through the grades?
Mum and Dad were always supportive and honest. They left it up to me to drive myself and stayed out of the politics that is always around when parents get too involved. I always appreciated this back seat approach by them. At the club there were the likes of Shawn Bradstreet and David Gainsford who were never too busy to help me out or offer advice and were always very supportive and encouraging.
Who was the person/people who really drove the on-field and off-field culture at Manly during your time?
In my early days I remember Craig Glassock as 1st grade skipper being the man who took the lead and drove the positive on field club culture and he continued this when he took over as club coach. Jon Warn had a big influence on all the players around him during his years as skipper as well which I was grateful to experience on a weekly basis in 2004/05. Mike Pawley also took the off field side of things to another level when he was head coach for several seasons. The Committee or Board as it became known also evolved in it's professionalism thanks to Andrew Fraser's leadership and set a clear direction for the success of the club both on and off the field.
You were quite driven to play first grade and ended up playing in a couple of successful years, although the first grade 2-day premiership eluded you. Tell us about your memories of your few years playing first grade?
Prior to playing my first full year of 1st grade in 2005/06, I was lucky enough to play half a dozen games or so around 2003. From here it took me a few years to sort my game out again and when I was picked for Rd 1 of 05/06 it was after finishing the season before in 3rd grade. That selection was a bit of a surprise for me to be honest, so I just had a crack and tried not to put too much pressure on myself and I just wanted to play my part for the team when needed most. We had a really strong side that year with great depth coming up from 2nd grade. Our One Day final win against Campbeltown was probably the best win I was involved in at my time at Manly as we were up against it until a few quick wickets swung the game back in our favour. The victory song in the sheds with 100 odd other club supporters was unforgettable, as was the bus ride home. Unfortunately the ultimate prize eluded us that year, beaten convincingly by a far better Fairfield Liverpool side. Getting against some of the best players in world cricket during my 3 seasons or so was a real buzz and very enjoyable times.
Who was the best player at Manly that you played with?
Geez this is a tough one. The names Matthew Phelps, Shawn Bradstreet, Craig Glassock, Tim Cruickshank, Mark Cameron and Mark Atkinson all come to mind. But I'll have to single out a bloke that I was lucky enough to win 2 x premierships with and went on to play Played NSW 2nd X1. I reckon he had the most natural talent of anyone I played with. Made cricket look easy and never looked under any pressure. Andrew Lindsay.
Who did you play with that had the biggest will to win?
Tight call between Adam Parkinson and Darren Wootherspoon. Both extremely competitive and determined individuals.
You decided to step back from playing 1st Grade cricket in 2008/09 and start to Captain 3rd Grade. What was the reason for that decision?
I remember we were struggling in 1st grade the year before and it was pretty obvious to me that I didn't have the desire to do what was required to perform at that level. I started to pick up a few injuries in the last 12 months (season and a half) of 1st grade that were impacting my employment as a Cabinetmaker, so I decided to step back a bit and play in a lower grade rather than give it away all together through a lack of enjoyment for the game. I really wanted to test myself as captain and nurture some of the younger guys and help them ultimately push through to 1's. Unfortunately for me the 2nd grade skipper was pretty entrenched in that role, so if I wanted to captain it had to be in 3rd grade.
You went on to skipper 3rd Grade for 6 years until your move to NZ in 2013/14, and only missed the finals once during that time, in 2012/13. What did you love about captaincy and what do you think drove your success?
I enjoyed getting the best out of my team by leading them around the park and making decisions along the way that could have the ultimate outcome of the game. This gave me a great sense of leadership that I really prided myself on. To me it was always about the team and our end result and learning how we could best contribute to that outcome. Watching players grow and improve their game week by week, become match winners and progress through the grades was also satisfying for me.
No doubt one of your proudest moments was when you led 3rd Grade to a Premiership in 2010/11. What were the events that led to that Premiership, and could you feel it getting closer in the preceding years?
Yes, I could definitely feel it coming in the preceding years. In all honesty, we probably should have won one or two earlier. We had a special group of players that season as well as great off field support from Alan Wright and great club coaches in Shawn Bradstreet and David Patterson. No stone was left unturned in our preparation, selection and training and when it counted most we got the job done. Our Saturday/Sunday game against Hawkesbury at Bensons lane about 4 or 5 rounds prior to the finals was the game that brought us all together for our run to the title, even though we lost. The Saturday was about 45 degrees in the shade (not that there is much of that out there) with more flies in the dressing room than out on the field. You just couldn't escape them wherever you went. We fielded all day, having them 9 down at stumps for about 230 odd from memory. We toiled and toiled, no one dropped their head and we soldiered on through. That night, Luke "Mezza" Mannell cramped up in just about every muscle like nothing I've ever seen before and there were blokes fetching all sorts of stuff for him to help him out while he lay on the bed screaming in agony. The next day was about 24 degrees and we had to bowl again as they didn't declare overnight. Mez put his hand up to open up from one end which was pretty awesome considering the shambles he was the night before. We got rolled for about 140 odd I think and were never in the contest as we were absolutely cooked. But we never lost another game after that. It was what we needed to reset before our run to the title and a weekend that we pretty much laughed about for the rest of the season. It was a good sign that mentally we were in the right place when it mattered the most.
Who was someone that you loved to captain that you loved seeing succeed?
Hard to pinpoint one or two in particular, but I guess it was most satisfying to see any player who came up to 3's from 4's and stood up and performed beyond their own expectations. I also liked seeing players that trained hard get the rewards that they deserved. Watching the hard workers having a genuine crack at succeeding by doing their best to control their own outcomes was always a highlight.
Who was the toughest opponent that you played against?
Grant Lambert. Single handedly destroyed us in the 2005/06 1st grade final. The complete all round cricketer that was just so focused and determined. His record speaks for itself.
Which clubs did you love to beat, and which clubs did you have the most respect for?
Hands down North Sydney. They were a club I always loved to beat. Northern Districts, Gordon and Sutherland were all clubs I respected and enjoyed playing against as I just felt they were competitive, well run clubs that played hard and left it all out there. Always good contests against them.
You moved over to New Zealand a few years ago and got involved in local cricket over there. What have you seen as the main differences between club cricket in NZ and in Australia?
Just the scale of it really. In Sydney you have 20 Grade clubs that put out 5 teams a week and everyone wants to play a higher grade or keep their spot, so they work hard to perform regularly. Here in Whangarei there are only 6 Premier teams in the comp and the numbers of people playing cricket are small and getting smaller. This ultimately determines the strength of the competition and as a result, the drive that players have to improve their game isn't quite as intense as in Sydney.
Looking from afar, what do you see as the biggest challenges facing cricket in Australia in the future?
Here in NZ at the moment all sports participation numbers are dropping, cricket included. As people's lives get busier and attention spans for the longer format of the game reduce, it will be a challenge to keep playing numbers up at grassroots level. How to encourage youngsters, as well as their parents, to take up the game of cricket is something that is being worked on here in NZ. I think it will be a similar issue in Australia, if it's not already. I hope I'm wrong though.
What does your life involve now and are you still involved in cricket?
General Manager of Duracrete Products Ltd in Whangarei in NZ which was started by my wife Gemma's grandfather in 1965. We have 2 young kids, Keira is 9 in October and Blake is 6 in September, so they keep me on my toes as their sporting and other life commitments are growing. If I get some time to myself you'll find me on the golf course. No direct involvement in cricket other than Duracrete sponsoring the City Cricket Club, but if they need a hand with anything around the club I'm happy to assist.
Craig Little Batting Career Stats
| Season | Inns | Runs | NOs | 50s | 100s | HS | Out? | Avg |
| --- | --- | --- | --- | --- | --- | --- | --- | --- |
| 2013-14 | 14 | 385 | 2 | 1 | 1 | 100 | Y | 32.08 |
| 2012-13 | 13 | 204 | 1 | 1 | 0 | 60 | N | 17 |
| 2011-12 | 15 | 459 | 2 | 0 | 2 | 108 | Y | 35.31 |
| 2010-11 | 12 | 90 | 1 | 0 | 0 | 29 | N | 8.18 |
| 2009-10 | 16 | 484 | 6 | 4 | 0 | 72 | N | 48.4 |
| 2008-09 | 17 | 594 | 0 | 4 | 1 | 122 | Y | 34.94 |
| 2007-08 | 20 | 409 | 2 | 1 | 0 | 51 | Y | 22.72 |
| 2006-07 | 18 | 429 | 2 | 2 | 1 | 113 | N | 26.81 |
| 2005-06 | 22 | 598 | 4 | 4 | 0 | 76 | Y | 33.22 |
| 2004-05 | 15 | 488 | 0 | 4 | 1 | 100 | Y | 32.53 |
| 2003-04 | 12 | 129 | 0 | 0 | 0 | 35 | Y | 10.75 |
| 2002-03 | 15 | 244 | 4 | 0 | 0 | 46 | Y | 22.18 |
| 2001-02 | 14 | 229 | 5 | 1 | 0 | 56 | Y | 25.44 |
| 2000-01 | 14 | 197 | 0 | 1 | 0 | 58 | Y | 14.07 |
| 99-00 | 15 | 359 | 3 | 2 | 1 | 112 | N | 29.92 |
| Total (1999-2014 | 232 | 5,298 | 32 | 25 | 7 | 122 | Y | 26.49 |
Craig Little Career Bowling and Fielding Stats
| Season | Catches | Overs | Maidens | Runs Against | Wickets | Avg | 5WI | BBWickets |
| --- | --- | --- | --- | --- | --- | --- | --- | --- |
| 2013-14 | 14 | 146 | 24 | 477 | 28 | 17.04 | 0 | 4/25 |
| 2012-13 | 10 | 202 | 44 | 506 | 34 | 14.88 | 1 | 5/38 |
| 2011-12 | 4 | 168 | 42 | 437 | 33 | 13.24 | 2 | 5/25 |
| 2010-11 | 4 | 186 | 39 | 549 | 41 | 13.39 | 2 | 5/33 |
| 2009-10 | 11 | 132 | 29 | 384 | 24 | 16 | 1 | 5/26 |
| 2008-09 | 4 | 67 | 13 | 213 | 13 | 16.38 | 0 | 2/6 |
| 2007-08 | 7 | 26 | 3 | 104 | 7 | 14.86 | 0 | 3/19 |
| 2006-07 | 4 | 38 | 3 | 197 | 8 | 24.63 | 0 | 3/92 |
| 2005-06 | 11 | 39 | 5 | 175 | 6 | 29.17 | 0 | 2/18 |
| 2004-05 | 2 | 42 | 6 | 187 | 7 | 26.71 | 0 | 1/25 |
| 2003-04 | 2 | 88 | 14 | 298 | 14 | 21.29 | 1 | 6/44 |
| 2002-03 | 10 | 216 | 37 | 710 | 17 | 41.76 | 0 | 2/29 |
| 2001-02 | 5 | 260 | 69 | 756 | 37 | 20.43 | 2 | 5/43 |
| 2000-01 | 0 | 170 | 45 | 464 | 28 | 16.57 | 0 | 4/7 |
| 99-00 | 8 | 139 | 35 | 410 | 20 | 20.5 | 0 | 4/16 |
| Total (1999-2014 | 96 | 1,919 | 408 | 5,867 | 317 | 18.51 | 9 | 6/44 |