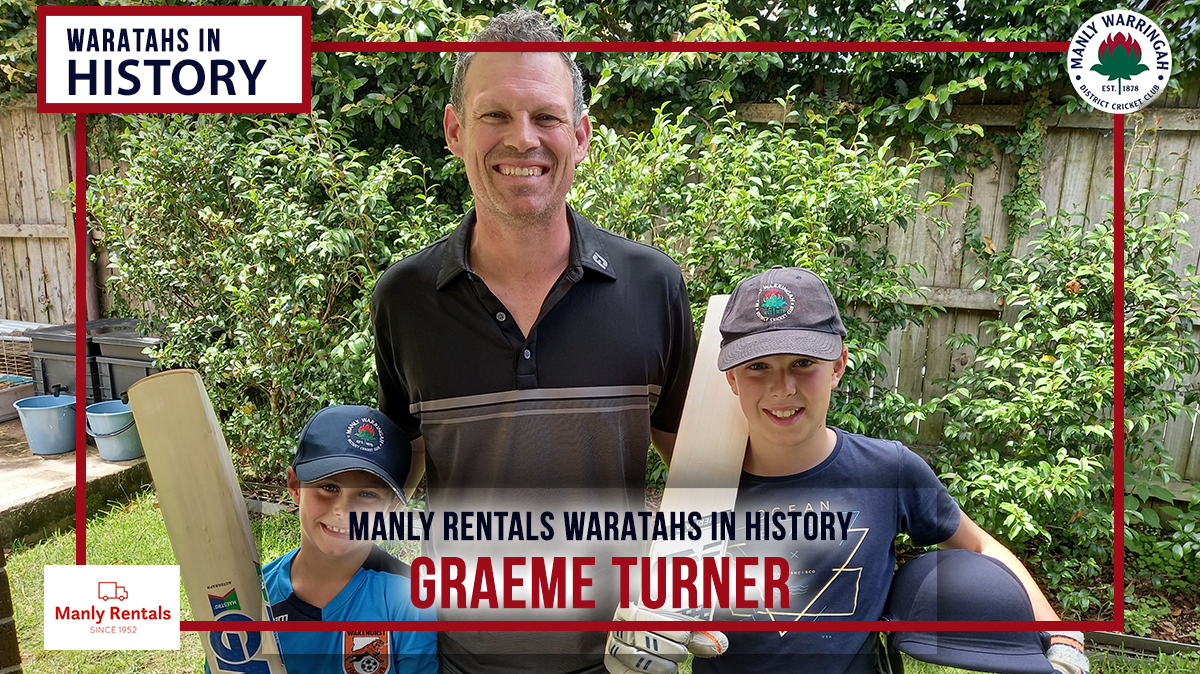 Today we are pleased to release our fourth Waratahs in History Q&A for 2021/22 season. This week we have Graeme "Hooch" Turner, a mainstay in the mid-90s and part of the Turner clan that has contributed so much to our club.
Hooch was a fine top order batsmen who did a bit of keeping. Known for his quirky sense of humor and love of the zinc, Hooch is a pure cricket lover who has continued his family's passion for the game on the Northern Beaches.
Let's take a look at Graeme's time at the Waratahs.
Tell us a bit about your junior journey on your way to playing at Manly?
I actually didn't play Junior cricket for Manly until Green Shield. I started in Brisbane when living there for about 6 years and when returning to Sydney as a 14 year old I rocked up to pre-season in '89 never having even worn a helmet. We didn't know anything about the morning cricket set up in those days so I just went to Manly as that was where my Dad & Uncle had played all their cricket and that was all we knew. Was a baptism of fire with 1st grade having won the comp the previous year the club was super strong & clearly recall debuting on Balgowlah Oval (in those days 5th grade was played on Synthetic if you didn't have a 3rd turf wicket ground). My Dad and Grandfather taught me everything in the early years the later of which played 50+ years of grade cricket for Mosman and has the gates at Allan Border Oval named after him.
Who were some of the well known cricketers who you came through the system with, and who was the best player coming through the Manly ranks during your juniors?
Craig Glassock captained Green Shield the first year other players of I played with were Craig "Trotts" Currie, Simon Couch, Brendon Shoebridge & Brian Clemow. Trotts was a BBL player before his time an outstanding middle order batsman would regularly come in in Green Shield with 10 over to go and be 50 n.o of not many balls. But the best player was Clem by the length of the straight. I was lucky enough to open with him the first game he played for Manly and the first ball of the match he hit straight down the ground at Manly Oval and the ball bounced back off the wall right back to the bowlers run up mark. We put on 120 together that day, he got a ton not surprisingly a sign of things to come he was next level even at that age.
You played Green Shield in 1989/90 and again in 1990/91. The 1989/90 side actually played in the Grand Final and lost to Sutherland. What do you recall about your Green Shield days?
The Green shield days were a good experience but in those days there was no pathway program like there is today so the sides were made up of a combination of 2 or 3 guys who played grade with Manly with some guys who played in the Jnr rep sides & some guys from outside Sydney. The matches were hard fought & the bowling was excellent. A bit like these days at this level you win most games if you can score 200+ Craig Glassock's captaincy was 1st rate and again a sign of things to come.
You debuted for the Waratahs in 1989/90 at the tender age of 14. What do you remember about your grade debut?
I remember just fitting into the dressing room at Balgowlah Oval with Dr Jim Stewart & Tom Spencer. I wore a couple of bouncers on the baggy blue. To be on the field with club greats who had played a lot with my Dad meant a heap to me. Even though initially at that age I was a bit out of my depth the guys around me were very encouraging. I saw it as a real privilege to play for such a great club with such a rich history. I then went to Shires for a couple of years to get some time on good turf wickets and came back a couple of years later.
The Warringah club was an excellent grounding for guys wanting to prepare themselves for what to expect at Grade level.
You were a big part of the club during the mid-90s and really loved your cricket. But I think most people would remember you for the absolute collage of zink and sun cream you used to put on your face prior to a game. Where did that come from?
To be honest not long after I started playing the awareness of skin cancer really started to pick up in the media & I think I just started putting it on because of that. The style was copied from Craig McDermott from memory. It gave teammates a good laugh and it was pretty common knowledge that in my eyes a dressing room got no rating if I didn't have a decent mirror in it. If I didn't I went to the car & used the reflection in the mirror of the car windscreen to put it on properly. I think Tom Brooks once said "If you can't be a decent cricketer at least look like one".
You had some great years in the mid-90's culminating in probably your best year in 1997/98 which is also when you hit your highest score, 152 in 5th Grade. What do you recall about that innings and match against Fairfield.
Remember that game well, a Sunday at Guzzunders at the start of that season 2nd grade were without a regular keeper and I was very keen to play higher than 3's so I went to the Chairman of Selectors and asked to be treated as a keeper batsman for this season. Keith kindly agreed but said I'd have to start in 5's I agreed. This match was round 4 and after this game I had to go up as a batsman so that was the end of that idea. One of those days where everything clicked and I recall coming off after being dismissed and Dick Fry who come over to watch when 1's finished early saying well done Hooch heard you got 50 I had a laugh and said got few more than that. At the time missed the great Dr Jim Stewarts 5th grade record by 1 run he held quite a few records…
On the deck at Guzzunders in those days if you got a couple of early ones it was nearly impossible to chase down any sort of total and we had no trouble knocking Fairfield over I'm in awe at how good the ground is these days compared to what we played on.
What are you memories of the club in the early and mid-90s as you were coming through the grades? Both on and off the field?
Was great camaraderie amongst the players whilst we didn't have a lot of success by the way of premierships the guys around the place were 2nd to none. Players like Procopis, Phelps & Bradstreet
Were always very generous with their time and were always happy to pass on tips to lower grade players trying to improve their games especially when they had other playing commitments & in the grades. The first graders coming through the club at that time had a work ethic like no other and set a great example. The grades I mainly played had a million laughs with John Warn, Drew Dickson, Barnaby Wilson, Jamie Turmanis, Rusty Pearce, Forey & Elliot Leahey, Parko, Chris Glassock & the like. The lower grades didn't really field as good as we probably should have in those days. Off the field the guys knew how to party and whilst I wasn't the biggest of them by a long shot I recall a golf weekend away up the southern highlands with club Legend Bob Lind bus driving & toilet stop at Pymble for the whole bus after we boarded at Manly & a few guys hitting 5 irons in the dark after mid night warming up for the next days round that was all time.
I did also play in the only game Tim Farris played for us I'll never forget him fielding at Mid On stopping the 3's as he back pedalled when the ball was hit to him. Chris Glassock & I still laugh about that and the 1 ball he faced today.
Pat Kelly's encounter with Tom Brookes umpiring is up there – bit long to tell.
Who was the funniest player you played with at Manly and why? Do you have any clean stories you could share with us?
Tough one… Leahey, Warn, Alex Haig, Glen Evans, Cranney, Wilson so many to choose from – probably have to go with Warny drove to a lot of away games with him in the early days crying most of the way laughing so hard at some of the stories he told.
Who was the person/people who really drove the on-field and off-field culture at Manly during your time?
Shawn Bradstreet, Matthew Phelps, Peter Procopis, Craig Glassock, Mark McInnes, Andrew Fraser, Bob Lind, David Gainsford, Ken & Tony Pitcher.
I don't recall anyone at the club ever calling you anything but "Hoochy". A fairly common nickname in the 90s for anyone named Turner, but can you explain where it came from and who gave it to you?
Bensons Lane Round 1 one year David Price after I went out to open the innings in a team not a lot of guys knew each other well he said – right everyone here needs a nickname and after I got out walked back in & was told what mine was and that was it stuck pretty good, Phantom was another one I got a bit from Phantom of the Opera due to the Zinc
You never played first grade but played every other grade from 2s to 5s. Was playing 1st Grade ever a goal of yours or did you just love playing cricket for Manly?
Was definitely a goal of mine but not to be I did love playing with anyone in any grade and you realise that the friendships you make while your playing are a big part of why you play.
Results are great but it's the long term friendships of the guys you keep in touch with after playing that mean the most. The couple of big dinners the club has held for milestone anniversaries are clear proof of that with heaps of guys flying in from interstate to make sure they don't miss catching up.
You were a 3rd generation Manly Cricketer with your grandfather Alan, father Ken and uncle Frank all big parts of our history. Was your family's history at the club a curse or a blessing?
Always a blessing being brought up in a cricketing family had no downside at all.
Will there be any 4th generation Turner cricketers at Manly?
I certainly hope so. My 2 boys (10 & 7)are right i nto it watching the current crop of players at any opportunity & I have a nephew who is the same. In fact we have 3 Turners & a Glassock in the one team. Just on that the current players are awesome at being happy to talk to the young kids when they come down to Manly. Last year we went to North Sydney Oval for 1's away game and all the first graders spent the whole innings talking a laughing with the boys it was so encouraging to see.
Who was the best player at Manly that you played with?
Can't go past Brian Clemow he was next level even at Green Shield age.
Who was the best Captain you played with and why?
Can't split Craig Glassock and Tony Pitcher. Different styles but both did great jobs in their own ways. Best of both worlds one quite intense & the other very laid back approach. They both knew the players they had around them well & how to get the best out of them.
Which clubs did you love to beat, and which clubs did you have the most respect for?
The hardest clubs to beat were always Bankstown, Sutherland & St George. They never gave an inch and always had higher grade players hang around in the lower grades as captains.
You have some young kids that are very into their cricket as you have said. How is cricket travelling on the Northern Beaches from what you see through the eyes of a parent?
The current morning cricket structure is good gives the boys a good crack at developing their skills and helps them find our fairly quickly if they are going to push on with the game long term hard to argue with the results the pathways program has produced in recent years too.
What are some of the challenges you see with Cricket in this country in the coming years?
Probably the competition from other sports as with all sports the level of commitment required to play is so much more each year it seems especially if you want to play reps etc which means players end up having to choose one sport or the other and do it fulltime which is a bit of a shame. I get it if your trying to go all the way with cricket but there is a bit to be said for guys getting away from the game in the off season and playing other sports. Sometimes if kids take it to seriously from a young age they can get burnout and then you lose those kids for good which is a shame as some of the most talented players I came across around the traps never played grade due to time commitment issues etc
Do you still keep an eye on how the club is travelling?
Very much so look at the results every week & the new live scoring apps are amazing so good to be able to see what's happening even if you can't be at the ground yourself watching.
What does your life involve now?
Mostly work & family commitments these days but typing this watching the final round of the British Open Golf and like a heap of former & current Manly players now call Long Reef Golf Club my sporting home these days can't get enough of that!
Do you ever seeing yourself as getting back involved in the club in the future?
Possibly would love to play 5's or something one day with my boys if they are good enough to kick on. Do regret a little giving it away probably to early especially as I never really got fit until after I stopped playing.
Graeme Turner Stats
| Season | Inns | Runs | NOs | 50s | 100s | HS | BatAvg | Catches |
| --- | --- | --- | --- | --- | --- | --- | --- | --- |
| 200506 | 1 | 85 | 0 | 1 | 0 | 85 | 85.00 | 0 |
| 200304 | 1 | 52 | 0 | 1 | 0 | 52 | 52.00 | 0 |
| 200203 | 1 | 16 | 0 | 0 | 0 | 16 | 16.00 | 1 |
| 200102 | 2 | 10 | 0 | 0 | 0 | 10 | 5.00 | 1 |
| 200001 | 18 | 237 | 2 | 1 | 0 | 50 | 14.81 | 14 |
| 199900 | 5 | 93 | 0 | 0 | 0 | 42 | 18.60 | 5 |
| 199899 | 14 | 420 | 1 | 1 | 1 | 130 | 32.31 | 5 |
| 199798 | 15 | 551 | 2 | 4 | 1 | 152 | 42.38 | 10 |
| 199596 | 17 | 264 | 1 | 1 | 0 | 578 | 16.50 | 12 |
| 199495 | 12 | 256 | 1 | 3 | 0 | 60 | 23.27 | 5 |
| 199394 | 17 | 431 | 0 | 3 | 0 | 89 | 25.35 | 14 |
| 199091 | 16 | 166 | 0 | 0 | 0 | 41 | 10.37 | 3 |
| 198990 | 10 | 110 | 4 | 0 | 0 | 33 | 18.33 | 2 |
| Total | 129 | 2,691 | 11 | 15 | 2 | 152 | 22.81 | 72 |