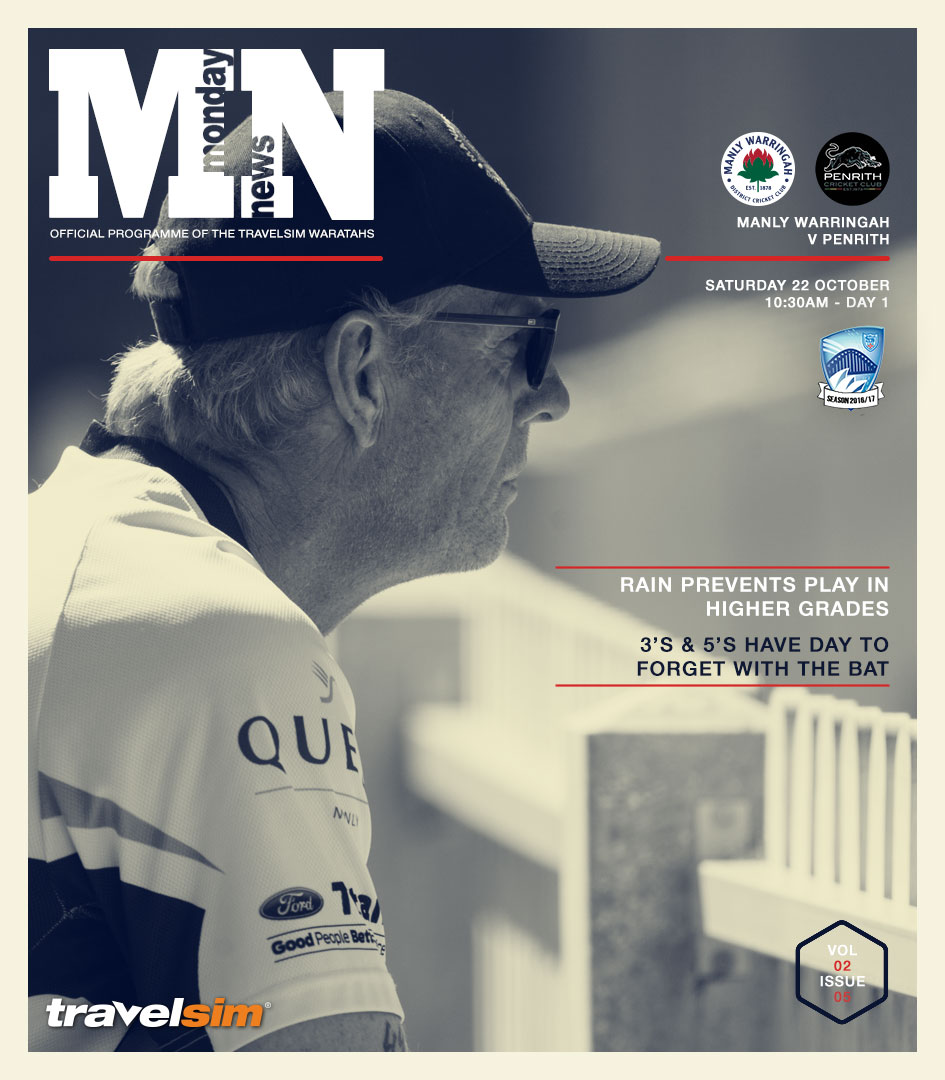 The wet weather wreaked havoc across Sydney on the weekend, resulting in the cancelation of play on Day 1 for 1st, 2nd and 4th Grade against Penrith. However, it was 3rd and 5th Grade who managed to put ball on willow, or not effectively as the case may be, both finding themselves in tough positions due to the unfriendly conditions. 3s were bowled out for 116 at Mike Pawley Oval, with the Panthers 3-73 in reply. At Manly Oval, 5s were bowled out for just 70 on a tough deck, with Panthers coasting at 7-168. A big week is required for the club to get back ontop on Day 2, hopefully our other grades can make use of their rest and grab a win next weekend.
Go Manly!
4 Pines Player of the Week – Aiden Bariol
This week's 4 Pines Brewery Player of the Week after limited play across the Grades is Aiden 'Baz' Bariol. In a round with very little performances with the bat it was great to see Baz back up his consistent run scoring for the Tah's with a valuable knock of 57 in 3rd Grades sub par total of 116.

Unfortunate not to go on with the innings, Aiden once again displayed his maturity at the crease and showcased his raw talent with the willow in hand.

Well done Aiden!


3rd Grade – Manly 116 (A. Bariol 57, J. Crombie 30) vs. Penrith 3-73 (W. Evans 1/10, D. Marshall 2/15)
A very nice deck was presented once we peeled the covers back. With some water around the square we had a delayed start with 68 overs for the day. Penrith won the toss and sent us in on a fresh but good wicket. Wolter (8) and Bariol (57) looked solid early on, with Bariol in particular dealing with any bad balls. Will looked good too before he played slightly across one that nipped away and clipped his off stump. Ollie Davies (0) found the edge first ball to make it 2/31. Jimmy Crombie (30) survived a big hat-trick ball shout and he and Bariol looked to dig us out.
They did well until Aiden, who was completely on top with 57 runs from as many balls and dominating the partnership, and the bowling, played a shot out of tempo with the rest of his innings and saw his stumps scattered. 3/71. Zac (4) got trapped in front and debutant Issy Vumbaca steered one to gully to make it 5/80. Ash (8) looked promising before he got carried away and charged the spinner, Marshall (1) and Evans (0) were cleaned up by the quick and Jimmy unfortunately played a shot he didn't need to as he had plenty of support still via Wilson (5no) but such is life. When RBP (1) was unluckily given out stumped we had a well below par total of 116.
With 24 overs to go we needed to get a good start but the new ball was wasted with too many lengths and lines bowled and chuck in some overthrows and general ineptness and Penrith raced to 50 off 10. Evans (1/10 from 6) and Marshall (2/15 from 8) tidied things up to at least make sure Penrith didn't get the runs on day one to have them finish at 3/73. Needing to take 7/42 to win we are up against it. Hopefully Penrith come with a flexible approach to the way the day pans out if we don't take a few early wickets.
Could be a great day!
Wazza
5th Grade – Manly 70 (J. Anderson 26) vs. Penrith 7-168
The boys arrived at Manly Oval on Saturday to some overcast and rainy conditions. We knew Penrith were a good side and that we would have to play well in order to win.
The openers Outred and Anderson got off to a good start before the first wicket fell on 26. Unfortunately it went downhill from here for the Manly side losing a quick succession of wickets over the course of the next 10 overs. We struggled with the swinging ball and consistency of one of their left-armers who ripped through our batting order. We went from 5/40 to 9/49 in a 6 over period. Abhijeet Virdi and Michael Council provided some late hitting and managed to get us to 70 through some aggressive batting. Disappointingly the 5th grade side were only able to manage 70 in the first innings. A less than par total for a very good side.
Our focus now shifted to the job we had with the ball. We knew that we had to pitch it up and get it swinging as they did. Unfortunately we bowled inconsistent and struggled to keep the ball full. We did not take advantage of the conditions at hand and paid the price. The Penrith batsmen built partnerships throughout the course of the day and managed to get to 168, seven down by stumps. Special Mention to Will Akhurst and Abhijeet Virdi who bowled consistent and got some breakthroughs but were not backed up by the rest of the bowling line up or the teams fielding.
Manly will have to come back next week and reassess the game and the conditions. Our hope for the game lays in the second innings. We know if we turn up next Saturday as a team we have a fighting chance to turn it around.
Jonah