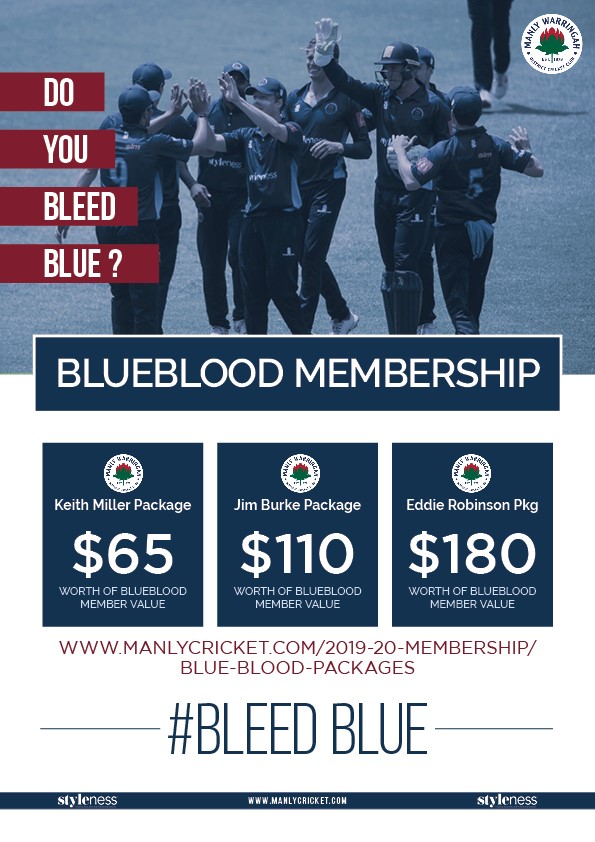 Manly Warringah Waratah supporters,
It's a pleasure to release our Blue Blood Membership packages for the 2019/20 season.
After an extremely successful last 4 seasons, with multiple premierships, semi-final appearances and 2 Club Championships to boot, it's time for all Waratah supporters to get behind the club and become a Blue Blood member.
We know that there are a huge amount of people who are extremely passionate about our club. Becoming a Blue Blood member is the best way to show that passion. So whether you are an ex-player, a parent or just a big supporter of the club, we urge you to join us in bleeding blue for the 2019/20 season.
Your Blue Blood membership fee's go towards junior development, our top notch coaching structure, as well as proving out players with the best facilities in Sydney Premier Cricket.
Blue Blood membership will give you great value for money with a huge amount of benefits, while also helping the Waratahs thrive and succeed in 2019/20 and beyond. In fact, there are upwards of $320 in direct benefits available as a Blue Blood member, plus unlimited sponsor discounts through our Manly Mates Rates program and business promotion opportunities.
Your Blue Blood Membership fee's also go towards junior development, as well as helping to provide top quality coaching and facilities at the club.
So whether you are looking for free Sea Eagles tickets, Waratah Merchandise, business advertising, or attending Blue Blood events, we have a package available for you.
We are looking forward to seeing you at the cricket in 2019/20.
Do you bleed blue?