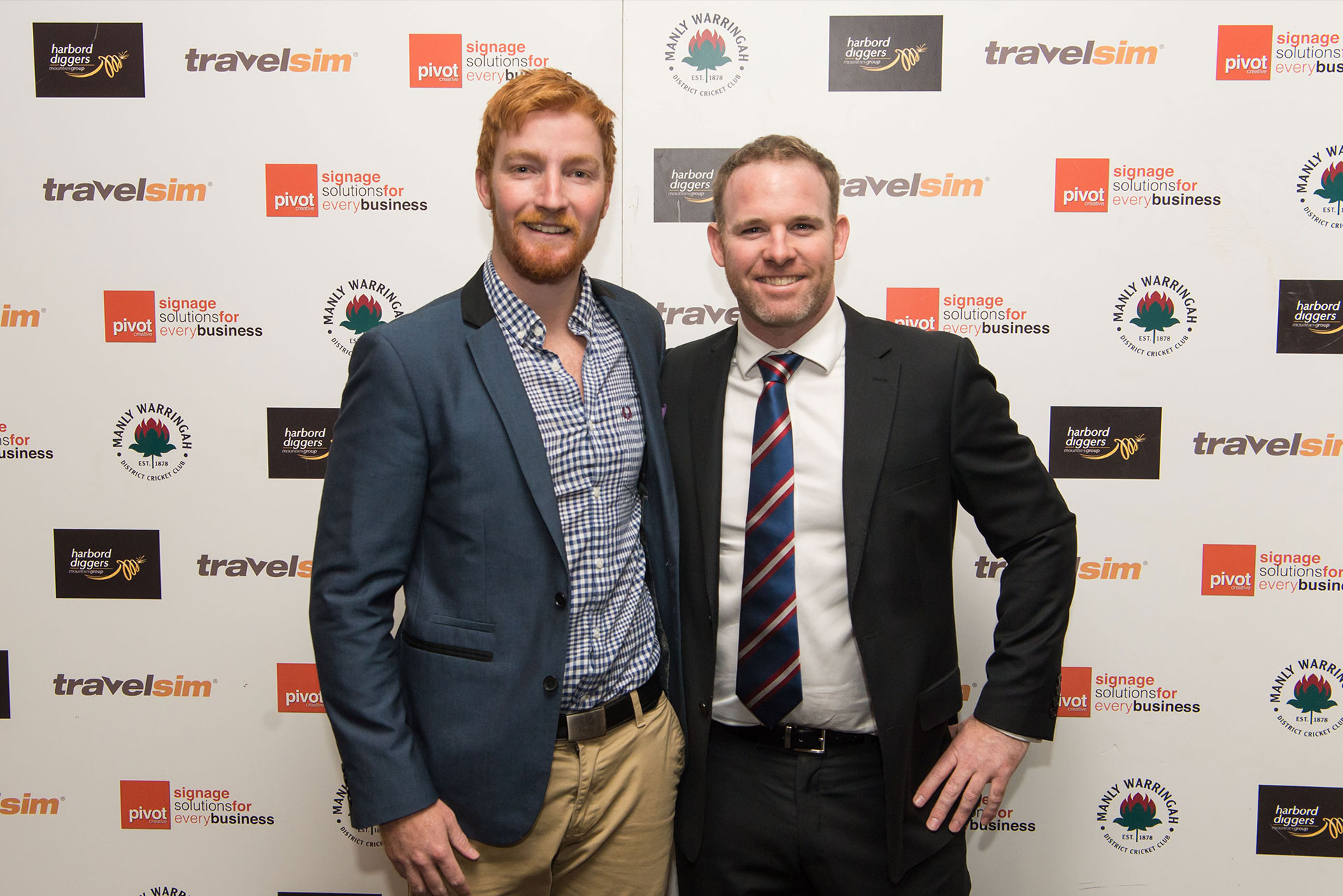 The TravelSIM Waratahs rounded-out the 2016/17 season with a fantastic presentation evening last Saturday night. Hosted at the Novotel Hotel overlooking Manly Beach, the evening was attended by more than 230 players, partners, coaching staff, sponsors and life members just to name a few! It was incredible to witness the monumental support this club receives from the community, and a testiment to the leadership of both the board and players of this great club.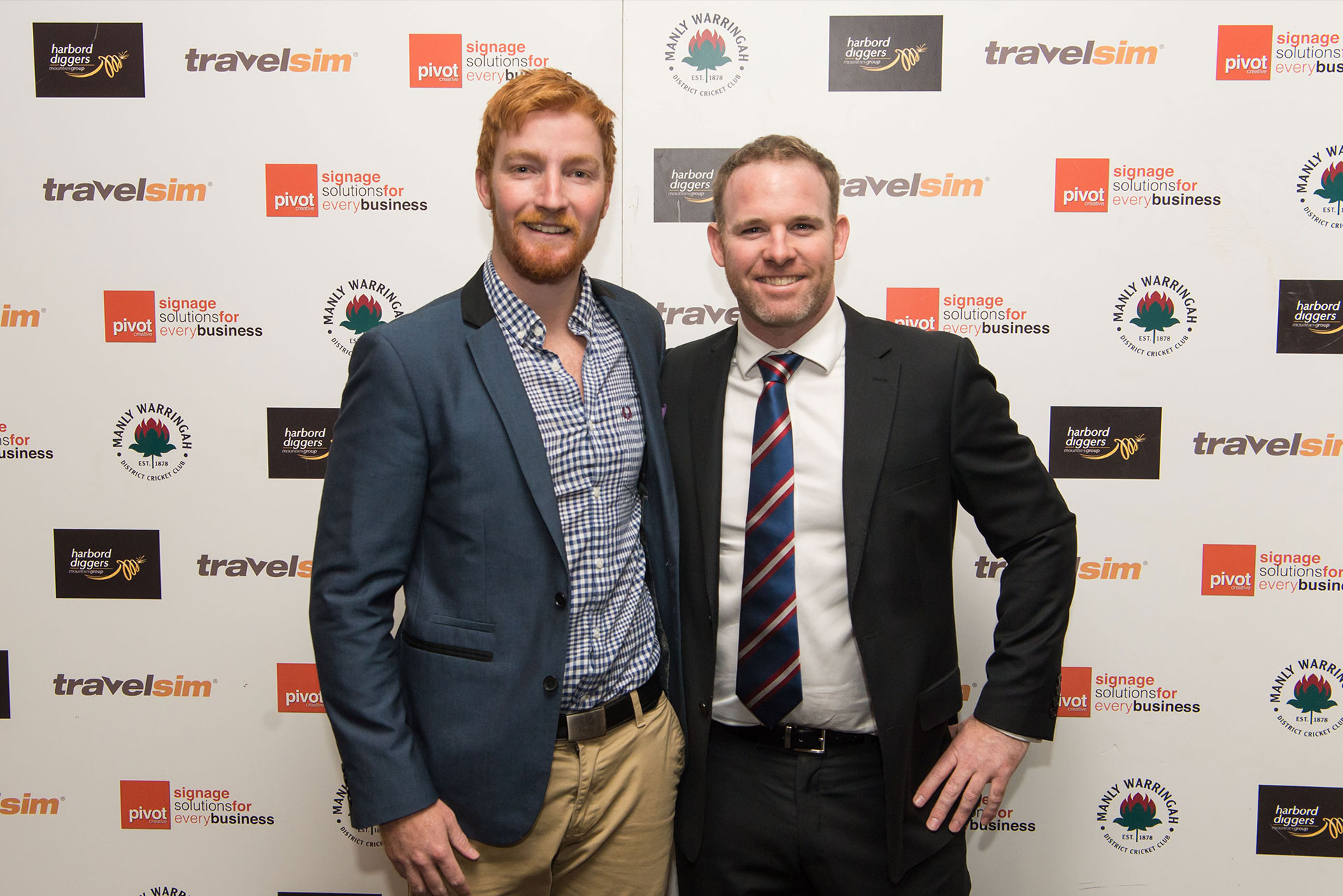 Gummer and life member inductee Joel Mason posing for the paparazzi
Although the Waratahs failed to take any silverware this season, the club still celebrated the individual success of a number of individuals. Joe Graham was named Junior Player of the Year after a season in which he made one of the greatest 1st Grade debuts in history with a 7-wicket haul. Ahillen Beadle was named the clubs Senior Player of the Year after a consistent season where he averaged above 40 with the bat and below 20 with the ball, a phonomenal effort by any measure. However, it was young Isaiah Vumbaca who was the Spartan Sports Players Player on the back of a particularly strong second-half of the season in 4th grade.
AB and WingaSenior Player of the Year Ahillen Beadle with Club Coach Shawn Bradstreet
The evening not only celebrated the on-field success achieved throughout the season, but also the many individuals that contribute in an off-field capacity. The Keith Marks Clubman of the Year is one of those awards that celebrates the tireless work of our volunteers, and was this year won by club treasurer Scott McLachlan. The George Lowe Medal, celebrating outstanding volunteer work, was won by local celebrity and 5th grade superstar Mickey Edwards. Finally, the President's Award was taken out by Todd Harper, Manly Oval ground manager and net supervisor, who in recent years has become an integral part of the clubs volunteer structure.
Mickey and MPGeorge Lowe Medal winner Mickey Edwards with club legend and life member Mick Pawley
It truly was a fantastic night and thanks must go to the committee, in particular the clubs newest life member Joel Mason, for their work behind the scenes.
For access to all the photos from the evening, click here!
All award winners are listed below, Go Manly!
Green Shield
Batting Average: Jake Osborne 195 Runs @ 39.0
Bowling Average: Luca Franks 11 Wickets @ 9.91
Langdon Gould Scholarship Award – Ollie Davies
Poidevin-Gray Shield
Batting Average: Sam Gainsford 312 Runs @ 62.4
Bowling Average: Jack Edwards 12 Wickets @ 12.00
5th Grade
Batting Average: Will Outred 394 Runs @ 39.4
Bowling Average: Glyn Archer 18 Wickets @ 14.56
4th Grade
Batting Average: Adam Gummer 312 Runs @ 31.2
Bowling Average: Ben Falconer 20 Wickets @ 14.10
3rd Grade
Batting Average: Will Wolter 343 Runs @ 26.38
Bowling Average: Warren Evans 21 Wickets @ 12.62
Don Sellin Award – Best 3rd Grade player Ryan Bishop-Perrett
2nd Grade
Batting Average: Logan Weston 376 Runs @ 62.67
Bowling Average: Tom Kaye 18 Wickets @ 16.0
1st Grade
Batting Average: Cameron Merchant 308 Runs @ 44.0
Bowling Average: Ahillen Beadle 23 Wickets @ 17.91
Most Dismissals By Wicketkeeper – Aiden Bariol (28 Catches)
Gary Flowers Most Improved – Aiden Bariol
Captain of the Year – Jack Ritchie
Bob Lind Junior Player of the Year (U/21) – Joe Graham
George Lowe Medal – Mickey Edwards
President's Award – Todd Harper
Senior Player of the Year – Ahillen Beadle
Spartan Sports Player's Player – Isaiah Vumbaca
Keith Marks Clubman of the Year – Scott McLachlan