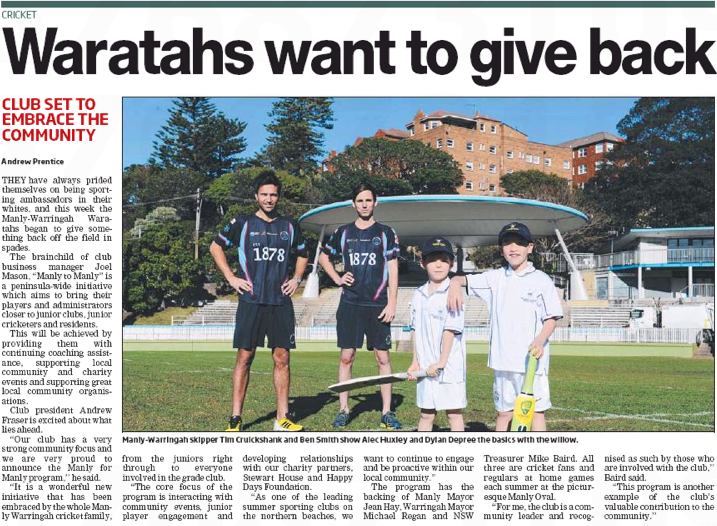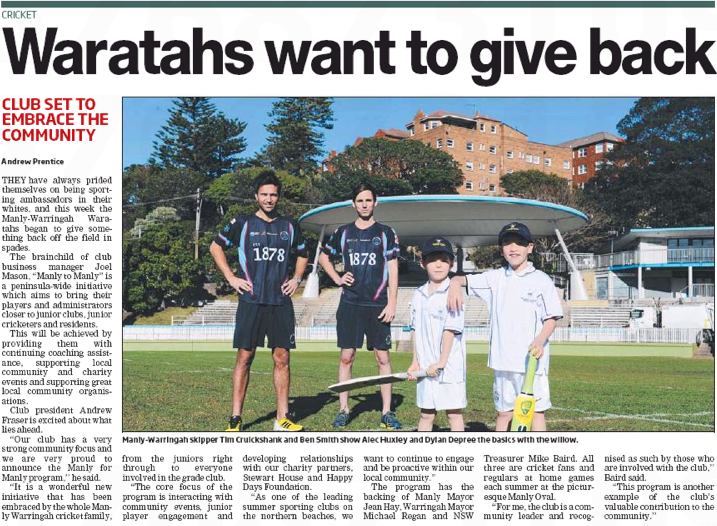 THEY have always prided themselves on being sporting ambassadors in their whites, and this week the Manly-Warringah Waratahs began to give something back off the field in spades.
The brainchild of club business manager Joel Mason, "Manly to Manly'' is a peninsula-wide initiative which aims to bring their players and administrators closer to junior clubs, junior cricketers and residents.
This will be achieved by providing them with continuing coaching assistance, supporting local community and charity events and supporting great local community organisations.
Club president Andrew Fraser is excited about what lies ahead.
"Our club has a very strong community focus and we are very proud to announce the Manly for Manly program,'' he said.
"It is a wonderful new initiative that has been embraced by the whole Manly Warringah cricket family, from the juniors right through to everyone involved in the grade club.
"The core focus of the program is interacting with community events, junior player engagement and developing relationships with our charity partners, Stewart House and Happy Days Foundation.
"As one of the leading summer sporting clubs on the northern beaches, we want to continue to engage and be proactive within our local community."
The program has the backing of Manly Mayor Jean Hay, Warringah Mayor Michael Regan and NSW Treasurer Mike Baird. All three are cricket fans and regulars at home games each summer at the picturesque Manly Oval.
"For me, the club is a community leader and recognised as such by those who are involved with the club,'' Baird said.
"This program is another example of the club's valuable contribution to the community.''