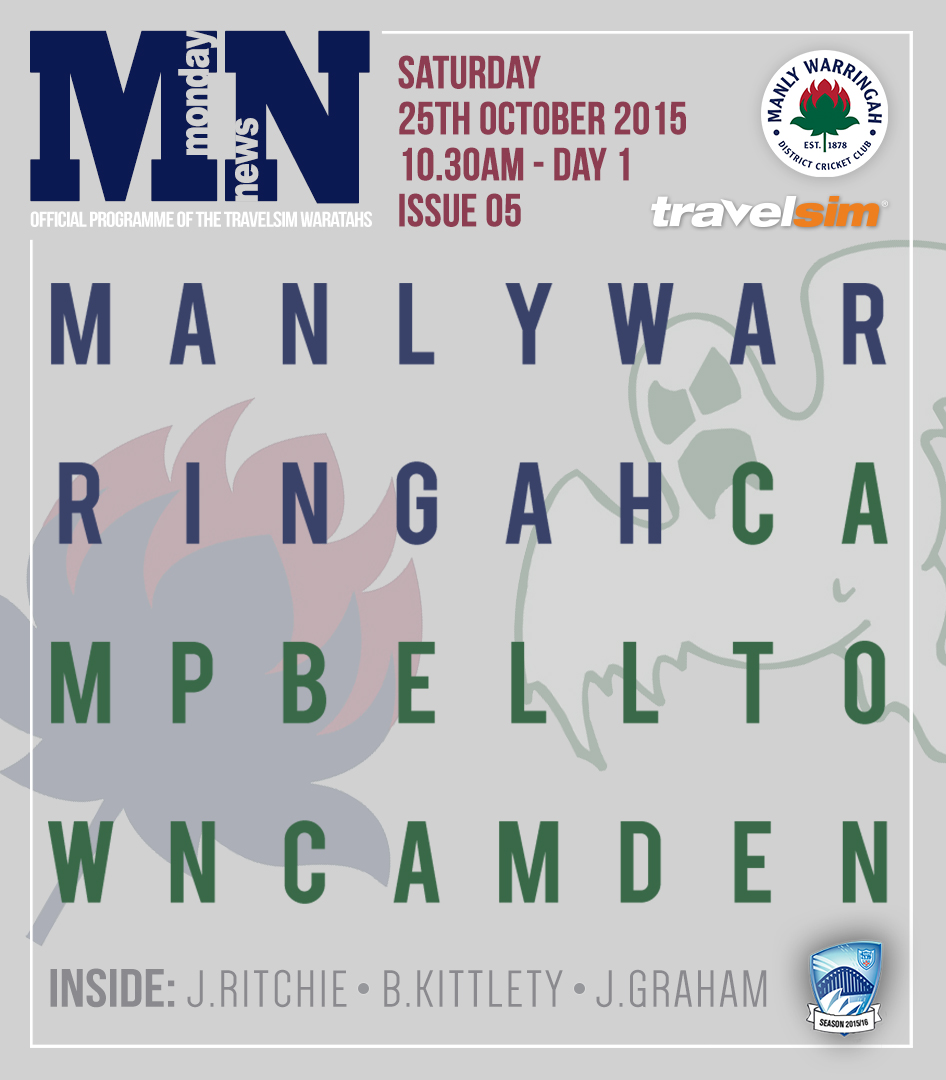 The Travelsim Waratahs have put themselves in a strong position across the grades after the first day against Campbelltown-Camden. Flat wickets and fast outfields set the tone for the weekend, with Manly making the most of there opportunities with the bat and toiling away with the ball to give us a serious chance of winning in all 5 grades.
1st grade had an outstanding day at Raby 1, with Jack Ritchie facing over 250 balls to fall agonisingly short of a well-deserved century on 98. Contributions throughout the middle order allowed Crosthwaite's men to compile 325 and have the side well placed to kick-start there season next week. 2nd grade toiled hard on a flat Manly Oval wicket to restrict Campbelltown to 231. The returning Taylor Beatty was the pick of the bowlers with 3 wickets while youngsters Jake Carden and Joe Graham grabbed 2 each to put Rowan Hamman's men in a position to push for victory next week.
3's also worked hard on a flat wicket at Raby 2 restricting th Ghosts to 215. Luke Diseren picked up 4 wickets on his return from a brief hiatus while Jack Edwards, Sam Alexander and captain Warren Evans picked up 2 wickets each. The Tahs are 2/51 in reply with the in-form Jack Edwards 28 not-out. 4th grade, like 2's and 3's, spent the day in the field and thanks to a Jacob Graham 6 wicket haul kept Campbelltown to 274 at Grahams Reserve. Finally, 5th grade are on the verge of 6 points after rolling Campbelltown for 102. Ben Kittlety showed he was a class above 5th grade with figures of 5/30 to tear through the Ghosts on Raby 3.
A big week of training for the TravelSim Waratahs will be required in order for the boys to pick up maximum points across the grades. Until next week, Go Manly!
4 Pines Player of the Week – Jacob Graham
This weeks 4 Pines Brewery Player of the Week is Jacob Graham, who picked up his best figures for the Tahs with 6/56 from 20 overs of toil on Saturday. Faced with a typical Grahams Reserve belter, Jacob got the reward he deserves for a big pre-season, bowling with outstanding control and consistency for stand-in captain James Boyer's men. Jacob has now been around the club for a few years, and is becoming a bigger leader within the playing group each and every week. It's great to see you back amongst the wickets Jacob and we hope to see you take a few more throughout the season! Well Done!

1st Grade – Manly 6/325 (J. Ritchie 98, A. Beadle 75, J. Lenton 45, R. Farrell 36, A. Crosthwaite 33) vs. Campbelltown
First grade were on the road again this week, playing away at Campbeltown. The wicket looked in good shape given the wet weather we'd had during the week, so when Crossy won the toss, he chose to bat first.
We got off to a shaky start, loosing Rawlings in the first over of the day. However, Richie proved to be the steadying influence, putting together solid partnerships with Crossy (33), AB (75), Jay (45) and Farrell (36) to get us to a strong position at 5/305 just after tea. When Richie finally fell after a marathon innings, agonisingly short of his hundred on 98 (of 259 balls) the lower-middle order of Munting and Webber finished the day strongly reaching a total of 6/325 at the close of play.
Munta.
2nd Grade – Manly 1/32 vs. Campbelltown 231 (T. Beatty 3/45, J. Carden 2/22, J. Graham 2/40)
Today I arrived in the sheds to see five new friendly faces; with players injured, away and others returning to the 2nd grade unit. It was great to have skipper Rowan back, who won the toss and backed our bowlers to pick up a few early poles on a wicket that bore a little juice.
Beyond the first hour, I think we all had the same thought – this was going to be a long day. The wicket flattened out and to the Campbelltowner's credit, played very sensibly giving us nothing. However in such circumstances, it was fantastic to see the boys manufacture wicket opportunities through strategic bowling plans and fielding positions. From 1-50 at our first interval, we got them 5-100 by lunch! We continued taking hard earnt wickets after lunch, credit going to all bowlers, particularly our returning star, Taylor Beatty, who toiled away with 3 crucial poles and was unlucky not to get a few more. Jakey "Pingu" Carden also had a fantastic spell picking up 3 wickets from hitting the deck hard and consistently. I thought all of our spinners bowled beautifully despite not having luck taking many wickets between them. Between manly veteran, Dylan Marshall, and young-gun Johannes Graham, there is a world of talent. Sammy Gainsford was a shining light in the field for us, always putting in 107%. Finally I wanted to make note of the efforts of our left arm strike bowlers Matty Alexander and Ben Falconer, who although unlucky, showed great discipline and physical endurance. On another day they would have taken a bagful.
It was a bit of a frustrating end to what was quite a successful day. We took the last 2 wickets for over 50 runs but should keep in mind that they could've scored 300+! It was a pleasure again to be around such a great group of boys. Banter is always top-notch, however at some points of the day, it was absent… Look forward to seeing the boys knock off another 200 runs next week, thanks to Joey Graham and Tommy Kaye seeing out the days play. Unfortunate to Rowan, who misjudged a tricky ball, seeing him in the sheds next weekend.
Javed Badyari
3rd Grade – Manly 2/51 (J. Edwards 28*) vs. Campbelltown 215 (L. Diserens 4/74, J. Edwards 2/5, S. Alexander 2/37)
The wicket was very dry and rock hard and CC won the toss and batted. Evans yet to win a toss so far. Wigney was again the pick of the quicks and his figures of 0/43 from 11 was not close to how he bowled. He was the only bowler to regularly beat the bat and the majority of his runs were edges. His luck must change soon. Evans on the other hand bowled a couple of medium pacers into the breeze and snared two easy wickets in the opening overs, first one care of a huge leading edge very well caught by Jack Edwards running backwards at cover and soon after Sam Alexander taking a very good low drive at mid off. At 2/5 from 4 overs Evans knew it was time to quit before getting hammered and handed the pill to the returning Luke Diserens (4/74 off 18) who struck immediately with an edge to debutant Sam Kelly to make it 3/23. A partnership then started to form before Dizzy beat the fella through flight resulting in a spoon to mid on to make it 4/67 on a very flat pitch. Dizzy then trapped the opener in front to make it 5/84.
By this stage we had twin spin on. Zac Trewartha bowled well and beat the bat a couple of times but Sam Alexander stepped up to take the next wicket care of a drive to mid off to make it 6/113. We wiled away in the warm, flat batting paradise and Sam (2/37 from 13) suckered their #8 into skying a high ball to mid off where Evans completed his third catch making it 7/147.
At this stage we were hopeful of a few quick wickets but they formed a good partnership highlighting just how easy it was to bat. Bide your time and cash in when the occasion presented itself, which wasn't too often mind you as we bowled well. Fast outfield and patient batting saw CC go along nicely, untroubled to 210 before Jack Edwards got arguably a lucky LBW to break the partnership in the 58th over, the pair batting for 20 overs. Dizzy then beat the run scorer and Sam Kelly completed a nice stumping. Jack (2/7 form 3) then cleaned up the number 11 with a good yorker to give us a gettable 216 target.
Cole (9) and Edwards (28no) looked very comfortable before Colely heard voices in the wind and got stuck half way down the deck to be run out. Sam Hole then got a rough LBW to complete the day for us at 2/51. Bad luck Sam. Jack Edwards looked comfortable and along with Jordan Daly we are hopeful of a solid start to the day next week with a great chance for the batsmen to enjoy a long stay at the crease.
WE
Sam Alexander taking a diving catch at midd-off Returning Luke Diserens claiming his first wicket of the season
Click on the images above to view the videos
4th Grade – Manly vs. Campbelltown 9/274 (J. Graham 6/56, D. McKenna 2/57)
4th Grade were greeted by the flattest track of all time on Saturday, with the Grahams pitch being the same one that we have used since August. Unfortunately we lost the toss and went out to field. Campbelltown raced to 0/40 off ten and it looked like it was going to be a long day. Daniel Mckenna got our day started with a caught and bowled. Jacob Graham came on and took two quick wickets and by drinks we had fought back to have them 3/60. One of their batsmen got in and batted extremely well for the rest of the day. All our bowlers toiled hard with not much luck. Jacob Graham was the standout bowling 20 overs on a very hot day. The boys hung in there all day and we ended up having them 9/274 at the close of play. Jacob deservedly finished with six wickets, a great effort on a flat pitch. Will Outred bowled well throughout the day with not much luck but burgled a wicket at the end. Hopefully we can mow down their total next week.
Billy D
5th Grade – Manly 3/82 (W. Wolter 44*) vs. Campbelltown 102 (B. Kittlety 5/30, J. Anderson 3/15)
The young and Spritely 5th grade team arrived at Campbetown to play against the team that is leading the 5th grade competition (Cambeltown/Camden). Skipper Simon Waddington showed his intentions at the toss when he sent them in to have a bat. Ben Kittlety and Alex Bain opened up with the new rock and after a few solid overs Kittley got the first breakthrough. Although the opposition established some small partnerships throughout their innings, Manly consistently were able to find the breakthrough. Campbelltown were all out for 102 with the highlight of the innings being a fantastic 5fa from Ben Kittlety. Ben finished with figures of 5/36 showing that if you consistently hit a good line and length you get rewards. The other wickets where shared by J. Anderson(3/15) and A. Bain(2/24).
35 overs remained in the day when manly strode to the crease. Unfortunately we lost 3 early wickets and found ourselves 3/25. At this stage Isaiah Vumbaca and Will Wolter (debutant) came together at the crease. The two of them fought through a very tough period and survived some very good spells. Isaiah took a back seat role to Will who was hitting the ball very well. Their partnership survived through to the end of play on day one with Manly finishing on 82 for 3. Will. W 44* and Isaiah 21* are still at the crease and have put us in the drivers seat for next week.
Jonah Anderson