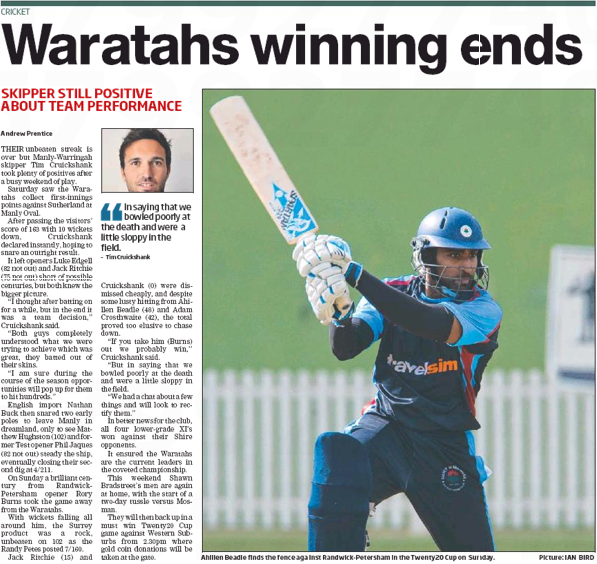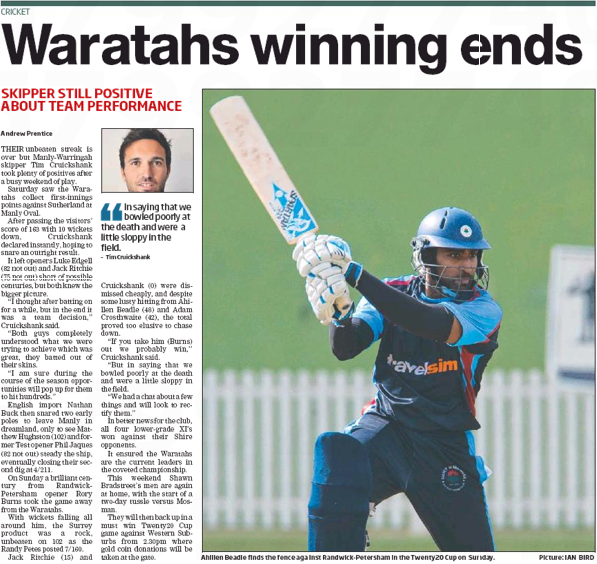 THEIR unbeaten streak is over but Manly-Warringah skipper Tim Cruickshank took plenty of positives after a busy weekend of play.
Saturday saw the Waratahs collect first-innings points against Sutherland at Manly Oval.
After passing the visitors' score of 163 with 10 wickets down, Cruickshank declared instantly, hoping to snare an outright result.
It left openers Luke Edgell (82 not out) and Jack Ritchie (75 not out) short of possible centuries, but both knew the bigger picture.
"I thought after batting on for a while, but in the end it was a team decision," Cruickshank said.
"Both guys completely understood what we were trying to achieve which was great, they batted out of their skins.
"I am sure during the course of the season opportunities will pop up for them to hit hundreds."
English import Nathan Buck then snared two early poles to leave Manly in dreamland, only to see Matthew Hughston (102) and former Test opener Phil Jaques (82 not out) steady the ship, eventually closing their second dig at 4/211.
On Sunday a brilliant century from RandwickPetersham opener Rory Burns took the game away from the Waratahs.
With wickets falling all around him, the Surrey product was a rock, unbeaten on 102 as the Randy Petes posted 7/160.
Jack Ritchie (15) and Cruickshank (0) were dismissed cheaply, and despite some lusty hitting from Ahillen Beadle (48) and Adam Crosthwaite (42), the total proved too elusive to chase down.
"If you take him (Burns) out we probably win,'' Cruickshank said.
"But in saying that we bowled poorly at the death and were a little sloppy in the field.
"Wehad a chat about a few things and will look to rectify them."
In better news for the club, all four lower-grade XI's won against their Shire opponents.
It ensured the Waratahs are the current leaders in the coveted championship.
This weekend Shawn Bradstreet's men are again at home, with the start of a two-day tussle versus Mosman.
They will then back up in a must win Twenty20 Cup game against Western Suburbs from 2.30pm where gold coin donations will be taken at the gate.
{loadposition cricket}