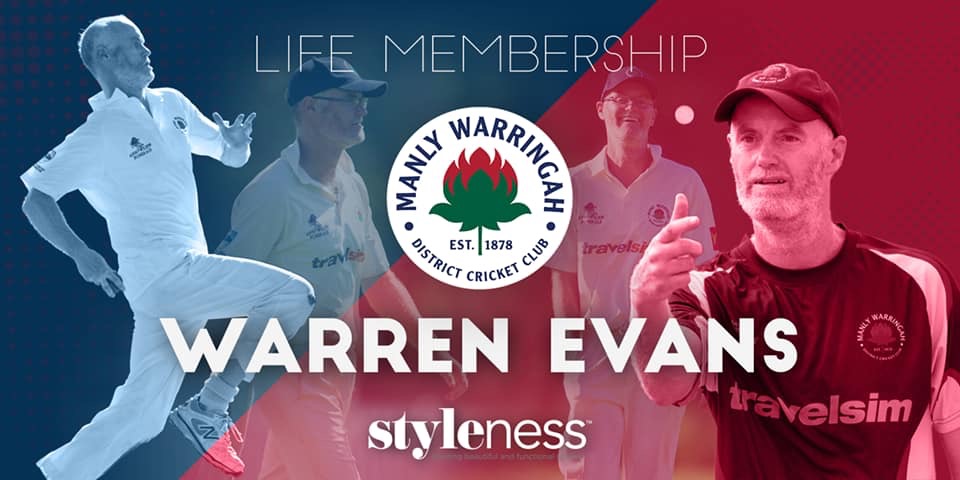 We are pleased to report that the evergreen Warren Evans has been nominated for Life Membership of the Manly Warringah District Cricket Club.
As per our constitution, Warren must be nominated at 3 board meetings in a row ( A presentation evening is counted as a board meeting). He has been nominated in the previous 2 board meetings, with the final nomination and aware ceremony occurring at our presentation evening on Saturday 6th April.
What a great honour for Warren and his family. Some may say that it is well overdue, but there is no doubt that Warren is a worthy recipient.
Debuting for the club in 1986/87 season, he has take at-least 1 wicket in every year since then. He retired from full-time playing in 2016/17 but has filled in over the last few years as needed.
Warren Evans is our 2nd highest wicket taker of all-time with 771 wickets at an average of 19.56. He is a local junior who has played every grade for the Tahs and went on to represent NSW 2nd XI when at his peak.
While a fast bowler at hear, Warren grew into his batting in his later years to and has passed 5,000 runs to sit 35th on our all time run scorers liust
Affectionately known as "Wazza" , there is not a player at the Manly Warringah Waratahs over the last 30+ years that has not had contact with Warren in some way. His passion for our club, quirkiness in nature, and love of the game of cricket have left an endearing impression on us all.
We hope that as many of you as possible are able to join Warren and the rest of the club in celebrating this momentous occasion.
Click here to purchase tickets to the 2018/19 presentation evening.